Event Information
Refund policy
Contact the organizer to request a refund.
Eventbrite's fee is nonrefundable.
Cheese 101 - A virtual deep dive into understanding and appreciating French cheese
About this event
I have this crazy passion for French cheese and I want to share that passion with you!
My goal is to demystify the delicious, sometimes smelly, sometimes intimidating world of fromage. These virtual workshops will broaden your knowledge and give you the confidence to taste, purchase, pair, serve, slice, and understand French cheese.
French Cheese Fundamentals is offered in three parts.
Part one is The Basics, this segment, which covers history, terminology and understanding the French cheese families
Part two is all about purchasing, tasting and creating appetizing Cheese Boards
Part three offers all of my tips for Pairing cheese with wine, other beverages and with food
Depending upon your interests, you can take just one or all three, as each segment offers unique and detailed information.
An added bonus during these workshops is a view of the Eiffel Tower from our apartment while we talk and taste!
During this educational and entertaining workshop you will learn:
The history of cheese
Important cheese terminology such as affinage, terroir and AOC
What's the deal with pasteurization and what does it do to cheese?
The different families of cheese and how to recognize them
The impact of diet, season and breed on a cheese's flavor and texture
You will come away from The Basics with a deeper understanding of French cheese and its traditions, a solid grasp on how to recognize the different families, and a greater appreciation for the subject.
If you'd like to have some cheese to taste while I talk, I recommend picking up any or all of the following:
A goat cheese such as French Valençay or Crottin
A triple cream such as Brillat Savarin, Délice de Bourgogne or Saint-André
A wedge of Comté (Gruyère if there's no Comté available)
A sheep milk cheese from the Pyrénées such as P'tit Basque, Ossau-Iraty or Ardi Gasna
A blue such as Roquefort (the strongest) or Bleu d'Auvergne, Bresse Bleu, Fourme d'Ambert or Bleu des Causses
If you'd like to have a glass of wine (or more) as well, I recommend:
a crisp Sauvignon Blanc with the goat cheese
a glass of Brut Champagne with the triple cream and/or Comté
the sheep milk cheese would be great with a glass of fruity, light red wine like a Beaujolais
blue cheese loves sweet wine!
Having cheese is absolutely not necessary, so don't worry if you don't have the time to buy any or prefer to just attend.
Please note that the workshop begins at 8pm, Paris time. So that will be 7pm GMT, 11am on the west coast of the US and 2pm on the east coast.
These workshops are hosted on Zoom. Please download Zoom ahead of the class, so you don't run into any connection or other issues on the day. You will receive an automated email from Zoom during the week of the tasting. If you do not receive the email, please check your spam folder.
Will you be able to ask questions during the workshop? Yes. During the workshop you will be able to put your questions in the chat and I will take time to answer all of them at the end. I have allotted approximately 60 minutes for the discussion and another 30 minutes for Q&A, and will stay on until everyone's questions are answered.
I am a cheese educator based in Paris and over the last five years I have shared my knowledge of French cheese with thousands of hungry guests at small group tastings. I have a personal project to taste each and every one of France's almost 1500 cheeses which has led me to spend hours and hours tasting, studying and contemplating this delicious subject.
Any other questions? Please contact me at: louloufrance@gmail.com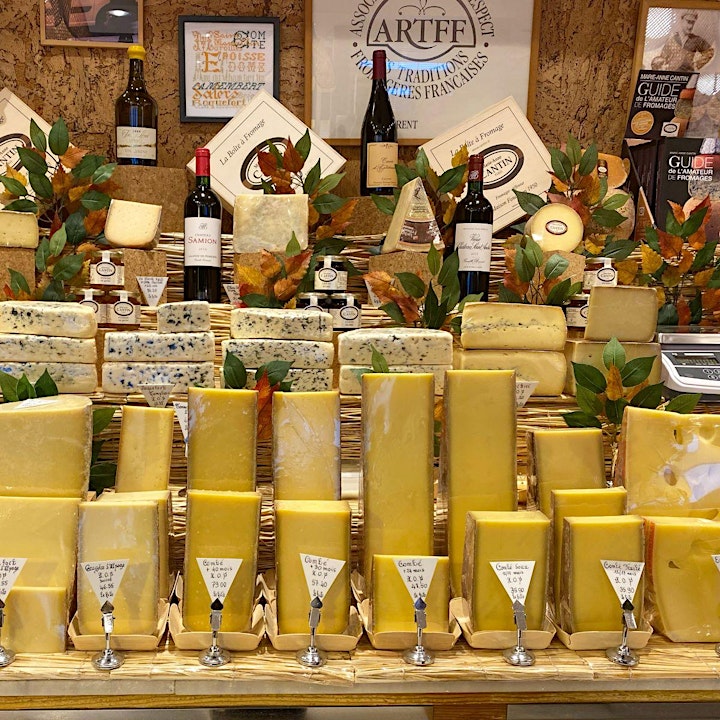 Date and time
Location
Refund policy
Contact the organizer to request a refund.
Eventbrite's fee is nonrefundable.