Description
Join us for a free evening of festive drinks, phenomenal panelists and great conversations. The theme will be around Engaging With Your Customers
Agenda

1 hour - Networking over drinks
1 hour - Sponsor's address & panel sessions
1 hour - Speak to the panelists & networking over drinks


Panel 1 - Engaging On Your Website

Tim Sumners (left) - Shopify Plus
As a Solutions Engineer for Shopify Plus - Tim Sumner works with merchants guiding them in the discovery process and showing them just how easy running their companies on Shopify Plus will be. In previous roles Tim has helped brands like Adidas, Farfetch, Gucci and Screwfix amongst others with their personalisation strategy.
https://www.shopify.com/plus

Jarvey Moss (centre) - Amigo
Jarvey is COO at Amigo. Amigo is a managed service used by brands and agencies to deliver last mile marketing campaigns. It's a managed service without the hassle of costly implementation before justification.
https://amigotechnology.com

Liam Tucker (right) - Freelance Ecom Guru
Liam is an independent designer/developer based out of London with previous clients ranging from Nike to Netflix. After being introduced to Shopify, he's spent the last 6 years helping launch some of the most exciting e-commerce brands on the platform.
https://www.linkedin.com/in/liamtucker55


Panel 2 - Engaging Everywhere Else

Caroline Balinka (left) - Founder of Just Ask Parker
Caroline Balinska is the founder of Just Ask Parker. Shopify's ONLY Small Task Marketing Agency. Caroline has over 18 years of experience in marketing and ecommerce. Having started, grown and sold over 12 businesses, what makes Caroline's skills so highly sought after is that she comes at everything from the business owner's perspective.
https://www.linkedin.com/in/carolinebalinska
Michael Tomas (middle) - Influencer & Content Creator
Michael Tomas is an architecture and timelapse photographer with social media influence on Instagram as @LondonViewpoints . His journey started in London where he became the go-to guy for tips and recommendations about best places to go in London for views, rooftops bars, hotels to stay at with panoramic vistas and attractions to visit that give a unique perspective over the city.
www.instagram.com/LondonViewpoints
www.LondonViewpoints.com
Will Laurenson (right) - Marketing Consultant
Will Laurenson is an independent marketing consultant specialising in conversion optimisation and customer retention strategy. Based in London, he has worked with brands such as MyVoucherCodes, Readly, Europcar and Jackpotjoy.
http://linkedin.com/in/willlaurenson


Sponsor - Murat from Segmentify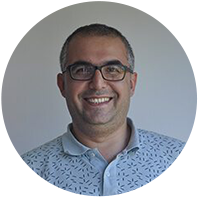 Murat Soysal, the co-founder of Segmentify, is a Dad of one, a sports fan and a Husband for 20 years. He holds an engineering degree in Electronics. He was an academic researcher before starting his entrepreneur journey 4 years ago. He was modelling the behaviour of web user his main research area was use of Machine Learning traffic classification and segmentation.
Can't Come?
Sign-up to our newsletter for exclusive offers and updates about upcoming training / events: https://digitalworkshop.io/join-our-newsletter

Book now to avoid disappointment - more info to follow shortly!
Digital Workshop is the training arm of Spec (Spec.digital). SEO & PPC Consultancy: Propel your business with insightful digital consultancy.
Organizer of Free Digital Meetup With Shopify, Segmentify, Amigo, Just Ask Parker & Spec
We are Digital Workshop and run regular training seminars to help equip businesses of all sizes. We teach you how to understand and run successful digital marketing campaigns, whilst understanding all core elements & metrics to success. 
Training includes PPC, SEO & Google Analytics, targeted at a mix of B2B, B2C, Ecommerce, Lead gen...etc. We have bespoke packages to give internal training to businesses of all sizes and abilities. 
We also hold free marketing meetups for hundreds of businesses in London and the surrounding areas. These always include lots of time for networking, free drinks and expert speakers from a range of backgrounds. 
DigitalWorkshop.io
Digital Workshop is a trading name of Spec Digital Ltd ( http://spec.digital ). A PPC & SEO consultancy firm that exists to propel brands digitally.