Bringing together women who are going through or have experienced trauma or abuse and working through it, together in a group setting!
About this event
&Flourish Group coaching will help you feel less lonely, isolated or judged, reduce distress, depression, or anxiety. It can also be help with improving coping skills, feeling empowered and in control and also gives you hope. Additionally, it helps improve your understanding of trauma and abuse.
Our FREE group coaching sessions will cover the topics of:
Boundaries
Limiting Beliefs
Forgiveness
Acceptance
Integrity
Please be sure to arrive on time to avoid distractions and bring a pen and paper to take notes! This is a safe space and judgement free zone!
To learn more about &Flourish and how we support female survivors of abuse, visit us at www.andflourish.co or join our free Facebook group here:
https://www.facebook.com/groups/womenhealingfromabuse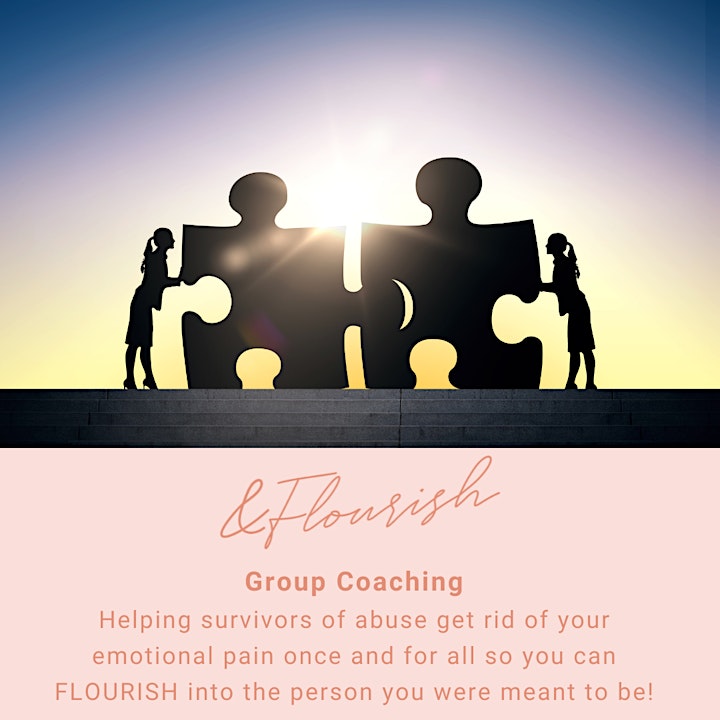 Organizer of FREE 30 minute Trauma Recovery Group Coaching
&Flourish offers one on one coaching, group coaching, and Guided Peer Sessions (GPS) to women of all levels break free from their toxic past to kick stress, insecurity, and fear out the door so you can create a life you love! Step into your calling without self sabotaging before you even get started!
The CEO of &Flourish, Jennifer Ramirez, is passionate about helping women whether it be through her nonprofit, &Rise, or her coaching business, &Flourish. Jennifer helps survivors of abuse to get rid of your emotional baggage once and for all so you can live out your dreams! Jennifer helps women who have suffered from past hurts or adversities to overcome your pain so you can heal and flourish into who you were meant to be. Jennifer has a unique approach to how she works with her clients. She focuses on boundary setting, forgiveness of others and yourself, goal setting and attainment, and mindset transformation work. Jennifer also uses part of the AA (alcoholics anonymous) framework in her teachings such as step 2 - Faith, step 5 - Integrity, and step 6 - Acceptance. Jennifer is extremely passionate about getting her clients past their pain to helping them see the beauty in their lives. Jennifer teaches her clients that your trauma does not define you, it is only a part of your story, not your entire story. Jennifer has helped many women in their healing journey and plans to helps millions of women in her lifetime.
To more about how to Flourish in your biz, visit www.andflourish.co