An Innovative, Global, Interactive Livestream Series Of 3 Compelling Battles.
About this event
A Chiu Virtual Tour De Force!
To kick off the year, Beechwood is joining other venues around the country to bring you this exciting Smackdown Series by our very own world-renowned pianist, Frederic Chiu! Loved by audiences worldwide, these exciting concerts come together for the first time to a global, interactive audience, with real-time voting!
Thanks For Following The Honor Code For Tickets! Revenue from ticket sales supports the artist directly after one year of cancelled concerts. The link to the event is not coded by person. Thank you for purchasing a ticket for each person watching and sharing with friends this ticket purchase link (not the event link you will receive after buying a ticket). Thank you!
Livestreaming Thurs June 24, 7pm EST Young Geniuses: Mendelssohn vs. Chopin before age 20 "Simply jaw dropping"
Thurs May 27, 7pm Time Travelers: Bach vs. Glass "Deeply meditative AND very exciting!" (you'll get a link to the private recording, so you can watch and get caught up!)
Thurs April 29, 7pm Heart & Soul: Debussy vs. Prokofiev "A compelling, emotional roller coaster" (you'll get a link to the private recording, so you can watch and get caught up!)
"Intimate close-ups and interactive voting engaged us well beyond the usual live stream classical concert. Chiu's pairings and insights combined with his globally-renowned playing, brought out unexpected revelations with surprising results!"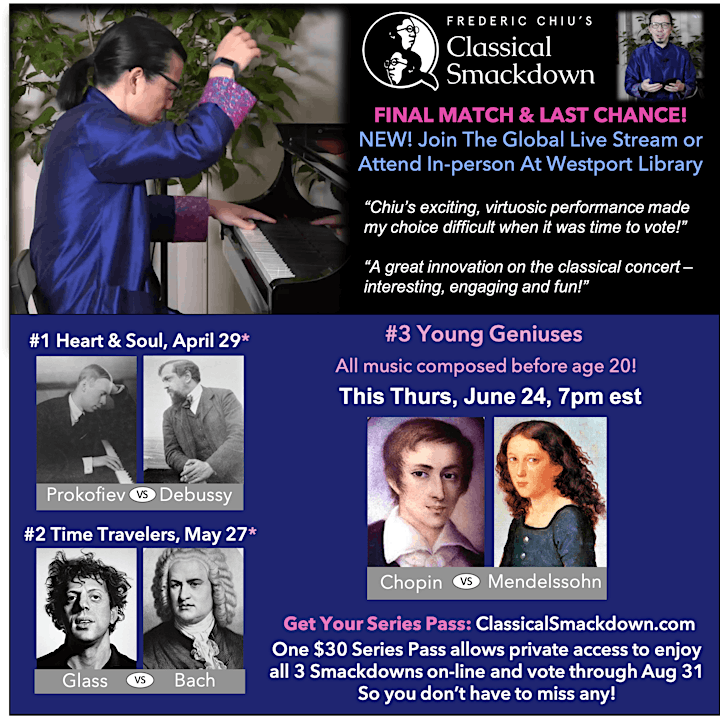 Date and time
Location
Refund policy
Organizer of Frederic Chiu's Classical Smackdown Series Pass
An internationally recognized concert pianist and a cutting edge artist/innovation specialist came upon this 1806 renovated farmhouse by happy accident.
We were inspired to create Beechwood Arts and Innovation and share our love of creativity and collaboration with our community.
We are happy you have found your way here and hope you become a part of the fabric we are weaving at Beechwood Arts.