Franklin Lakes Professional Speed Networking (Pizza & Ice Cream) Event
Attend The Franklin Lakes Chamber's First (in-person Speed Networking Event)
About this event
Virtual networking may have been a nice place holder during our challenges but we have to admit nothing beats meeting people in person!
During our next event we will
1) Give a brief intro of the nights format and how it will go
2) Professional Speed Networking
3) Pizza
4) Informal Networking
5) Ice Cream
(Are you looking to be en event Sponsor, reach out to us!)
We know it has been a long year and team is excited to get some great events off the ground that start with our first event in August. We have much more planned, and you can even join our newsletter at
https://franklinlakeschamber.us20.list-manage.com/subscribe?u=4e2a1d82ae8c4ac6498f0ba7b&id=2b7da59871
(We are a 501 C(3); which means your ticket price minus the #eventbrite fee is fully tax deductible as a charity donation by the IRS.
*** For Seo Purposes
#allendale, #alpine, #bergenfield, #bogota, #carlstadt, #cliffsidepark
,cressill, #demarest, #dumont, #eastrutherford, #edgewater, #elmwood park,
#Emerson, #Englewood, #fairlawn, #fairview, #fortlee, #franklinlakes, #garfield,
#glenrock, #hackensack, #harringtonpark, #hasbrouchheights, #haworth,
#hillsdale, #hohokus, #leonia, #littleferry, #lodi, #lyndurst, #mahwah,
#maywood, #midlandpark, #montvale, #moonachie, #newmilford, #northarlington,
#northvale, #norwood, #oakland, #oldtappan, #oradell, #palisadespark,
#paramus, #parkridge, #ramsey, #ridgefield, #ridgefieldpark, #ridgewood,
#,riveredge, #rivervale, #rochellepark, #rockleigh, #rutherford, #saddlebrook,
#saddleriver, #southhackensack, #teaneck, #tenafly, #teterboro,
#uppersaddleriver, #waldwick, #wallington, #washingtontownship,
#westwood, #woodclifflake, #wood-ridge, #wyckoff, #bergencounty
You can REGISTER Here on Event Brite too!!!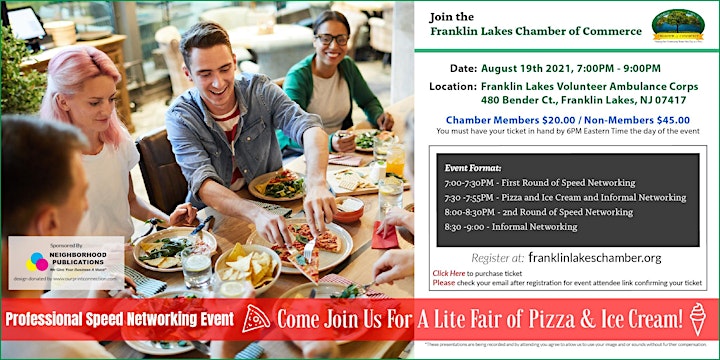 Organizer of Franklin Lakes Professional Speed Networking (Pizza & Ice Cream) Event