Description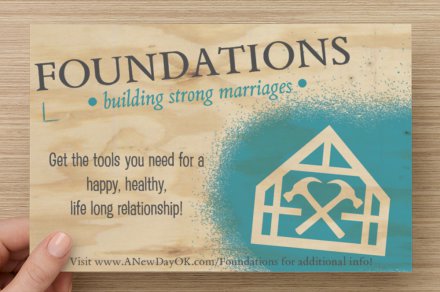 What is Foundations?
Foundations unique, innovative approach integrates a wide range of theories and methods from psychology, education and psychotherapy, and presents them in an educational format.
The Foundations Program brings couples together to discover that navigating their relationship is a learned skill. This key insight empowers couples to gain momentum through self-awareness, improved communication skills, and goal setting.
The experienced professionals of Foundations are Licensed Counselors who became trained facilitators of the Prepare/Enrich relationship curriculum. Foundations hopes to help you build a successful, happy life-long marriage. Prepare/Enrich is one of the most widely used programs for premarital counseling, premarital education, marriage counseling, marriage enrichment, and dating couples considering engagement. This helps you and your partner examine your relationship on dimensions found to be important to relationship health. You will learn how to communicate more effectively with each other so that you can improve your relationship and continue to understand, connect, and relate in healthy ways!
---
Who is Foundations for?
Geared towards committed, engaged or married couples, Foundations delivers helpful, evidence-based skills for improving communication, resolving differences, managing conflict, and ensuring life partners have the best chance of remaining an ongoing source of pleasure in one another's lives.
---
What are the goals of Foundations?
The Goal of the Foundations Program is to have a relationship that both partners can live with joyfully!
enhance the view of the relationship
expand and transform emotional understanding
improve and cultivate healthy interactions and behavior
strengthen communication to become more active and empathetic

promote strength and resilience
---
What are the benefits of Foundations?
Improve your relationship: Whether you are dating, engaged, or married, Prepare/Enrich has been scientifically proven to improve your relationship dynamics and relationship skills.
Reduce your risk of divorce: Studies have shown couples using Prepare/Enrich along with supportive counseling prior to marriage have the potential to reduce their chances of divorce by as much as 30%.
A rich and rewarding experience! It is fun to explore and examine your relationship within a framework that encourages awareness of thoughts, feelings, constructive dialogue, and meaningful understanding of each other.
---
What kind of programs and services are there?
The Group Program is for dating, engaged, married, or mixed-stage couples looking to build a strong Foundation in their relationship! Each session is led by a trained facilitator and licensed counselor who help couples discuss and understand their specific relationship stage as they are taught proven relationship skills.
The workshop includes 4-8 learning modules delivered in 4 hours in groups of 5-10 couples. Inspired by the workshop, Foundations can also be delivered in a six session small group program or individually in a private setting. When purchased through Foundations the couples assessment powered by Prepare/Enrich is included for each couple and is completed prior to attending the workshop, small group, or session.
---
What types of things will we be doing? What do we expect?
Hands-on activities that spark great conversations.
Meaningful group discussions while keeping personal information private.
Understand and learn a specific set of skills designed to create a meaningful and long lasting foundation.
---
What will we learn?
Participants will learn many different competencies during their journey to build a strong relational foundation. These skills focus on three areas: emotional recognition and expression; creating and sustaining intimacy; and implementing practical knowledge, strategies, and attitudes for a happy long lasting and strong relationship.
---
What is the Prepare/Enrich couple's assessment?
The Foundations Program utilizes the Prepare/Enrich customized couple's assessment. It leads the way in helping couples explore and strengthen their relationships. The couple's assessment is an online survey each partner completes in about 30-45 minutes. This is not just any survey. The items you respond to are based on research and are intended to help you identify the unique strengths and potential growth areas of your relationship. Built on a solid research foundation, the material has been improved and refined over the years to become one of the best, most effective, easy-to-use relationship assessment tools available.
Based on a couple's assessment results, additional individual sessions may be recommended where a licensed counselor will work more in depth with the couple to discuss and understand their results as they work to improve their relationship dynamic.
---
How can Foundations help my relationship?
Over the last 30 years, the Prepare/Enrich relationship program has empowered and energized more than 3 million couples. It is one of the best, most effective, easy-to-use relationship programs. That is why Foundations decided to utilize this material in our mission to support happy successful and lifelong relationships! The Foundations Program will utilize specific, evidenced based exercises designed to improve your relationship. Some of the topics addressed during the Foundations Program will help couples:
Explore strength and growth areas

Develop a more balanced relationship

Strengthen communication skills

Resolve conflicts and reduce stress

Explore, understand, & appreciate personality differences

Identify and manage major stressors

Compare family backgrounds & explore family of origin issues

Comfortably discuss financial issues, financial planning, & financial budgeting

Establish personal, couple, and family goals
---
What does the research say?
A recent independent study found couples who participated in a Prepare/Enrich group program exhibited positive gains in knowledge, felt more confident in their relationship, engaged in more positive conflict management behaviors, and felt more satisfied with their relationship. Plus, the benefits for those completing the group process were just as powerful as those who completed the feedback privately with a facilitator (Futris and colleagues, 2011). Build community and connections with other couples using this fun and thought provoking workshop or group process. Some of the topics may include:
Sharing Strength & Growth Areas

Identifying your Personal Stress Profile

Communication

Conflict Management & Resolution

Financial Management

Sexuality, Romance & Affection

Closeness & Flexibility
Overall, sound research and statistics are merely one way to uncover life's challenges, collectively and individually. Are divorce statistics distracting us from more relevant conversations about the purpose of marriage? First, can we all agree the goal of marriage is not to "avoid divorce?" If yes, let's start a new conversation about the goal of marriage: Two people who help one another flourish and thrive, live with purpose and passion, and support one another's growth and development in their humanity, emotionally and spiritually.
---