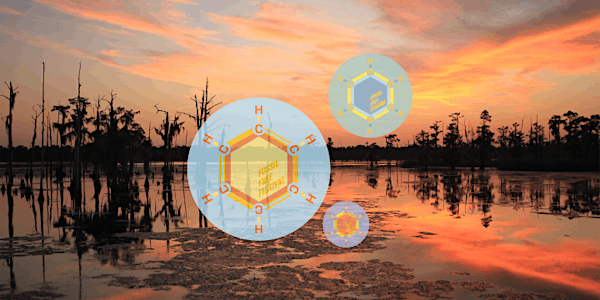 When and where
Location
The Broad Theater (636 N. Broad Street), Joan Mitchell Center (2275 Bayou Road), and Grow Dat Youth Farm (150 Zachary Taylor Drive)
Refund Policy
Refunds up to 1 day before event
Description
In New Orleans, we know that times of transition are best met with community and celebration. Our society's transition from the Fossil Fuel Era is no different. Timed to precede the Jazz & Heritage Festival Presented by Shell, Fossil Free Festival will unite community for one week with art, food, music, film screenings, and workshops, carving out a dedicated and open space for us to dig deep into the ethics and complexities of funding art and education with fossil fuel money and to imagine a #FossilFreeCulture.
For full event description and schedule details, visit www.fossilfreefest.org
**FFF is free and open to the public**
FILMS | April 2-5: Evening film screenings every night @ 6pm
@ The Broad Theater
636 N Broad Street
April 2: My Louisiana Love, a film by Monique Verdin
April 3: Maquilapolis, a film by Vicki Funari and Sergio De La Torre
April 4: When Two Worlds Collide, a film by Heidi Brandenburg and Mathew Orzel
April 5: StoryShift Shorts Salon (Cry You One, The Condor & The Eagle, Defend Puerto Rico, Water Warriors). Films will be followed by story sharing among filmmakers and audience.

FEST |
April 6: 9am-12pm
Open House @ A Studio in the Woods
Tour of the woods with botanist David Baker, 10:00 am
13401 Patterson Road

April 6: 5pm-8:30pm
"Equity" @ Joan Mitchell Center
2275 Bayou Road

5:00-5:30 Doors open / buffet dinner by Black Swan Experience
5:30-5:40 Opening and Grounding: Sunni Patterson
5:40-5:50 Welcome: Monique Verdin and Imani Jacqueline Brown
5:50-6:20 Mossville special preview
6:20-6:40 Keynote: Monique Harden
6:40-8:10 Opening Roundtable: Equity After 300 Years of Extraction. Moderated by Gia Hamilton. Featuring: Angela Kinlaw, Michael Dardar, Rebecca Snedecker, Shana griffin, Yudith Nieto.
8:10-8:30 Closeout: Sunni Patterson + Sultana Isham

April 7: 9am-7pm
"Complicity" @ Joan Mitchell Center
2275 Bayou Road

9:00-12:00 EJ Tour of Cancer Alley (off-site) by Hidden History Tours/ LA Bucket Brigade. Separate and limited registration. Depart from and return to Joan Mitchell Center
12:00-1:00 Welcome and Lunch Break (Brown Girl Kitchen)
1:00-2:15 Keynote: Beka Economopoulos
2:15-2:45 Performance: Sacramento Knoxx
2:45-5:15 Complicity Workshop: Facilitated by Jackie Sumell and Imani Jacqueline Brown
5:15-5:30 Break
5:30-6:30 Action! Or: How I Learned to Stop Worrying and Love the Transition with Riot Mueller
6:30-7:00 Performance: Quintron and Miss Pussycat
7:00-7:10 Closeout and invitation to last day
April 8: Fest, 9am-7pm
"Vision to Action" @ Grow Dat Youth Farm
150 Zachary Taylor Drive

8:00-9:00 Doors open; coffee and pastries by Shake Sugary
9:00-9:30 Performance: ArtSpot Productions and Mondo Bizarro's Loup Garou
9:30-10:00 Welcome; registration
10:00-10:30 One Question Unity Scroll w/ Rachel Schragis
10:30-1:00 Vision Round Table facilitated by Sage Crump
1:00-2:00 Lunch Break (Carmo Cafe)
1:30-2:00 Performance: Spirit & Sparrow
2:00-3:00 Keynote: Jessi Parfait
3:00-3:30 Performance: Moose Jackson
3:30-5:00 Action Workshop: Another Gulf is Possible & Suzanne Dhaliwal and Imani Jacqueline Brown
5:00-6:00 Performance: Rory Danger and the Danger Dangers
6:00-7:00 Buffet dinner by Cafe Carmo

April 8: After party, 7pm-12am
@ Three Keys at Ace Hotel
600 Carondelet Street
7:00-9:30 DJ AFRO/ANARCHY Set
9:30-12:00am Juju Child & the Harmonic Roots