Description
In 2012 the world as we know it began to change. Trayvon Martin was killed by George Zimmerman and the
#BLACKLIVESMATTER
movement began to gain footing. So what do you do? I began to write! here we are after 2 script workshops and an official Amazon.com release we are ready to present the choreopoem to the world.
"Expanding decades,
FOR COLORED BOYZ ON THE VERGE OF A NERVOUS BREAKDOWN/ when freedom ain't enuff
echoes the poignant storytelling of my grandfather father, and future son. As a colored boy, I walked away charged to responsibly tell my story." -- Kevin Anderson, T.R.U.T.H. Project.
FOR COLORED BOYZ is a
eeries of poetic monologues to be accompanied by dance movements and music, a form originated by Ntozake Shange who coined the term choreopoem. "FOR COLORED BOYZ..." tells the stories of 5 men who have suffered oppression in a racist society.
Our show is inspired by the award winning choreopoem
for colored girls who have considered suicide when the rainbows enuff
written by Ntozake Shange. This choreopoem centers around 5 men of color navigating through the past, present and what seems to be the future in a world where disenfranchisement, racism, hyper-masculinity and stereotypes are prevalent.
Join us on Opening Night, March 29th and walk down our red carpet. The who's who of H-town will be in the building and after the show come party with the creative team and cast! This is a night you don't want to miss!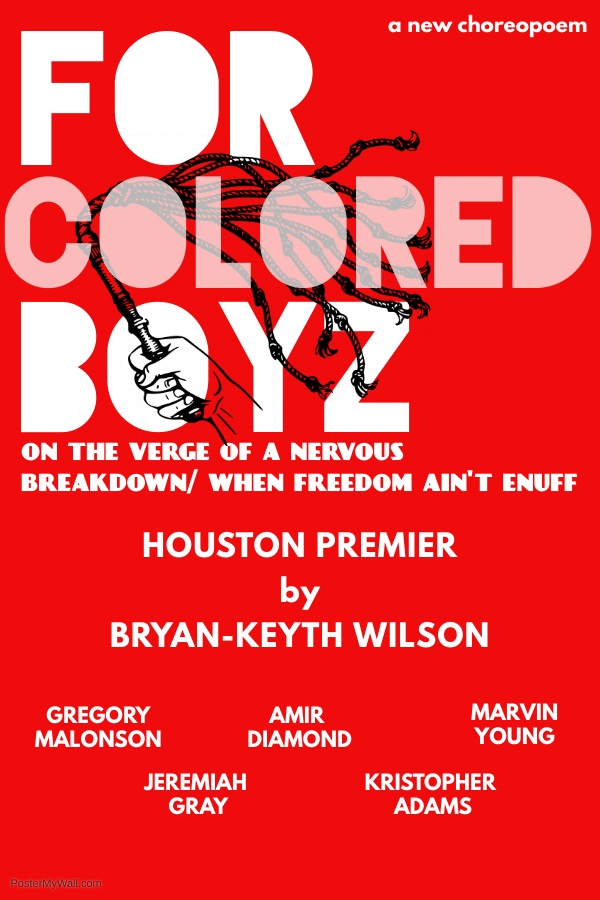 Featuring: Amir Diamond, Gregory Malonson, Jeremiah Gray, Kristopher Adams and Marvin Young.