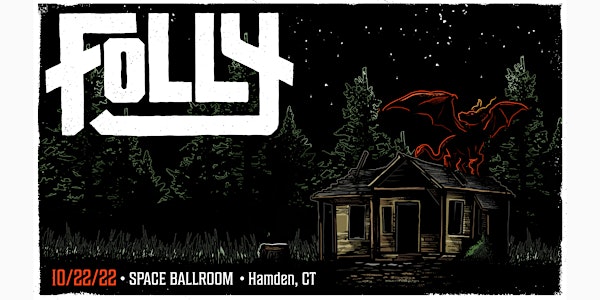 Folly
Premier Concerts, and Manic Presents:
Location
Space Ballroom
295 Treadwell Street
Hamden, CT 06514
About this event
General Admission Standing Room Only
COVID-19 Policy
Masks are strongly encouraged.
By purchasing tickets to this event, you agree to abide by the State of CT, City of Hamden, Artist, and Space Ballroom's Health and Safety measures in effect at the time of the event. Check back for updates to your event on our website as guidelines and entry requirements are subject to change.
FOLLY
Formed in 1997, FOLLY puts a wildly eclectic spin on your garden variety ska, punk, metal, and hardcore sounds. Never ones to paint within the lines, FOLLY proudly challenges listeners to join them in their genre-bending songs and their chaotic live shows. Stagedives, singalongs, and skankin' to the rhythm, it all happens here…and it's a beautiful thing. Based out of Sussex County, New Jersey, FOLLY released several demos, 2 EP's, and two full length albums on Triple Crown Records. Insanity Later (2004) was met with its share of fanfare and confusion. As they say, if you know…you know. The band toured the U.S. consistently and released Resist Convenience (2006), its namesake a nod to the band's chosen path: Doing things your own way, even if it's the hard way. They lived in a van for months at a time, playing every VFW hall, basement bar, or house show they could. They lived out the punk rock dream to its logical conclusion. The band ended things in 2008. After a few years, they decided on a less fatalistic approach to their activity having risen from their musical grave for a variety of festival dates and special appearances. 2019 saw the 15 year anniversary of FOLLY's debut album. The band celebrated this milestone with a vinyl reissue of Insanity Later, adding a reimagined artwork and layout, put out by old friends at Triple Crown Records. The band re-emerged in 2022 with a heightened level of activity, with lives dates and new releases planned.
Links: Official Website | Facebook | Instagram | Spotify