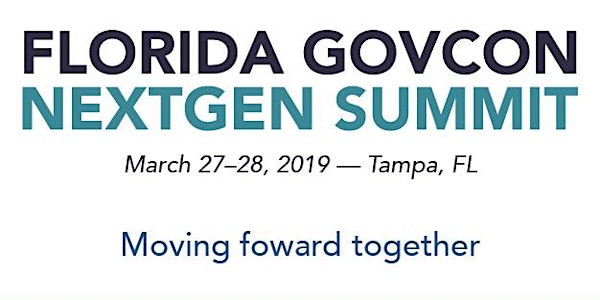 Florida GovCon Summit 2019
When and where
Location
Bryan Glazer Family JCC 522 N Howard Ave Tampa, FL 33606
Refund Policy
Refunds up to 30 days before event
Description
The Premier Tampa Bay Defense Week Event
featuring agency speakers & matchmaking
Bill Blais with SBA Office of the CIO, formerly Deputy Director of US Digital Service with the Executive Office of the President of the United States
Chris Harrington, Director of Small Business Programs, SOCOM
Jerry McGhee, Contracting Officer, SOCOM
Leslie Faircloth, Deputy for Small Business, NAWCTSD
Joyce McDowell, Small Business Specialist, NASA
Robb Back, Customer Service Representative, GSA
Almena Ryans and Larry Ross, OTA Leads, Ground Vehicle Systems Center
Garth Arevalo of Lukos and Lori Larsen of Celestar on Threats and Trends for Small Business GovCon
Collaboration Sessions: OTAs, Selling to Special Operations, SOF Core, Cyber
SPECIAL GUEST: Barbara Stankowski shares her journey from Navy Captain to GovCon Entrepreneur to EXIT on Thursday as final keynote on Thursday.
Advanced Sessions:
Learning Your Way Around OTAs
Advanced Teaming Strategies to Accelerate Small Busines Government Revenue
Leveraging SBA's All Small Mentor-Protege Program (ASMPP) to Grow Your Business
Powering Your Pipeline Using Business Intelligence
How to Market Your Small Business Certifications - It's Not What You Think!
Forecasts and Opportunities with Agency Partners followed by Matchmaking
Business Development Game Changers
Hitting Your Rate Target!
Demystifying the Bid and Size Protest Processes
Creating a Cyber Community of Practice
LEVERAGING TEAMING AND BUSINESS INTELLIGENCE TO GROW YOUR GOVCON REVENUE FASTER!
Your 2019 Focus is on Revenue Growth, because without that... nothing else matters.
You've got to find faster ways to meet, match and grow your company.
As a small business beyond the startup stage, this event is for small businesses in federal contracting focused on growth who are ready to get to the next level NOW, not 2 years from now. You're not a startup anymore - and you want to talk to peers and subject matter experts about trends and strategies for GovCon Growth.
STAGE 2: TRACTION - you've got subcontracts and steady revenue, $1M to $5M in Revenue from relationships you've built up. You're focused on expanding the work you have with your current customers by providing solutions beyond your original scope of work. You're making strategic investments to create processes and systems so you can scale faster. You're profitable and building up cash flow so you can move to the next level.
STAGE 3: GROWTH - you're getting on longer term contracts now, and with your pipeline you can see you'll get to $10M. You're setting up a GSA schedule and going after more GWACs. You've developed several unique capabilities and you know it's time to reach out to new agencies and getting ready to prime.
STAGE 4: ACCELERATION - you've gotten prime contracts and are tracking your past performance to get on more teams. You're finding more ways to expand the business, while still managing your size standard. You're making choices now about whether you want to stay within your size standard or leap past it.
Hard-hitting Advanced Topics for Small Businesses in Federal Contracting plus group Breakouts, Matchmaking, and Solution Sessions to blast past the challenges that are keeping you from growing at full speed.
You're invited to collaborate in this unique business experience, and invite your teammates, your subcontractors and your prime contractor colleagues, to map out teaming strategies so you accomplish in six months what others will take two years to do! Get them to hang out with you for the weekend on the boat, biking or just relaxing too.
Dates: Wednesday and Thursday March 27-28, with pre-event mixer on Tuesday night and post-event Tour of SOFWerx and The Bad Monkey
Matchmaking and Solution Sessions with SOCOM, NAWCTSD, NASA-KSC, GSA, SOFWerx, NSXTL, TRex, Solvability, SOFTA, Freedom Information Systems, VISTRA Communications, Winquest Cyber, The Undercroft, Bass Berry Sims, Cordia Partners, TeamingPro and many more.
Questions- e-mail support@solvability.com!