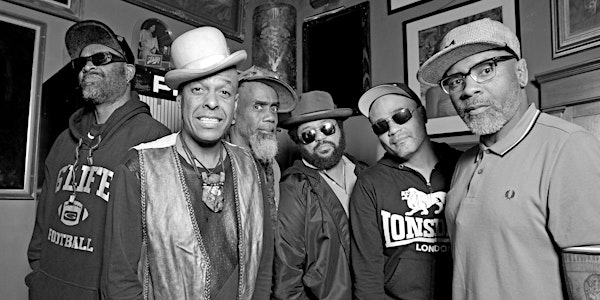 Fishbone
Premier Concerts and Manic Presents:
Location
Space Ballroom
295 Treadwell Street
Hamden, CT 06514
About this event
General Admission Standing Room Only
COVID-19 Policy
Masks are strongly encouraged.
By purchasing tickets to this event, you agree to abide by the State of CT, City of Hamden, Artist, and Space Ballroom's Health and Safety measures in effect at the time of the event. Check back for updates to your event on our website as guidelines and entry requirements are subject to change.
FISHBONE
Fishbone is an American rock band formed in Los Angeles in 1979, that plays a fusion of ska, punk, funk, metal, reggae, and soul. AllMusic has described the group as "one of the most distinctive and eclectic alternative rock bands of the late '80s. With their hyperactive, self-conscious diversity, goofy sense of humor, and sharp social commentary, the group gained a sizable cult following."
Fishbone achieved their greatest commercial success in the late 1980s and early 1990s with hits such as 'PARTY AT GROUND ZERO', 'UGLY', 'SUNLESS SATURDAY', 'EVERYDAY SUNSHINE' and many more. With their hyperactive, self-conscious diversity, goofy sense of humor, and sharp social commentary, the group gained a sizable cult following upon being signed to Columbia Records in 1984. Since that point Fishbone toured the world headlining shows, festivals and leaving people stunned and still one of the best shows ever seen.
Combining equal parts of deep funk, high-energy punk, and frantic ska, Fishbone remains as one of the most distinctive and eclectic alternative rock bands ever created. With a new EP recorded produced by Fat Mike of NOFX and coming out on Fat Wreck Chords later in 2022, Fishbone is getting ready to reclaim their live touring throne, leave the audience wanting more, thinking more, influencing younger bands, and paving the foundation and legacy they have been laying for decades.
Links: Official Website | Facebook | Twitter | Instagram | Spotify
ACTION/ADVENTURE
Action/Adventure (A/A) is a pop-punk band hailing from Chicago ready to shatter decades-long stereotypes of the scene. Comprised solely of BIPOC, their mission is to create #PopPunkInColor and ensure pop punk is a genre where everyone is represented on and off stage. Playing collectively together since 2014, the group has gotten attention from alt scene tastemakers like Alt. Press and Kerrang!, garnered nearly 20k monthly listeners on Spotify, over one million plays on TikTok, and even secured a slot at the final Vans Warped Tour in 2018.
The band consists of Adrian Brown (drums), Blake Evaristo (lead vocals), Manny Avila (bass), Oren Trace (guitar), and Brompton Jackson (vocals/guitar). They've released multiple singles along with three EPs, Rumble Pak (2015), Last Minute Stuntman (2016), & Going Heel (2018), and are set to release their fourth EP, Pulling Focus, in April 2021.
Typically landing somewhere near melodic hardcore, the dynamic five-piece collectively write music that slides along the vast spectrum of pop punk. Poppy lyrics and melodies bring an air of familiarity that are simultaneously bringing a fresh perspective through a new lens, and gripping riffs and thrashing breakdowns that you can nod your head to, they draw inspirations ranging from Fall Out Boy to Senses Fail and Four Year Strong.
A/A has now successfully planted their flag into the national landscape of the pop-punk scene following the release of their powerful 60-second single, "Barricades," which details discrimination each band member has faced while gigging at pop-punk shows across the country. On a whim at the suggestion of a friend, guitarist and vocalist Brompton Jackson posted the impactful music video for "Barricades" onto TikTok one afternoon with their hashtag #PopPunkInColor, and uninstalled the app shortly after. By the end of the day, they had over 60k plays. Within three weeks, the guys had over one million plays and an email from their dream label in their inbox.
Now poised to release their first EP as a signed Pure Noise Records act, Pulling Focus, is releasing on April 30, 2021. Now labelmates with the same acts they grew up listening to, (Senses Fail, Four Year Strong, & The Story So Far), the band is set to make even bigger waves in the scene. Come catch the A/A wave.
Links: Official Website | Facebook | Twitter | Instagram | Spotify