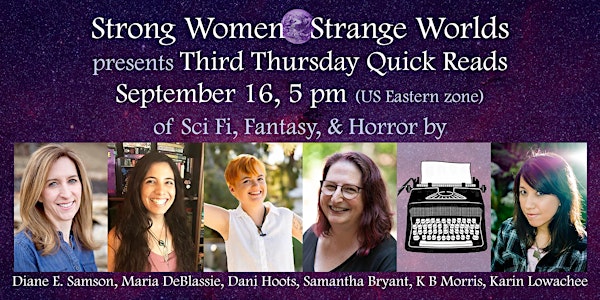 First Friday - Third Thursday Quick Read
6 authors * 8 minutes each - come find your next favorite read with us!
About this event
Join us for a happy hour tasting menu of science fiction, fantasy, and horror stories written by women and non-binary authors. We'll feature 6 authors who will each have 8 minutes to tempt and tantalize you with their reading. Our readings are like Forrest Gump's box of chocolates - you never know what you'll get!
The event takes place live, via Zoom. Attend from anywhere!
There will be time for questions & answers at the end and many authors will be giving away something - a prize pack, free books, or something else!
Our September16th event features authors:
Diane E. Samson
Maria DeBlassie
Dani Hoots
K B Morris
Samantha Bryant
Karin Lowachee
And emcee/host Sarah Smith along with authors Terri Bruce and Anne Nydam.