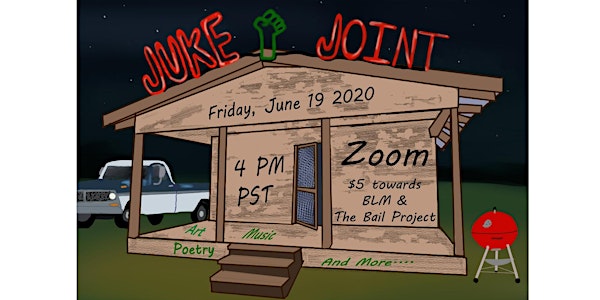 First Annual Juneteenth Juke Joint
Sales Have Ended
Registrations are closed
Thank you for your interest in the First Annual Juneteenth Juke Joint. If you aren't able to join us this year, please donate to our Paypal or CashApp. All proceeds will go entirely and directly to Black Lives Matter and The Bail Project. Paypal: https://www.paypal.me/juneteenthjukejoint CashApp: $JuneteenthJukeJoint
First Annual Juneteenth Juke Joint- A Virtual Celebration Of Black Voices
About this event
The First Annual Juneteenth Juke Joint is a safe space created for Black folks to heal, celebrate our culture, witness Black excellence, buy back the Black, and most importantly, donate money to Black Lives Matter and The Bail Project to help bail our community as they are victimized by the criminal justice system in America.
Erika E. Wade and Darian T. Hill will be your hosts, and a variety of Black artists and Black business-owners will be featured throughout the event. Beats will be provided by Travis Rice, and smaller spaces will be available for networking.
Juneteenth is a day to celebrate freedom, our freedom. While the chains of our oppressors are still whipping at our heels, Juneteenth will always be ours. Let's give it the respect it deserves this year and from now on.
INSTRUCTIONS: *****In order to keep this space as safe as possible, there will be a very unique ticketing experience. Guests should RSVP on Eventbrite. From there, guests will receive an email with a link to our Paypal and CashApp accounts to donate a $5 Admission Fee. This fee will go entirely and directly to Black Lives Matter and The Bail Project. Once the $5 is paid, a Zoom link will be emailed the day before the event, on Thursday June 18th, 2020.*****
Event Date: Friday, June 19, 2020
Time: 4pm PST | 6pm CST | 7pm EST