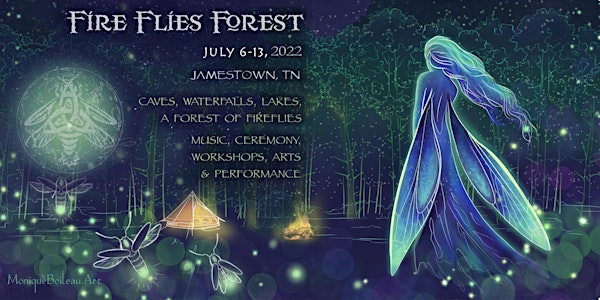 FIRE FLIES FOREST
Enjoy Music ~Camping~Swimming~Yoga~Workshops~Dancing~Healing ~ Tree Planting Surrounded by: Fireflies~Forests~Waterfalls~Caves~and A Lake
Date and time
July 6, 2022 · 2:22pm - July 13, 2022 · 12:22pm CDT
Location
Catoosa Event Center 216 Turnberry Drive Jamestown, TN 38556
Refund Policy
Contact the organizer to request a refund.
Eventbrite's fee is nonrefundable.
About this event
** GET YOUR TICKETS NOW BEFORE THE PRICE FLYS UP**
Join us deep in the forest of Tennessee on a magical 150 acre property that has 4 Waterfalls, many Caves, The second largest natural bridge in TN, 15 acre Lake and actual FIRE FLIES for an experience you will never forget! ______________________________________________________
**Enjoy Music by up and coming artists, performers, art, yoga, workshops, healthy food and magic**
EXCITED SO ANNOUNCE SOME OF OUR HEAD LINERS
Check out their music @
KAHEAL
Bloomarian
Maite La Muse
More to be announced soon!
______________________________________________________
The Link below is to the Fire Flies Forest photo albums:
https://www.facebook.com/media/set?vanity=FireFliesForestFestival&set=a.122033089836421
https://www.facebook.com/events/535267454160041
___________________________________________________________________
~Stone Stage~
~Lotus Flower Lake Stage~
~Projection Wall Stage~
~Sacred Fire~
~Air Temple~
~Spirit Falls Healing Sanctuary~
SCHEDULES WILL BE POSTED SOON!
~~~EVENT FLOW ~~~
6th - 7th July
Integration
Come set up early, get to know the land, create a bond with the community, do some workshops and calm sacred fire songs, Permaculture, Tree planting, Ceremonies and Surprises come
8th - 9th - 10th July
MAIN EVENTS
11th 12th July
Decompression
Give back to the land, Tree Planting, help clean up, pre pack up, rest, sacred fire and ceremonies
13th July EVERYONE MUST LEAVE LAND BY 12PM
~ Candlelight group walk through the woods, into caves with healing ceremony~
~Silent disco dancing into magical spaces behind waterfalls and through the land with surprises and deep connection~
~Water Party with a DJ on a pontoon boat, kayaks, paddle boards and water sports~
~Archery aiming towards your dreams~
FOOD VENDORS - We hope to inspire you to support the venders and eat on location** WE HAVE MADE SURE TO HAVE FOOD FOR ALL POCKET SIZEZ $5-$20**
~ 555V Food Truck- Hemp Nachos, Smoothies, B-fast options-Plant Based
~Tea house & snacks
~Super Tacos- Fish & Plant based Tacos with sides
~Hydration Station with infused water from the waterfall
*More food options will be added soon!
Join our second specieal event in Tennesse at "Catoosa Event Center" where we were the first festival to activate this magical land last year! We have a natural amphitheater that we will host musical acts, workshops, and activations held by beautiful beings from all over the nation! We will be activating an aray of unique and first time ever experiences such as holding silent disco journeys through the forest and under the waterfalls, creating a floating water stage on the lake, and video projecting a massive natural wall. We are expecting 700-1000 beautiful souls to gather and help usher in the new earth consciousness. Come join us in this historic event as we activate for the summer solstice and honor the many celebratory practices of Litha.
___________________________________________________________________
By entering the land you agree to take full responsibility for your actions and hold the event non-liable for any injuries.
This event's location is full of beautiful wonders however it has many places for possible injury if not careful and following guidelines. It is very important to stay within the selected areas as there are deep drops and cliff overhangs, holes, etc
Tickets are non-refundable
- PARKING (you will need to buy a parking pass)
- Mindful Market along with Healthy Food vendors, Elixirs non-alcoholic bars and Treasures Vendors
-FIRST AID and INFO Tent
-Water Stations
-Showers will be 2 by glamping and you can shower in the waterfall by Projection wall... Only natureal soap plz!
((THIS IS A LEAVE IT BETTER THAN YOU CAME EVENT. PLEASE BRING GARBAGE BAGS TO COLLECT ALL YOUR GARBAGE AND TAKE IT WITH YOU.))
Please respect yourself and dive into this unique opportunity fully present and clear.
**All cars will be searched at the gate and security will be present for the duration of the festival. If you are found having/doing any of the following listed below. You will be asked to leave immediately and your tickets will not be refunded.
-Crossing CAUTION TAPE BOUNDARIES
- Alcohol
- Illegal Drugs
- Unconscious, aggressive, or sexual behavior
- Single-use plastic bottles
- littering
-Pets
- Flashlights, Headlights
- Warm blankets
- Yoga mats
- Extra water, refillable water bottle
- Raincoat
- Swim Cloths
- Additional Candles/Flowers for the Altar
- Shoes for dancing through the forest
- Open hearts and minds
THIS EVENT IS RAIN OR SHINE.
___________________________________________________________________
Volunteer App
https://docs.google.com/forms/d/1to_DWWcKBnyeGY325xFT2azQwFg5jAtb_PuZMrmQwZ0/edit
Food Vendor/workshops/yoga
Email Kristalynnlove@gmail.com
Vendor Application: NOT FOOD
https://docs.google.com/forms/d/e/1FAIpQLSeXFlAYS4a0MwZGfNLAsAkolVoxujTSRzb1I-ReN65vxq3mgA/viewform
Live Painters Application Email: Giovannaalvarez.art@gmail.com
--------------------------------------------------------------------------------------Travel:
Please join our TELEGRAM GROUPS
RIDE SHARE Florida to Tennessee:
FF Ride Share FL to TN
RIDE SHARE Tennessee Airports to Location:
FF Airport Ride Share
RIDE SHARE Asheville to Festival
FF Asheville Ride Share
----------------------------------------------------------------------------------
You are not required to use a mask in this location.
Assumption of Risk and Liability Waiver
While attending the event, you may be exposed to the risk of contracting a communicable disease, including but not limited to COVID-19. By attending and/or participating in the event, you assume all such risks related to any illness (including COVID-19), injury or harm and are deemed to be given a full release of any liability to the venue owners, Fire Flies Forest and all associated producers, sponsors, including their employees, and volunteers, to the fullest extent permitted by law.
Take a peek back in time to our first festival at this location. The first video will show you the day adventures and the second into the magic of the night!!
This year we expect to grow and add in a lot of new adventures!