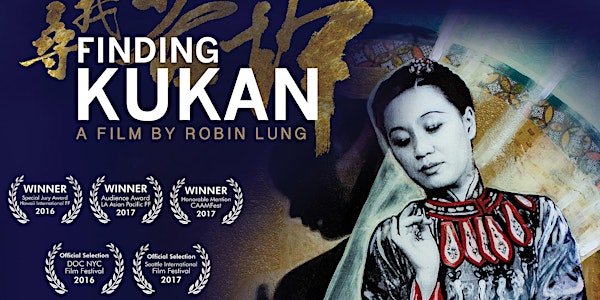 "Finding Kukan" Screening and Q&A with Filmmaker Robin Lung
Event Information
Location
Chinese Culture Center Auditorium
750 Kearny Street, 3rd Floor
San Francisco, CA 94108
Description
Chinese Culture Center (CCC) is thrilled to host a screening of the award winning documentary "Finding Kukan" in partnership with the Chinese American Citizens Alliance (CACA) San Francisco Lodge and the Center for Asian American Media (CAAM). Plus, filmmaker Robin Lung will be visiting from Hawaii and available for Questions and Answers after the screening. She'll be joined by creative collaborator Larry Reed, Artistic Director of Bay Area's ShadowLight Productions.
Screening starts at 6:30pm with a run time of 75 minutes
Q&A starts at 7:50pm
----------------------------------------------------------
Filmmaker Robin Lung investigates the case of Li Ling-Ai, the un-credited female producer of KUKAN, a landmark color film that revealed atrocities in World War II China to audiences around the world. KUKAN has the rare honor of being the first ever American feature documentary to receive an Academy Award® in 1942.
Lost for decades, Lung discovers a badly damaged film print of KUKAN, and pieces together the untold, inspirational tale of the two renegades behind the making of it – Chinese American playwright Li Ling-Ai and cameraman Rey Scott.
Through a dynamic mix of verite, archival, and re-enactment footage, Finding KUKAN creates an unforgettable portrait of a female filmmaking pioneer, and sheds light on the long history of racial and gender discrimination behind the camera, which continues to reverberate in Hollywood today.
FINDING KUKAN- AWARDS & FESTIVAL Honors
Winner, Best Documentary, Special Jury Award (Hawaii International Film Festival)

Winner, Audience Award (Los Angeles Asian Pacific Film Festival)

Winner, Honorable Mention, Documentary Award (CAAMFest)

Winner, Courage in Cinema Award (UMass Boston Film Series)

Winner, Audience Award Honorable Mention (Boston Asian American Film Festival)

Official Selection (DOC NYC; Chicago Asian American Showcase; Seattle International Film Festival; Mendocino Film Festival; Atlanta Asian Film Festival; Vancouver Asian Film Festival; Philadelphia Asian American Film Festival; San Diego Asian Film Festival)
FINDING KUKAN- REVIEWS
UNSEEN FILMS- Steve Kopian.
"Amazing." "If you love movies or history see this film."
HOLLYWOOD SOAPBOX- John Soltes
"4 Stars." "As the director peels back the layers of Kukan and Ling-Ai's story, so much is learned about WWII, the treatment of Chinese Americans and the history of this profoundly engaging woman. Lung has done a great service to the history of world cinema and the legacy of this pioneering producer. Finding Kukan makes a strong case that Ling-Ai and her legacy should be reconsidered for an honorary Academy Award."
VIDEO LIBRARIAN – Stephen Rees
"Lung's Finding KUKAN pays fine tribute to a 'little woman' who became a 'big hero.'" "Recommended"
BEYOND CHRON – Peter Wong
"Finding Kukan" demonstrates that re-discovering forgotten history can yield treasures as valuable as gold or jewels.
JB SPINS- Joe Bendel.
KUKAN is "arguably the most historically significant lost American film."
"Finding Kukan makes you want to see Kukan, which is rather the point. It also inspires respect and affection for its forceful protagonist. Time spent with her is a pleasure. Very highly recommended."
PLANET CHOKO- Mr. C
"Valiant" "Kukan is an important document of Chinese history as well as being an important part of American filmmaking." "Go grab some popcorn and find the nearest theatre screening Finding Kukan!"
REC ARTS- Louis Proyect.
"Totally absorbing." "I recommend the film as a fascinating look at a charismatic personality."
TALK NERDY WITH US- Tara Martinez
"With more calls for diversity in film and television than ever before, Finding Kukan and the forgotten story of Li Ling-Ai remind us all how far we've come and how much work we've yet to do."
THE ARTS FUSE- Betsy Sherman
"The film is a compelling detective story covering the fields of World War II history and film preservation….It's important in shining a light on unsung women in the history of American film, the saga of the Chinese in the United States, and attitudes towards Chinese-American women in particular. Plus the vivacious Li Ling-ai is a pleasure to get to know."
FINDING KUKAN- Filmmaker Statement
"I started this film project as a way of bringing visibility to an inspirational Asian female, but I grew to realize that the missing faces of Asian women in popular culture only mirror much deeper and disturbing exclusions of their stories from our historical records.
Li Ling-Ai's story not only highlights the systemic racism and sexism that still exists in Hollywood, it provides an inspirational rallying cry to women and people of color to fight to change the system. In my work, I hope to leave a legacy that will empower other women and people of color to become media makers, and that they, in turn, will create work that corrects the inequities and injustices that still exist in how we record history and tell stories in America."
ROBIN LUNG
FINDING KUKAN- BIOGRAPHIES
ROBIN LUNG
Producer/Director Robin Lung is a 4th generation Chinese American who was raised in Hawai'i. She has a 16-year history of bringing untold minority and women's stories to film. A graduate of Stanford University and Hunter College in NYC, Lung made her directorial debut with Washington Place: Hawai'i's First Home, a 30-minute documentary for PBS Hawai'i about Hawai'i's historic governor's mansion and home of Queen Lili'uokalani (aired December 2008). She was the associate producer for the national PBS documentary Patsy Mink: Ahead of the Majority (aired October 2008), Hawai'i unit producer for acclaimed film Vivan Las Antipodas!, unit producer for NOVA's Killer Typhoon, and producer/director of the feature documentary Finding KUKAN, which has won awards at HIFF 2016, CAAMFest 2017, and LA APFF 2017; was an official selection of DOC NYC 2016 and SIFF 2017; and is currently screening at festivals around the world. In 2015 she was selected as one of four documentary fellows for the NALIP ARC diverse female filmmaker residency.
Li Ling-Ai
Born in 1908 in Honolulu, Hawai'i, Li Ling-Ai (aka Gladys Li) was a playwright, lecturer and early moviemaker. With photographer Rey Scott, she co-produced the 1941 Academy Award®-winning documentary KUKAN, a landmark color film shot on location in World War II China. Li Ling-Ai came of age during the Chinese Exclusion Act, a period of time when Chinese people were legally discriminated against in the United States. She produced KUKAN to combat negative stereotypes of China and Chinese Americans. After making KUKAN, Li Ling-Ai continued to educate Americans about Chinese history and culture and document her own Chinese American experience. She worked as the director of the Far Eastern Department of Ripley's Believe-It-Or-Not; co-hosted the NBC nationally broadcast Ripley Believe-It-Or-Not television show; authored the book Life is for a Long Time, a memoir on the lives of her physician parents; and maintained an active lecture career well into her 80s. Li Ling-Ai died in New York City in 2003 at the age of 95.
Rey Scott
Rey Scott (aka Reynolds Gilmore Scott), was born in St. Louis, Missouri in 1905. After graduating from Bethany College in West Virginia, he became a roving reporter and freelance photojournalist. Soon after arriving in Hawai'i in 1937 he got a job as a night editor at the Honolulu Advertiser and met Li Ling-Ai during an interview. She convinced Scott to go to China to document the Japanese military invasion and occupation of the country. Scott visited China four times, filming the country with 16mm Kodachrome film in 1939 and 1940 to make the 85-minute feature documentary KUKAN. In February 1942, Scott received a special Academy Award® for producing KUKAN – it was the first award to recognize an American feature documentary. During World War II Scott served as a captain in the Army Signal Corps under John Huston and was an un-credited cameraman on the Academy Award®-nominated documentary From the Aleutians. Scott never made another film after World War II. He became a successful portrait photographer in Florida and died in 1992 at the age of 87.
FAQs
What are my transportation/parking options for getting to and from the event?
Public transportation is recommended as parking can be difficult to find in Chinatown. The number 8 Muni bus has a stop right outside of the CCC which is located at 750 Kearny Street, 3/F (inside the Hilton Hotel). The 1 and 30 Muni bus lines also come into Chinatown and have stops a short walking distance to the CCC.
If you wish to drive and park there is the Portsmouth Square Parking Garage directly across the street from the CCC. Hourly rates are $4.00 and there is an evening maximum of $8.00 if you enter the garage after 5pm and leave by midnight. If you park here then take the garage elevators all the way up to the park and walk across the pedestrian bridge and up the stairs adorned with a tile mosaic. You'll then be inside the CCC. (please note rates are subject to change)
Another nearby parking garage is the Golden Gateway Garage which you can enter on Clay Street and has hourly rates at $6.50- 7.00/hour and a special evening rate of $1.00/ hour if you enter the garage after 6pm and leave by closing at 10pm. (please note rates are subject to change)
There is also the Hilton parking garage directly beneath the CCC and the Hilton Hotel. You can enter this parking garage on Washington Street. Hourly rates are $4.00/ hour and a daily rate of $29.00. (please note rates are subject to change)
How can I contact the organizer with any questions?
Feel free to contact the CCC at info@cccsf.us or 415-986-1822
Date and time
Location
Chinese Culture Center Auditorium
750 Kearny Street, 3rd Floor
San Francisco, CA 94108