FGI Chicago x DG Expo: An Interview with Esteemed Chicago Fashion Designers
An Interview With Esteemed Chicago Designers: Takara, Rebellion by Stephanie Wheat, & Majamas by Germaine Caprio. Interviewed by Jess Crane
About this event
FGI Chicago Presents: Interview with Esteemed Chicago Fashion Designers at DG Expo
Learn from established designers who have made their mark in the Chicago fashion industry! What does it take to have a fashion career with longevity? Takara of Takara Everyday Elegance, Stephanie Wheat of Rebellion, and Germaine Caprio will give us insight into the ups and downs of their careers and how they have continued to do what they love the most. We will converse about their unique journeys in creation, development, manufacturing and sales of their brands. The seminar will offer attendees perspective on the answers to questions that will help them grow their own businesses.
Designers:
Accessories:
Born to West Indian parents and educated in Los Angeles, Takara first gained attention in the design world with her earthy, dramatic and ethnically-inspired jewelry and accessories made from natural prod­ucts such as cowry shells and palm wood. In ensuing years, the personable young designer knocked on many doors to get attention for her wares. Her persistence paid off. Takara sold her jewelry to several major catalog houses and to retailers such as I. Magnin, Marshall Field's and JC Penny's. Takara de­signed and manufactured 40,000 pairs of earrings for Sears.
Apparel:
TAKARA Designs are defined by the artisan's love of organic, elegant and free-flowing fabrics to create "event pieces" that are unencumbered, yet designed to fit the body. Inspired by the origami paper­folding technique, Takara uses daring shapes and asymmetrical lines to make bold-statement jackets, coats, blouses, dresses, and skirts that fold out into beautiful images. Architectural lines permit a layer­ing of TAKARA Designs in the lagenlook (layered look) style that is popular internationally and recently nationally.
Designed and manufactured in Chicago manufacturing firm, Takara creates funky, organic, and natural fiber clothing using linen, cotton, gauze and recycled materials. Also, known for her "Recycled Water Bottle Coats" Takara creates beautiful runway and street wear coats and accessories that are stun­ning. Designer for many catalog houses, boutiques and major department stores.
What began as a small accessory line 40 years ago, Takara has expanded over the years to include an exquisite clothing line, sold in her beautiful Forest Park Boutique. Prior to the Forest park location, she was a staple in the downtown Oak Park area.
Takara Designs can be purchased at the One Of A Kind Show
Visit her on line store: Shoptakara.com
Until the birth of my son, I'd never imagined myself artistic. I'd written in journals, danced in mirrors and sang throughout my childhood, but that was just to entertain myself. Watching, listening and reading with delight - whatever my untamable spirit created gave me my first wings. It was my way to escape from the moment into an infinite-like space, endless in possibilities, where time stood still. What should've prompted me into the arts, fell silently within as I tried unsuccessfully, like a square peg to fit into a circle. And time marched on.
But LIFE presents us with challenges that in essence are tough lessons waiting to be learned. On the other side of what seems like an upheaval of all that we know, a new understanding awaits. My son's birth was simply this magnificent catalyst & creative burst of light. My little stardust baby.
In 2003, I created 300 money clips for women, drenched in crystals, and started my first business in Scottsdale, AZ. A self proclaimed designer with no previous design background, I set out on a mission: food, diapers and a roof over our head. To that end, I created a way to help myself and women hold onto their money; both figuratively and literally. I had a new commercial pilot's rating that I set aside to go about the business of being a mother and I reconciled that designer supported that best. I also reasoned that all original ideas start somewhere, so why shouldn't I have one? With a one year old on my hip and the determination to keep him at home with me, I approached one high-end boutique after another. "But women don't carry money clips," they each said at first, to which I'd reply, "you're right, they don't, but they will!" And they did.
Next I made belts with monogramed initials in crystals, sandals with crystals, t-shirts, card cases, compact mirrors; everything crystals. But I now considered myself an embellisher and that didn't sit well with me. Celebrities were carrying my money clips, but it felt disingenuous. I truly wanted to be a designer but I was heading in the wrong direction. Hollywood was not my goal. I was main street and everything in between, so again I set out to get my hands dirty and to make something real.
Leather held the answer and was a whole new love affair for me. I enjoyed the "handle" of leather and before I knew it belts and handbags made their way into my line. Simple things.
Fast forward through years of parenting, the market crash, closing my first business, submerging myself in yoga teaching, add a shift in my desire to define myself by any one label and you'll find me currently making things by hand that I truly hope you'll love.
It's been said that if you spend 10,000 hours on anything, you'll know how to do it, well. So I guess, the work really does teach us.
Rebel On,
Steph
Fashion is one of the top polluting industries in the world so when I decided to start a garment line, I was conflicted. I was raised by a mom well ahead of her time who hated to throw trash into landfills and started recycling in the early 70s. She saw climate change coming way before any scientist and her passion for protecting our planet impacted me greatly. That's why I began my journey to turn an ugly industry into a more beautiful one - inside and out.
I launched Majamas in 1999 after designing, patenting and selling the first nursing tank top to Nordstrom Department Stores. Little did I realize I created an entirely new market...clothing designed for women to wear AFTER delivery. Soon I was creating a full collection of transitional clothing women could wear during pregnancy with discreet nursing access to use after delivering their babies and long after their babies' first birthdays.
After the 2008 recession, the maternity/nursing category began to fall off. Seeing the market shifting, I decided to focus on creating sustainable, beautiful basics all women could wear. Today we offer four collections: Women's, Men's, Baby and Maternity all under the Majamas Earth label.
At MAJAMAS EARTH, we are committed to making beautiful eco-friendly clothing that doesn't destroy our beautiful planet. That's why we manufacture our collections100% in the United States. It's the only way we can be sure our clothing is never sprayed with chemicals, waste water isn't dumped into our oceans and the people sewing them are treated ethically and paid fair wages.
We can change this dirty industry. Time to Care What You Wear. You can find Majamas Earth online at www.majamas.com, on Amazon and in Midwest Whole Food's Markets.
-Germaine Caprio
Jess Crane is a fashion industry professional, artist and musician. She offers over a decade's worth of industry knowledge and services for businesses at all stages and has an extensive background in studio arts, product life-cycle management and business operations.
Jess has released three independent full length albums and one compilation album with two different bands as a vocalist, bassist, lyricist and songwriter. She was also a booker and band manager for twelve years.
Jess Crane's, "The Bride," was featured in 44FLOOD's TOME 2 - Melancholia, an anthology in an oversized format showcasing world-class and emerging artists from diverse disciplines as they explore a single, esoteric theme. TOME is made by artists with artists for the artist within us all. "The Bride," was also displayed on the body at the 2013 TOME 2 gallery show opening at Last Rites Gallery in NYC. "The Bride," is an editorial garment created in a partnership collection featuring an additional design by artist Kelly Eaves.
Jess is the founder and owner of Jess Crane Design, LLC which specializes in consultation and services to help entrepreneurs and businesses bring their ideas to life through apparel and product design. Her experiences working with small businesses and corporations, give Jess a thorough understanding of the product development industry. She has a BFA in Fashion Design from The Illinois Institute of Art Chicago and an MS in Recreation, Sports and Tourism from The University of Illinois Urbana-Champaign. Jess is on the Board of Directors for Fashion Group International of Chicago and loves bringing communities together through events, experiences, art, compassion and knowledge.
Seminar 4 At DG Expo Chicago
Tuesday, August 27, 2019
4:00PM – 5:00PM
Tickets:
FGI Members: $10.00
Non-Members: $15.00
FGI Members must purchase tickets through this event listing for your discounted rate. Member rate applies to FGI Members from all regions. Check your email for your discount code or email us at FGIChicago@gmail.com
About DG Expo:
DG Expo features a two day Fabric & Trim Show for Designers, Manufacturers (producing Apparel, Accessories, Home furnishings, other Sewn Products), plus Private Label Retailers, Fabric Stores, Event/Party Planners.
Exhibitors are Wholesale Suppliers (including Mills, Converters, Importers, and Distributors) who have low minimums, and many have in-stock fabric and trims. And... Seminars focused on Business Growth & Profitability, plus Textile Classes! To be added to our email list now - please write to info@dgexpo.net or dgexpocorp@gmail.com
*In order to attend this seminar, attendees will also be required to register for the free DG Expo on site or via this link after purchasing tickets here. https://www.eventbrite.com/e/dg-expo-chicago-august-2019-tickets-53399844372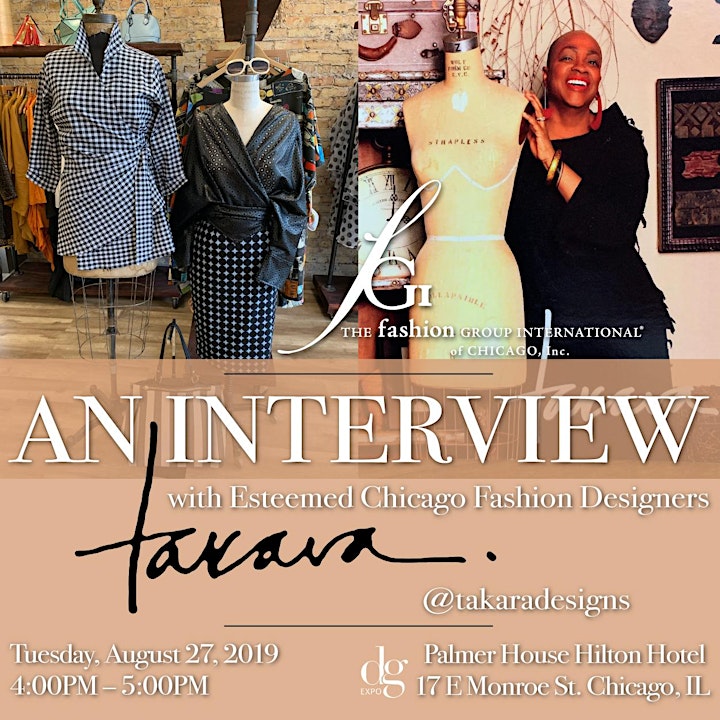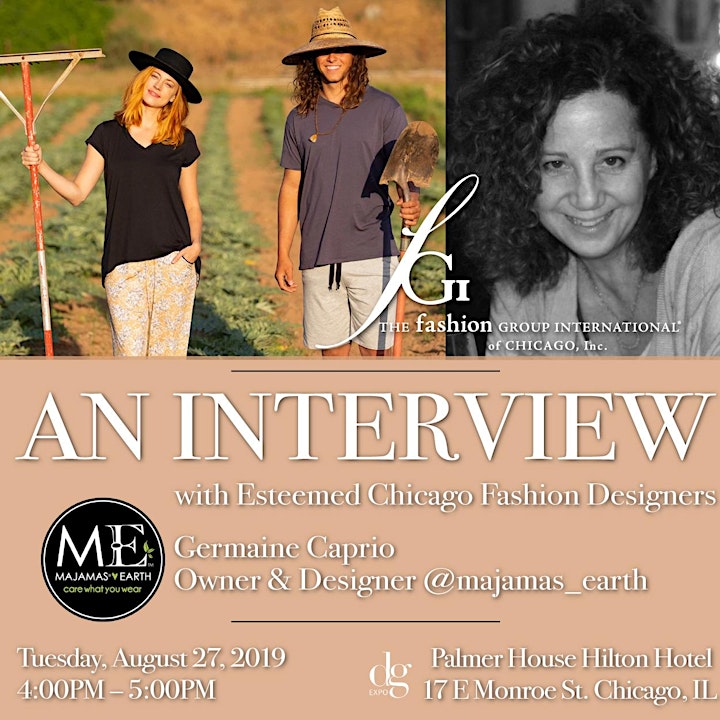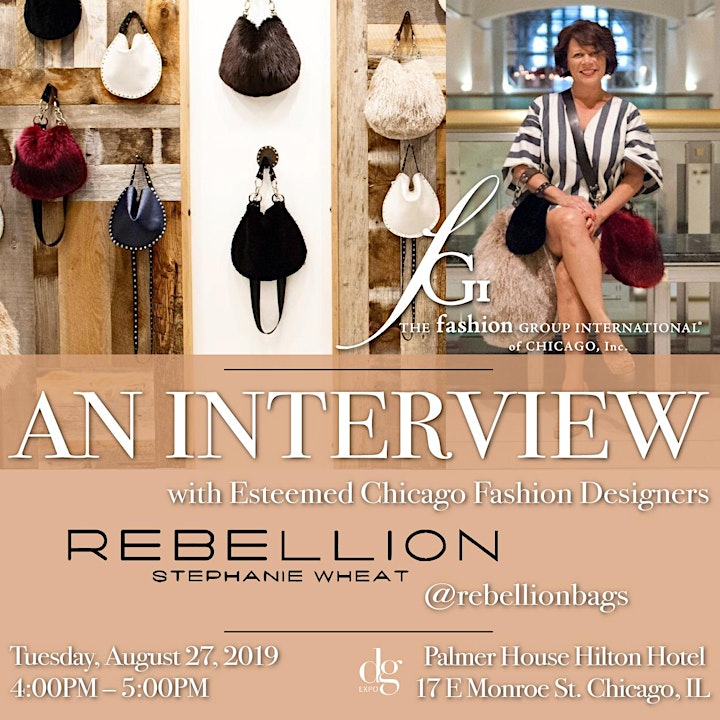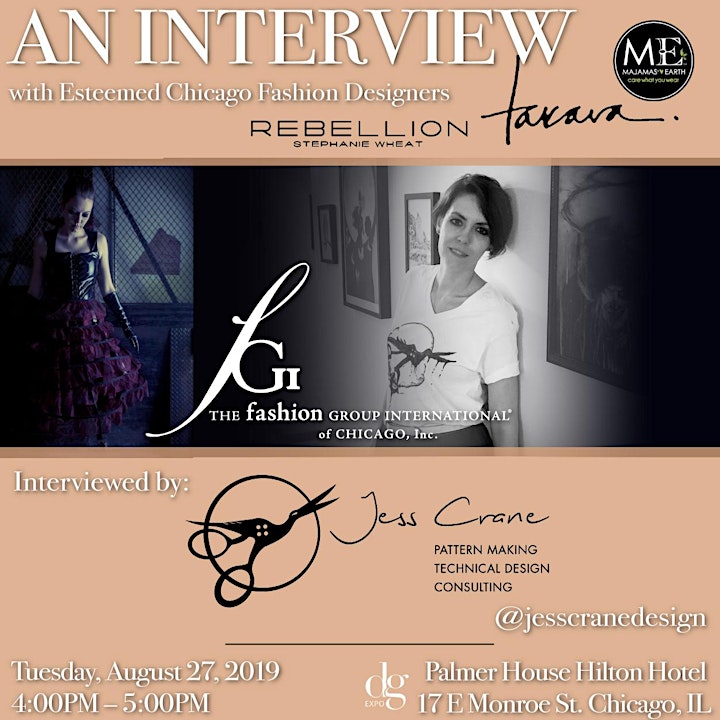 Organizer of FGI Chicago x DG Expo: An Interview with Esteemed Chicago Fashion Designers
The Fashion Group International is a global, non-profit, professional organization with 5000 members in the fashion industry including apparel, accessories, beauty and home.

The FGI mission is to be the pre-eminent authority on the business of fashion and design and to help its members become more effective in their careers. To do this, FGI provides insights on major trends in person, online and in print; access to business professionals and a gateway to the influence fashion plays in the marketplace.