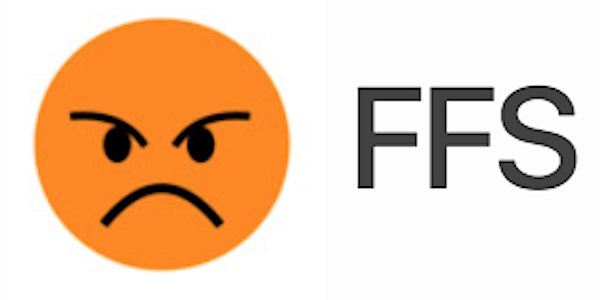 FFS Tech Conference
When and where
Location
CodeNode 10 South Place London EC2M 7EB United Kingdom
Description
FFS Tech Conf was accidentally created by a handful of experienced technologists who have all run conferences in the past. We've been dismayed by many recent conferences which seem monopolised by well-meaning and erudite speakers giving convincing presentations on non-controversial subjects, based on opinion rather than experience, delivered to what is effectively an echo chamber of fellow professional presenters and an audience so bamboozled by the intricately constructed arguments that they're not sure whether or how to challenge what is said.
A half-joking tweet one Saturday seemed to trigger a surge of interest, so here we are...
FFS Tech Conference only has sessions entitled "FFS …" which consist of 10-15 minutes of ranting followed by 15-20 minutes of audience participation discussion.
Good rants argue for something, they are not just attacks against something. We'll be addressing controversial topics in a robust yet constructive manner, which hopefully will lead to greater understanding amongst the audience and new ideas on how to address the issues raised.
Despite the no-nonsense and irreverent nature of this conference, it will be a safe environment for all attendees. We will not tolerate intimidation, harassment, personal abuse, discrimination, personal derogatory or demeaning conduct. This includes in your online behaviour as well as during attendance, whether directed at an individual or against some group defined by immaterial factors. See the full code of conduct on the web site.
For more information and to see the submissions/programme, visit the FFSTechConf website or see the #FFSTechConf or @FFSTechConf on Twitter.
Diversity and safety
We will not let this conference just be a bunch of middle aged white men ranting from a position of entitlement. This would undermine its validity and make for a poorer discussion of the issues we hope to include. These issues don't just affect all of those currently participating in the technology industry but also those who would like to but are not included for various reasons. The code of conduct is clear about behaviour and respect expected from people engaging with the conference and its attendees. We are making active efforts to ensure diversity at the conference by providing a significant percentage of tickets as part of a diversity initiative.
More to follow here about diversity tickets soon.
FAQs
How can I contact the organizer with any questions?
If you want to contact the organisers, please email organisers@ffstechconf.org
What's the refund policy?
FFS Tech Conference is a not-for-profit, community-focused conference organised and run by volunteers. The costs of the conference will be covered by a combination of generous sponsorship and low-cost tickets. For a variety of reasons, the organisers decided on a no-refunds policy for the conference. However, we are happy for people to swap attendees on any given ticket. If you find that for some reason you can't attend and want to find someone to swap with then we suggest you tweet out on the #FFSTechConf hashtag to find a likely candidate.


If you have any questions or concerns then please contact the organisers as above.

What will you do with my data?
You can see our data privacy policy on the website