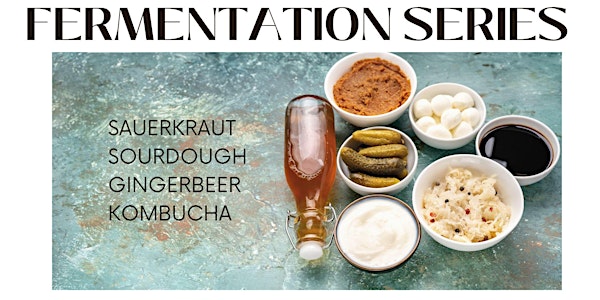 Fermentation Series
If you enjoy the science of fermentation, then join us for a series of fermentation classes!
By N.C. Cooperative Extension, Currituck County
Date and time
September 7, 2022 · 1pm - October 26, 2022 · 3pm EDT
Location
N.C. Cooperative Extension, Currituck County Center 120 Community Way #120 Barco, NC 27917
About this event
Each class will be held from 1 to 3 pm at the Currituck Extension Office. The fee for each class is $15.00. There is so much fun fermenting to do! Learn why these products are fermented, and how to care for them safely. With each class, participants will receive the necessary equipment to ensure their fermented product can be stored safely while it ferments. Join us for one or all four classes. Check out the schedule below.
Sauerkraut September 7th
In this class, we will get you started fermenting cabbage so that in just a few short weeks you will have homemade sauerkraut. This dish makes a great companion to hot dogs and bratwurst.
Sourdough September 21st
There is nothing like a delicious sandwich made with sourdough bread. Learn to make your very own sourdough bread and how to keep your starter alive. All participants will leave with a starter to ensure their breadmaking journey is successful!
Ginger Beer October 12th
Ginger beer is a delicious spicy beverage perfect on its own or added to mixed drinks. Learn to prepare this beverage at home and we will even get you started with your first batch during class.
Kombucha October 26th
In this class, we will discover the interworking of this delicious probiotic drink. You will get your own starter colony of bacteria and yeast to try your hand at brewing your very own batch.
We are accepting cash and check payments in addition to paying via credit card through Eventbrite. Please, make checks payable to NCSU. Checks and cash payments can be received at the Currituck Extension Office located at 120 Community Way Barco NC 27917, within 5 days of registration. Class size is limited and full registration, including payment, is required to hold your spot. If you have any problems registering please feel free to call us at 252-232-2261, and we will walk you through the process. If you are interested in joining us for other classes check out go.ncsu.edu/currituckeventbrite for a complete listing of classes.
For more information or accommodations for persons with disabilities please contact Olivia Patchel at 252-232-2261, email olivia_patchel@ncsu.edu no later than ten business days before the event.
About the organizer
NC State University and N.C. A&T State University work in tandem, along with federal, state and local governments, to form a strategic partnership called N.C. Cooperative Extension, which staffs local offices in all 100 counties and with the Eastern Band of Cherokee Indians.
Read our Privacy Statement
N.C. Cooperative Extension prohibits discrimination and harassment on the basis of race, color, national origin, age, sex (including pregnancy), disability, religion, sexual orientation, gender identity, and veteran status.
Individuals with disabilities are invited to request reasonable accommodations to participate in Extension sponsored programs and events. Please contact the county Extension office offering the program at least 14 days prior to the event to make arrangements.