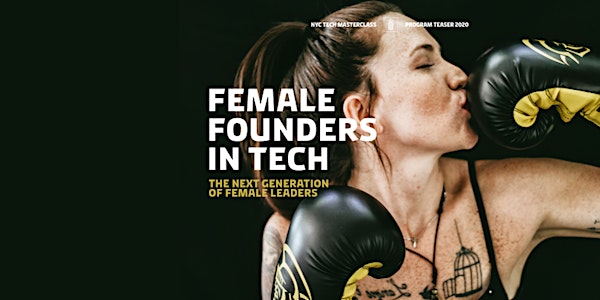 Female Founders in Tech 2020 - 5 month program
By The Trade Council of Denmark in New York
Date and time
June 3, 2020 · 2pm - October 22, 2020 · 10pm EDT
Location
New York 666 3rd Ave New York, NY 10017
Description
The Trade Council of Denmark in New York (TC) and Female Founders of the Future (FFF) invite Danish female founders in tech with high-growth potential to apply for 5-month program 'Female Founders in Tech 2020' (FFIT) to enable scalability and internationalization.
FFIT is a two-fold program consisting of an Online Task Force (Part I) and NYC Masterclass (Part II). The purpose is to help Danish tech startups and scaleups overcome the Covid-19 by making the right strategic choices and provide access to funding, new partnerships, and expert advisory on how to navigate through crisis aftermath.


Part I: Online Task Force - Surviving The Crisis June 3 to Oct 7, 2020
Part II: NYC Masterclass - Winning in The Aftermath Oct 19 - 22, 2020
In the event of travel restrictions or concerns for safety, the NYC masterclass will be postponed to Spring 2021.
FFIT is proudly sponsored by Digital Hub Denmark and the Foreign Ministry of Denmark.


What you will get
Online Task Force with FFF featuring 4x virtual connect and learn with industry leaders, facilitated Founders Circle, supporting and building a high performing startup team, fundraising in times of crisis, investor pitch training, feedback from experts and investor community and planning for NYC ecosystem, fireside chats with inspirational startups.

Access to full program FFIT Masterclass 2020 in New York with all expenses covered excluding flight and accommodation.

An exclusive opportunity to win a sponsorship to attend the Zuckerberg Institute Leadership Retreat with some of the hottest startups around the world meeting with thought leaders like Dalai Lama and Randi Zuckerberg.

For more information about the program and participation fees, please contact Victoria Bager (vicbag@um.dk) or Liva Echwald-Tijsen (liva@femalefoundersofthefuture.dk)
About
In collaboration with the non-profit association FFF, the Trade Council actively connects women in tech across the Atlantic to promote Nordic initiatives while supporting diversity in boardrooms. Selected female founders will get direct access to local knowledge from corporates, meet and connect with successful startup leaders from the New York tech ecosystem, leverage on a combined wide and strong network of private investors, investment companies, VCs, and challenge diversity questions in entrepreneurial leadership in tech.