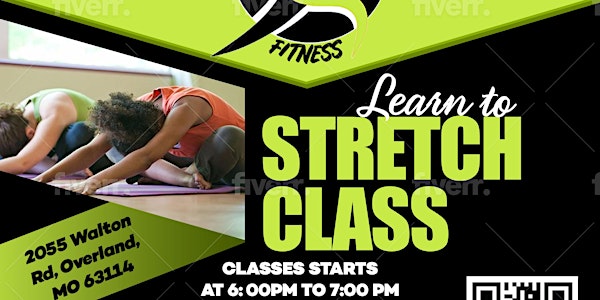 Family Stretch Class
Family Stretching Class
Date and time
Friday, January 28, 2022 · 6 - 7pm CST
Location
Keep Pushing Inc 2055 Walton Rd St. Louis, MO 63114
Refund Policy
Contact the organizer to request a refund.
Eventbrite's fee is nonrefundable.
About this event
Why come to Family Stretch Class with Strive 2 Fitness?
Between the intensity of work, school, birthday parties, swimming lessons, hockey, ballet, music lessons and a myriad of other family events, what's an activity your family can participate in together- one that everyone will benefit from?
That would be yoga, of course. A proven success among families, it's the perfect way to get everyone together for some fun, memorable experiences.
The advantages of family yoga are plenty and we'll soon be sharing them with you.
What is Family Stretch Class, you might ask?
A growing trend these days,stretch classes are those that can be experienced together as a family. That includes parents, sons, daughters, grandparents – even aunts, uncles, and cousins. You might be wondering how they differ from regular yoga classes. In general, family yoga classes often include things like:
Group and partner yoga poses• Fun games• Dance• Singing• Laughter• Goofiness and playfulness• Loving embraces and restful time. They are also broken down into several sub-niches, such as:
Moms and tots' yoga / parent-child yoga• Yoga for teens and/or tweens• Kids yoga ages 5-9• Family yoga ages 4+• Yoga for mothers and daughters• Yoga for fathers and sons
Family Yoga & Mindfulness Class Nowadays, numerous of family yoga classes. That can fit into their schedule at least once a week. They may run all year long or be introduced bi-weekly for a certain length of time. These can be drop-in or pre-registered classes.
What are the Advantages of Family Stretch Class?
There's an old saying you might be familiar with: The family that prays together stays together. It works the same way when you flow together with yoga. Whether it's prayer or practice, the benefits of yoga are sure to strengthen bonds and pull everyone in closer. So what are the ways family yoga can be beneficial?
-HELPS DEVELOPS A HEALTHY BODY IMAGE-PROMOTES MORE HEALTHY HABITS-DEVELOPS STRONG BONDS-OPENS UP COMMUNICATION-BUILDS CONFIDENCE-HELPS MANAGE EMOTIONS-CONNECTS US WITH COMMUNITY-SOMETHING FUN TO LOOK FORWARD TO EVERY WEEK
.
Locations:
2055 Walton Rd Overland , Mo 63114 or
8255 Gravois Ave St.Louis ,Mo 63118
Free Parking (Park at the Front Entrance)
Walk ins are welcomed
.
Classes are every Tuesdays and Fridays
.
Classes are $10 a session &UP
Come Out and Join Us!!!
Please go online to mark your spot - https://strive2fitness.setmore.com
About the organizer
I started this group as I have a passion for helping people, that really want to be helped.

I started it because I want to see people shine waking up every day enjoying life. I want to change lives. 

Only people who want to lose weight, look awesome, feel awesome, add muscle, feel hot and have a mindset of a warrior.

If you're always talking about losing weight, always arguing saying nothing works and even think you know better.

For all other awesome people let's do something epic for ourselves.

Firstly, I want to make it clear that the whole purpose of this program will be to take you from the 'Concept to Reality' of your supplement idea...even if you have NO idea right now what to do.

What I realized in today society is NO ONE values anything that is free. Why would I put 100%+ into someone to help them achieve what they've always wanted if they don't put the effort in?