Description

Please Thank Our Sponsors!


recruitDC
*
November 19, 2015
*
Agenda
7:45 am - 8:45 am Registration and Networking
8:45am - 9:00am Welcome Remarks


9:00 am - 10:00 am Keynote Presentation
The Whole Self: Why Knowing Your Candidates and Your Workforce Changes Everything
Susan LaMotte, exaqueo Founder

We're so focused on looking for skills and behaviors when recruiting, we forget that the person we're hiring is actually, well, a person. In this session, Susan LaMotte will teach you how to better evaluate candidates using the Whole Self model she created featured in Harvard Business Review (HBR.) You'll learn why a holistic picture of a candidate makes for more effective hiring, and how to plan, conduct and evaluate research on your current workforce to better prepare for your workforce of the future. Sure, your job is to place candidates. But won't you be more effective if you hire candidates who are a better culture fit and engaged for the long-term?

10:00am- 10:15am Welcoming our Sponsors


10:30am – 11:15pm: Breakout Sessions - Choose one of the following sessions.

Talent Analytics - The Opower Story
Dawn Mitchell, Opower- Director, Talent Acquisition
Scott Walker - Senior People Analyst
Alan Henshaw - Manager, Talent Acquisition
The importance of talent analytics is increasingly being discussed in the recruiting industry, but - as many of us know - tracking, evaluating and interpreting data is easier said than done. While the "Googles" of the world are leading the pack in this area, most recruiting departments do not have a full-fledged analytics team and struggle to use data to make informed decisions. Moreover, most recruiting data is based on activity within an applicant tracking system, which can be prone to user error and misleading metrics. So, how can you start off on the right foot? How should you set goals, evaluate your team's performance, and report metrics to the business? In this session, you'll learn Opower's talent analytics story - including everything from "big wins" to "bumps in the road". In particular, this session will cover how Opower developed its talent analytics function over the past two years and successfully used data to improve performance, manage recruiter capacity, allocate budget, and highlight progress to executives. This session will also include take-aways the audience can implement right away without an advanced talent analytics function.
OR

Building a World Class Veteran Hiring Program
Melissa Stirling, Hilton Worldwide- Director, Military, Campus and Youth Programs
Tony Palm, TP&A, LLC.- Independent Staffing Consultant
The challenges of building a strategic veteran hiring program are numerous and complicated. By leveraging the leadership and branding expertise of Melissa Stirling, Hilton Worldwide has succeeded in establishing a program that isconsidered "world class". Since assuming the helm of Hilton's US Military recruitment effort in April 2013, the company has hired over 7,600 veterans, their spouses, and dependents globally, and is on track to exceed their goal of 10,000 well before the 2018 end date.
While a comprehensive strategy is essential in meeting corporate staffing goals, the need to interact with veterans "up close & personal", presents its own unique challenges. Navigating the excruciatingly difficult process warfighters and veterans face when conducting a job search is the purview of Tony Palm, a retired US Navy Recruiter and Independent Staffing Consultant whose practice is focused on the Department of Defense and the Intelligence Community. His willingness to share his unique combination of military, agency, and corporate recruiting experience has helped thousands find a post military career.
This session will provide an informative blend of strategic and tactical information regarding Veteran Hiring Best Practices. Organizations wishing to build a comprehensive veteran hiring program, and recruiters wishing to be more effective when sourcing & screening veterans, will find this dynamic duo's presentation engaging and enlightening.
OR
How To Go From Pesky Recruiter To Trusted Resource!
Danielle Boykin, Robert Half - Recruiting Manager
Panelists - Henry Addo Senior Recruiter, PureIntegration & Chrissie Hendrickson Regional Search Director, Special Counsel/P + L Legal Tech - TRAK Legal
What is that one thing you know now that you wish you had known when you first started recruiting? Come see our panel of recruiters as they talk to how they've gone from pesky recruiters to trusted advisors! Some topics of discussion will include: how they started, what they did wrong, biggest lessons learned, and what they are doing differently now. This session will explore how they have transformed from someone who just looks for people to fill a job (putting butts in seats), to someone who has a network they've invested in, built relationships with, and received repeat business from! This will be a great opportunity to ask questions and have an open dialogue with some of DC's recruiting superheroes! After all, we do tend to SAVE THE DAY!
11:30am to 12:15pm
How to attract and engage Talent in the midst of all the noise - Celinda Appleby Oracle Head of Global Recruitment Branding
In this session, we will discuss why it makes sense for companies to marry their consumer and talent brands. Celinda Appleby will share her best tried-and-tested ideas on how to build a truly talent driven employer brand. This session is all about turning your business into a brand that steals the show and one that every top candidate is dying to work for. At the end of this session, you will be able to:
Leverage and engage key stakeholders for buy-in
Build social channels that drive talent engagement
Connect with your audience using creative content
Enable your team to boost the employer brand
Apply human elements that makes it easier to recruit


12:15 am to 12:30 pm Closing Remarks
12:30 am to 2:00 pm Networking Lunch
Following a great morning, expand your networking over lunch. Do you want to delve deeper into the topics discussed throughout the morning? We will have break out rooms where you can meet with your colleagues who want to discuss Veteran Hiring, Employer Branding, Talent Analytics, or Becoming a Trusted Resource. Speakers will be joining you in each of these rooms to continue the conversation started in the morning. Or, if you just want to network, you can do that too! Thanks to our Networking Lunch sponsor Indeed, you will have time to network and get some lunch before you head back to the office.
As with all recruitDC events, ticket sales are final. There are no refunds, but you can switch your ticket with a colleague. Those transactions are your responsibility. If you transfer your ticket to someone else, you can alter the name on your ticket through this registration page. If you need to change the content on your registration, you may do so through your Eventbrite account.
Ticket sales are processed through PayPal. You do not have to have a PayPal account to purchase a ticket.
All recruitDC events are for networking and continuing education purposes. We ask that your purpose in attending the event be solely for networking and learning best practices and not for business development.
Gain recertification credit hours towards PHR, SPHR and GPHR!
This program has been approved for 2.5 (General ) recertification credit hours toward PHR, SPHR and GPHR recertification through the HR Certification Institute. Please be sure to note the program ID number on your recertification application form. For more information about certification or recertification, please visit the HR Certification Institute website at www.hrci.org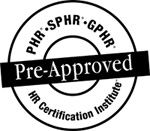 This seal is not an endorsement by the HR Certification Institute of the quality of the program. It means that this program has met the HR Certification Institute's criteria to be pre-approved for recertification credit.
Organizer of Fall 2015 recruitDC
recruitDC is a lively group of local DC area recruiters who have a passion for the best in recruiting practices and sharing those practices with others. We also want to bring together the local DC area recruiting community to really connect and create a "community" for networking, talent mentoring and support.