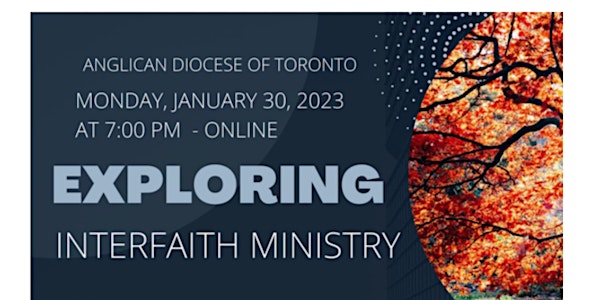 Exploring Interfaith Ministry
Explore the meaning of interfaith ministry from your own perspective and our multi-faith panel!
About this event
It's time to learn more about Interfaith Ministry. How do we understand it, both as clergy and laity? How do we practice it? How do we learn from other faiths to enhance our understanding of our own faith?
The 2021 census identifies more than 100 religions practiced by our fellow Canadians. While more than half of Canadians identify as Christians and more than one third report having no religion, the proportion who identify as Muslim, Hindu or Sikh and others has doubled in the last 20 years. Their children are in the same school classes as our own and their parents are among our work colleagues as well.
We invite you to join us online for this first initiative of the Bishop's Committee on Interfaith Ministry on Monday January 30 at 7:00 pm. The first hour will provide a definition and conversation about interfaith ministry from our own perspectives. The second hour features a unique interfaith panel that will help us grow in understanding.
We encourage you to spread the word by forwarding this message & eventbrite link!
If you have any questions please contact interfaith@toronto.anglican.ca