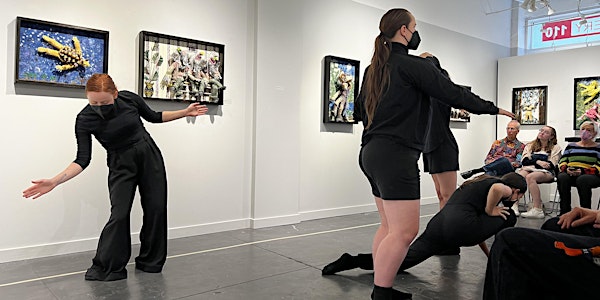 Excavate
SLOWBURN Dance premieres a new dance work exploring themes of burying, unearthing, and the amplification of individualized reality.
When and where
Location
The Shed 6631 Ellis Avenue South Seattle, WA 98108
About this event
Excavate is a contemporary dance work that explores themes of burying, unearthing, and the amplification of individualized reality. Dancers orbit the same physical landscape but exist in alternate worlds, each with only a partial perspective of the space in front of them.
This work was choreographed by SLOWBURN Dance Artistic Director Meredith Pellon in collaboration with company dancers Kate Roché-Sudar, Shaley Timm, Elise Meiners, and Madeline Morser. The work was developed in part by a residency at The Shed.
Performance Dates and Times:
Friday, November 11th at 8pm
Saturday, November 12th at 6pm
Saturday, November 12th at 8pm
Tickets:
This performance is free. Registration for a free ticket is required through Eventbrite. To register for a show, click "reserve a spot" and then select the date and time you would like to attend.
Seating is limited, so if you've registered for a ticket but are unable to attend please email us at slowburndance@gmail.com
COVID-19 Information:
Audience members are required to be masked and vaccinated.
Getting There:
The Shed is located behind the house on 6631 Ellis Ave S, Seattle, WA 98108. You can access The Shed by walking around the left side of the house and entering through the heavy metal gate.
About SLOWBURN Dance:
SLOWBURN Dance is a contemporary dance company, founded in 2019 by Artistic Director Meredith Pellon. The style of the company is grounded in Pellon's movement aesthetic, which employs small movements and sharp shifts with resonating aftermath.
In Seattle, SLOWBURN Dance has performed at Base, Jack Apartments, Seattle Center, Columbia City Theater, and 12th Ave Arts. In February 2022, the company's first evening-length work premiered at Arts at the Armory in Somerville, MA. Additional performances include Ten Tiny Dances® presented by The Dance Complex, NACHMO Boston, Salem Arts Festival and Dancing Through It - Expressions of Movement From the Pandemic, hosted by Celebrity Series of Boston.
About The Shed:
​Situated behind a rental home, this former metal shed was built by a black homeowner and custom iron worker who was well-loved and active in the Georgetown neighborhood of Seattle, WA. The space reflects the DIY-sensibility at the heart of the neighborhood--build the art you want in the community and make the spaces for the community you want to build. The Shed facilitates complex, interdisciplinary artistic practices and provides artists a space to explore and develop their work. Owner and certified Pilates Instructor Christin Call applies that same "make yourself" attitude to her Pilates and dance teaching practices.