Description
Starta Accelerator is excited to announce the Demo Day for its second cohort companies that kicked off in August!
---
Please join Starta Accelerator on Thursday, December 1st, to meet ten innovative startups from Eastern Europe. During the program they worked hard and gained traction in US. We look forward to seeing you there and telling you more about their results!
Agenda:
8:30 am - Doors Open
8:30-9:00 am Registration and Breakfast
9:00-11:00 am Welcome Speech & Presentations
11:00-1:00 pm Networking + Booth presentations
Meet Starta's second cohort companies:
E-contenta Personalized online marketing service helping Digital Media companies to increase their ARPU and the number of paying users through personalized ads and content recommendations.
Reveal is AI-powered chatbot that alerts marketers when they lose money on inefficient advertising campaigns and provides insights on how to improve them.
KidBee is a mobile app that provides a reward-based education for children ages 4 through 10 and incentivize learning with tangible rewards.
Cardiomo The wearable healthcare monitoring device to motivate elderly people to lead a healthy lifestyle. Synergy of pioneers, PhDs and AI for saving lives.
InSense is the only tool that helps brands like Uber, L'Oreal to convert influencer campaign reach to installs or sign-ups.
Aerostate Worldwide air quality forecasting with a city block resolution. 3 PhDs in the team, 1 big enterprise costumer after 1 month of bizdev.
BNesis is a unique technology that provides a single access point for multiple cloud services, payment solutions and other API's across geographical boundaries. Therefore enabling huge time and money savings to C-level executives.
FriendlyData FriendlyData creates Natural-language Interface for Databases that provides human-like interaction with data and increases productivity for end users.
SendPulse Integrated platform for e-mail, SMS and web push marketing based on Artificial Intelligence.
Hyperverse is a walking around VR experience. We are building a platform that will help to create and distribute a fully immersive VR experience in indoor locations.
Special thanks to Microsoft for hosting the event!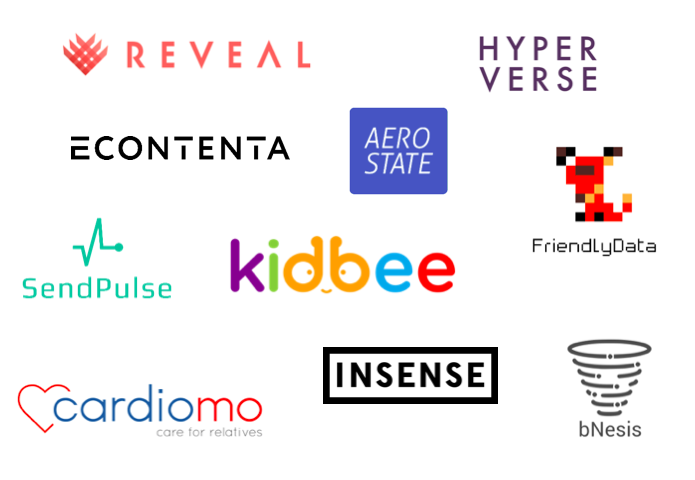 Thanks to our Partners: