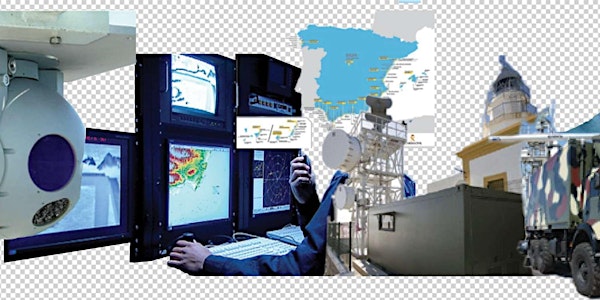 Euro-Vision Workshop
By FRAUD + Dr Btihaj Ajana
Date and time
Friday, December 7, 2018 · 1 - 4pm GMT
Location
Somerset House Strand, New Wing Room G18 (Ground Level Waterloo Bridge) London WC2R 1LA United Kingdom
Description
"To be ruled is to be kept an eye on, inspected, spied on, regulated, indoctrinated, sermonized, listed and checked off, estimated, appraised, censured, ordered about... To be ruled is at every operation, transaction, movement, to be noted, registered, counted, priced, admonished, prevented, reformed, redressed, corrected."
P.-J. Proudhon, "Q'est-ce que c'est la propriété?"quoted in Daniel Guérin, Anarchism: From Theory to Practice, trans. Maty Klopper (New York: Monthly Review Press, 1970:15-16)
How do certain technologies shape the emergence and evolution of migrant flows, and consequently modes of governance and of seeing? Join FRAUD and Dr Btihaj Ajana to investigate the gaze offered by the patterns drawn from economic, social and humanitarian data. Together through a de-collage we will critically chart some of the affective modes of power entangled in surveillance technology and migrant flows. Automated pattern recognition affords (arguably) remote control and execution upon migrant bodies by performing modes of (bio)power, helping formulate and endorse novel research, structuring international stewardship, and the administration of human rights. What are the political, aesthetic and technosocial operations of externalised European border systems in the Gibraltar area?
Please bring:
-Laptop.
-formatted USB stick.
It is highly recommended to have a look at the thematic structure for the workshop. Please follow this >>link<<
Spaces are limited, if you are unable to attend please consider cancelling your registration so your place could be freed for someone else.
*There will be recording of this event, so please let us know if you have any problem with this before or on the day.
TEAM:
Dr Audrey Samson & Francisco Gallardo, Artist Partner
Dr Btihaj Ajana, Academic Partner
Masumi Iishi, Research & Graphic Design
Euro-vision, or the Making of the Automated Gaze is a collaboration between King's College London's Department of Digital Humanities and artist duo FRAUD, brokered and supported by the Cultural Institute at King's in partnership with Somerset House Studios.
About the organizer
FRAUD is a duo of artist-researchers (Audrey Samson & Francisco Gallardo). Their backgrounds include computational and software culture, environmental history, postcolonial feminism, cultural studies, disruptive design, performance and space systems engineering. The duo focuses on exploring forms of slow violence and necropolitics that are embedded in the entanglement of archiving practices and technical objects, and erasure as a disruptive technology in knowledge production. Past exhibitions and performances have taken place at the 57th Venice Biennale; the Victoria and Albert Museum; the Whitechapel Gallery; the Rotterdam Architecture Biennale; Kunsthal Aarhus; Haus der Kulturen der Welt (Berlin); Bâtiment d'art Contemporain (Geneva); ArtScience Museum (Singapore); Maison d'Art Actuel des Chartreux (Brussels); and CentroCentro (Madrid). 
Dr Btihaj Ajana is Senior Lecturer in Culture, Digital Humanities & Creative Industries and Director MA Digital Culture and Society.
Btihaj is an international scholar in the fields of digital culture and social analysis. Her academic research is interdisciplinary in nature and spans many areas of expertise including the critical study of new media technologies and identity systems, digital health and self-tracking technologies, museum developments and curatorial processes, immigration and citizenship governance, and the socio-political and ethical dynamics of surveillance culture.