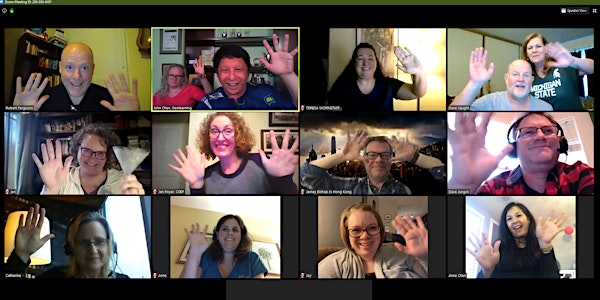 Multiple dates
Engaging Virtual Happy Hour - Connection Before Content
If you want Connection Before Content, click to join the longest running Engaging Virtual Happy Hour!
By Engaging Virtual Meetings
Date and time
Starts on Wednesday, May 27, 2020 · 5pm PDT
About this event
Hosted by the author of the #1 Amazon Hot New Release, Engaging Virtual Meetings, let's have a drink and we can talk all things as a mental health outlet and as a way to connect with each other.
Get a drink and log in at 5pm PST (it's 5 o clock somewhere), no agenda, just let people talk and connect. Every week something new may happen.
Joy posted online:
"I realized something I've been processing this week.... 5 stages of grief while working in travel during the Coronavirus "outbreak"
1. Denial- "is this really happening? Not everyone is going to go crazy, not everything is going to cancel."
2. Anger- "stop cancelling!! Why are you shutting down the offices and meetings.... it's the flu"
3. Bargaining- "look, if you rebook this year, we will work with you. Do you have any idea what this is causing us to do to schedules, maintenance, and spending. You still owe us damages and cancellation. Its for the economy."
4. Depression- "this is it, no one cares. No one is truly listening to doctors or going to pay cancellations. No other city feels this as mine does."
5. Acceptance- "I don't care, do what you want, I'm going to drink"
Seriously...
Your welcome... save yourself the therapy bill and go have a glass of wine." - Joy Carpenter
About the organizer
Every Engaging Virtual Meetings program is based on the 6-step ENGAGE method:
* Engage and interact with every attendee
* Never lead a meeting alone
* Good looks
* Air traffic control
* Get productive with virtual tools
* End on a high note