Description
Innovators of all kinds are invited to celebrate the creative process at the first annual END-to-END, a two-day "confluence of innovation" designed to open doors and deepen connections between mediums, industries and people by pairing the best of local and global talent. The event will take place at Camp North End in Charlotte, NC from Friday, May 10 - Saturday, May 11.
Over the course of the weekend, guests are invited to engage a variety of activations:
Tech Symposium (Saturday 2 - 8 pm), which features local and national speakers from a wide range of industries and breakouts across the site hosted by Camp tenants: Wily, Hygge Coworking, Goodyear Arts, Hex Coffee Roasters, #BLKTECHCLT, and more. Topics will range from Tech Shaping Sustainable and Equitable Urban Development to The Rise of Fintech, and from Tech in Visual and/or Musical Arts and Design to Tech Influencing Culinary Culture.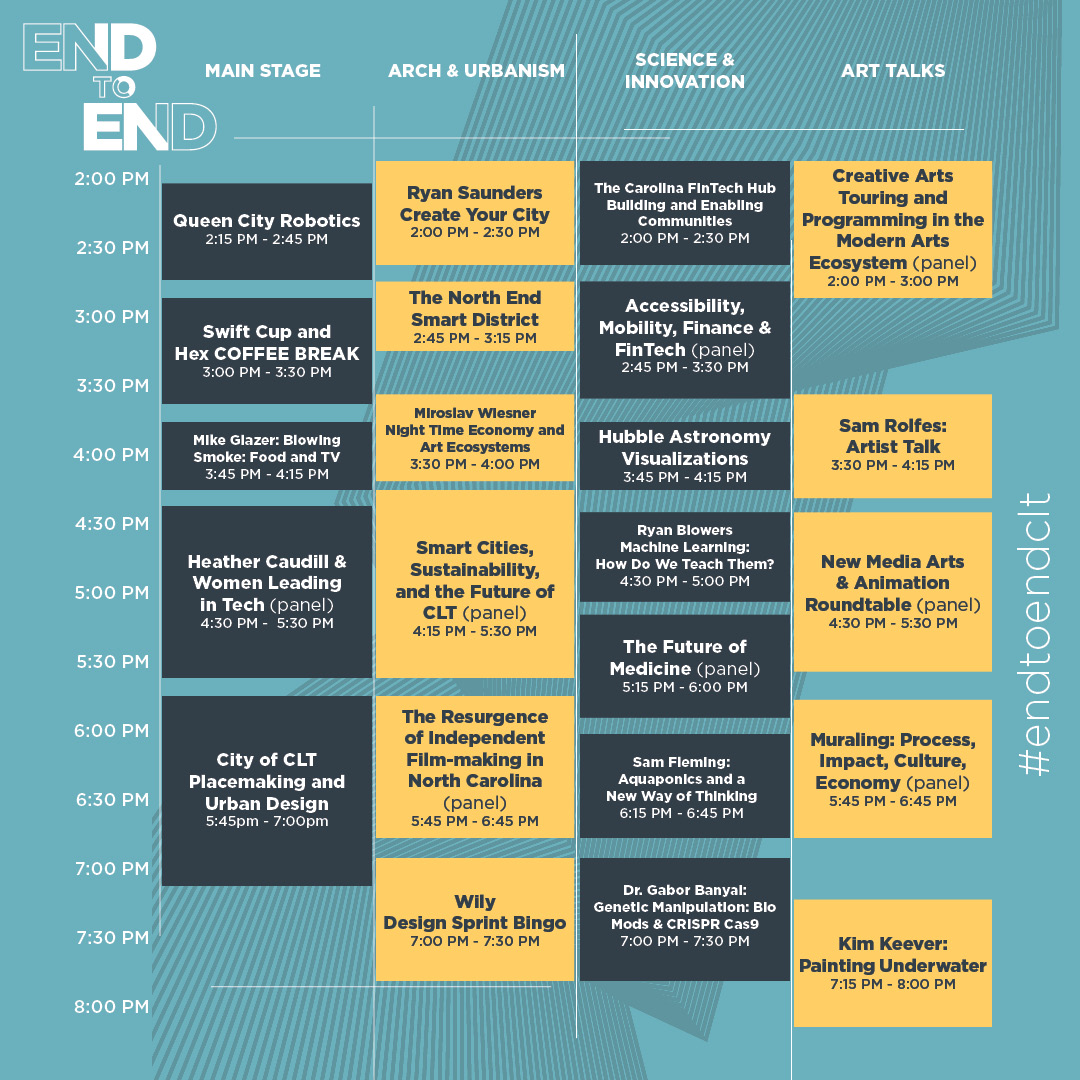 Braindate, one-on-one or group conversations that attendees may book with other participants, presenters, or professionals while at End-to-End. Braindate offers the opportunity to share with and learn from individuals with expertise.
Lead or join a Braindate <<<< use code CONNECT!
Braindate: Meet Human Greatness

Exhibitions, showcasing compelling works and dynamic demonstrations by Kim Keever, select new media artists from the UK's DAATA Editions, James Moore, Nate Boyce, MSHR, Sinjin Hawke and Zora Jones and more, along with other exciting selections..

14 Doors, an immersive, visual art experience that combines live, commissioned muraling with video mapping, 2-D work, photos and interactive projections. Local artists Dammit Wesley, Hnin Nie, Matt Hooker and Matt Moore, Jen Hill, Sharon Dowell, Rosalia Torres-Weiner and more will work alongside visiting national and international visual artists including The London Police and Fabian Williams.

SATURDAY Music
8 - 9 pm Astrea Corp - local semi-improvised electronic group comprised of Carly Astrea, Mike Astrea and Will Gilreath.
9 - 10 pm Kelly Moran - nationally touring piano player with new synth twist
10 - 11 pm Siete Catorce x Sam Rolfes - evolved new cumbia producer partners with image/noise artist Sam Rolfes for a unique show
11 pm - 12 am Sinjin Hawke and Zora Jones and Fractal Fantasy - interactive experiments through music
Full speaker, exhibitor, and artist roster and schedule here: ENDtoENDCLT.com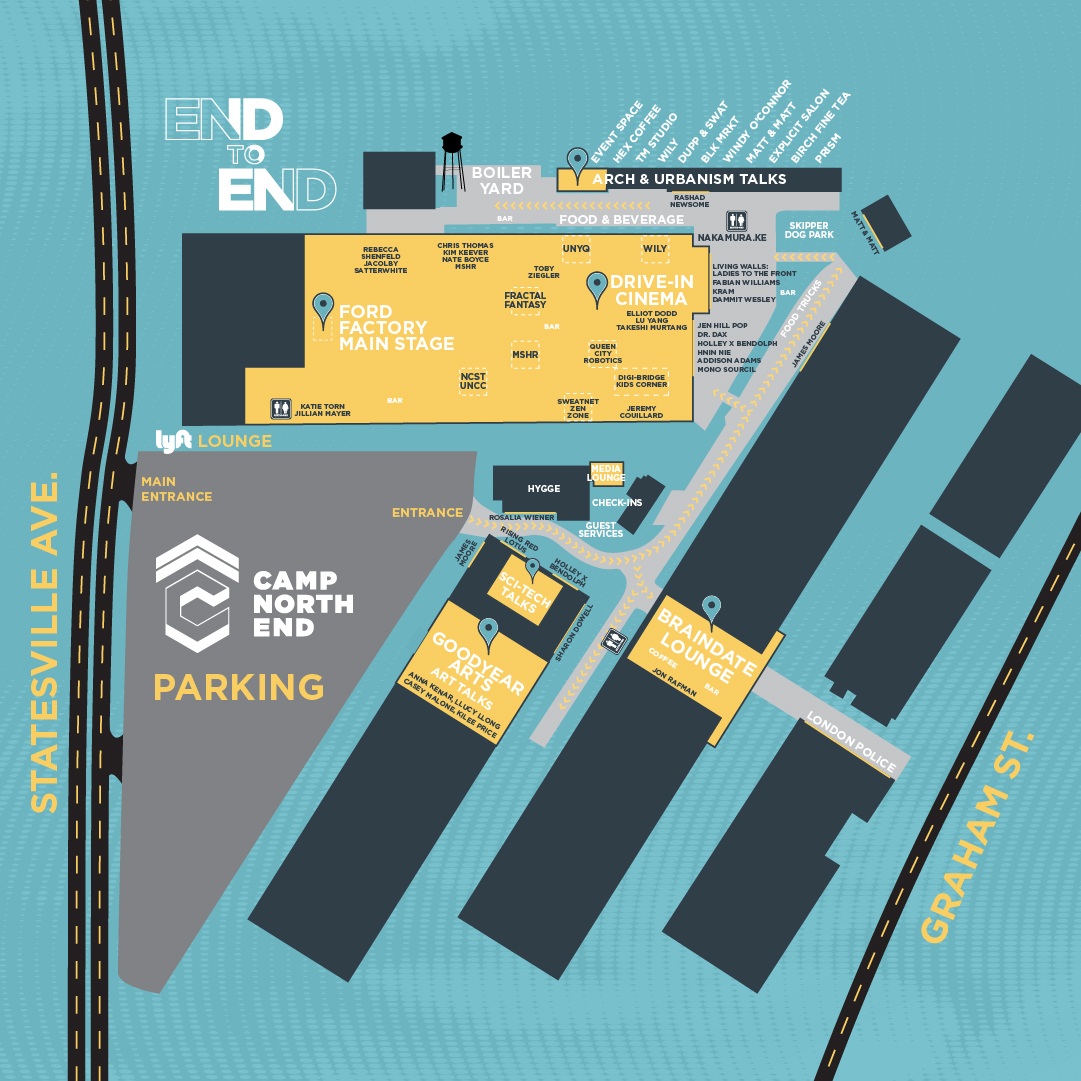 //\\//\\//\\//\\//\\//\\//\\//\\//\\//\\//\\//\\//
The spirit of innovation is central to Camp North End, a 75-acre historic industrial site which once manufactured Model Ts and US Army missiles, and is now transforming into a creative hub in Charlotte's North End Smart District. This inaugural event will showcase the best of this ambitious redevelopment project's 1.3 million square-foot campus, underscored by the convergence of its history and future: cutting-edge technology demonstrations in the iconic Ford Factory, digital installation art throughout WWII era Army buildings, live music performances under the rusty water tower, presentations and collaborations led by local, national, and international artists and thought leaders, all with an emphasis on design, technology, and the creative process.
To stay up-to-date on information and schedule, visit Camp North End's Facebook event: @campnorthend. For sponsorship information or to become a participating vendor, please contact varian@camp.nc.