Location
Black Oak Ranch
50350 Highway 101
Laytonville, CA 95454
Description
Enchanted Forest Gathering returns to Black Oak Ranch in Laytonville, California on June 9th - 11th, 2017.
Welcome back Enchanted Forest Family! We are very excited to announce your new weekend at Black Oak Ranch in Laytonville, California: June 9-11th. Our exotic, custom stages will be brought alive all night long with our biggest Enchanted Forest line-up to date.

We have a limited capacity so definitely don't sleep on tickets. Believe us when we say, "You won't want to miss the magic we have in store for you."
Follow Us! Stay Connected! We are hilarious!
FB: https://www.facebook.com/EnchantedForestGathering/
Twitter: @enchantedforestmendo
Instagram: @enchantedforestgathering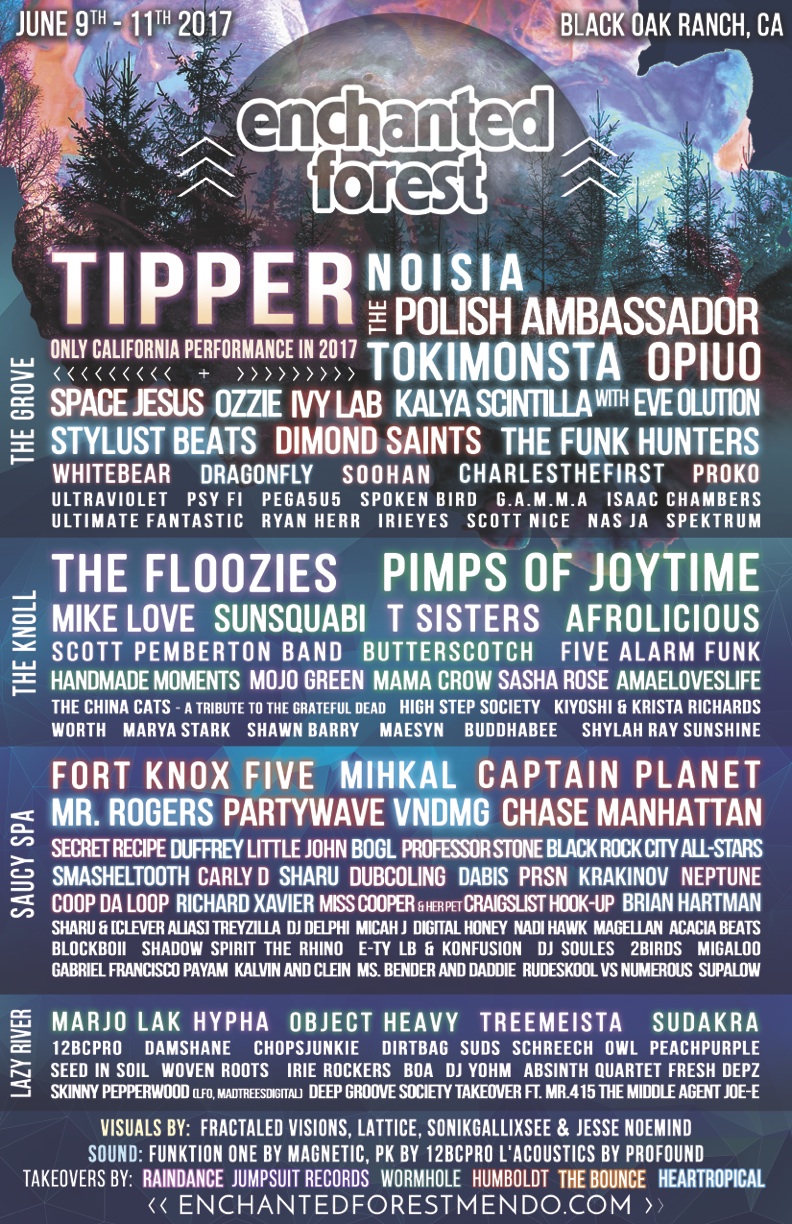 OUR VENUE
Relax into beautiful natural splendor in one of the most amazing festival sites in North America.
For over thirty years Black Oak Ranch has been hosting events that speak to the heart and inspire healing and joy. In the heart of Redwood country find your temporary home away from home amidst a beautiful oak woodland.
Grass, shade, giant oak trees and a beautiful stream sets Enchanted Forest Gathering apart from the rest.
Our Ease & Grace Prepared Camping options allow you to arrive at an insightfully arranged space while camping in a blissful habitat of meadows and woodlands bordering Ten Mile Creek. Stay tuned!
YOGA
Enchanted Forest Gathering features over 25 Yoga Classes from world renowned teachers and local instructors and is INCLUDED in your festival ticket.


TUNES
Our dance floors have already hit legendary status. It's been statistically proven.
MOVEMENT & FLOW
Included in your ticket are 15 dance classes and our mini 'Flow Arts Festival' for your supreme movement pleasure.
ART/ATMOSPHERES
Large scale art installations, The Visionary Art Studio, a comedy stage, The Crystal Dome, our signature late night Tea Lounge, our healing area The Nectar Temple AND our handcrafted wooden shower and sauna area, 'The
Saucy Spa.'

KIDSLANDIA
We are proud to be a multi-generational, world-bridging event that is beyond family friendly. We take generous care to be fully family supportive and have an incredible Kidslandia your kids will love and daycare options for families.
BUT WAIT, THERE'S MORE....
There is, but we aren't telling. Thanks for reading this far though! We are keeping some things a secret, as we feel there just aren't enough surprises these days.
TICKET INFORMATION
All Ticket Tiers are available in a limited quantity. Once the allotment of the given Ticket Tier is sold out, tickets will continue to be sold at the next Ticket Tier, while supplies last.

Once you purchase, you will receive an order confirmation email from Eventbrite on behalf of Enchanted Forest Gathering 2017. Your e-ticket(s) will be attached to your order confirmation email as a PDF. Make sure to print them out and bring them to the event; or go green and download the Eventbrite app on your phone!

IMPORTANT: If you do not see your order confirmation in your inbox, make sure to check your junk/spam folder. If you still do not see your order confirmation in your inbox, click here to access the Eventbrite help center.

If you are having any other technical ticketing-related issues with your order, click here to contact Eventbrite. For general festival info, click here.

Need to view or update the information on your order? Click here for instructions.

All sales final. No refunds or exchanges. If you find you are unable to attend after purchasing your ticket, you may transfer it. A valid photo ID (passport, state issued license, or military ID card) matching the name on the ticket must be presented at the gate for entry. For information on transferring your tickets click here.

All children under the age of 18 must have their own Youth or Child admission ticket and be accompanied by a ticket-holding parent or legal guardian. Event is rain or shine.

Artists and schedule subject to change.
TICKETING FAQ:
Are there ID requirements or an age limit to enter the event?
Everyone under 18 must be accompanied by a parent or legal guardian.
• Children 12 and under = FREE
• Youth 12 - 17: $111
• Anyone 18 or older = REGULAR PRICE (purchase a normal full weekend pass on this page)
Are you offering payment plan options?
Yes our payment plans via Affirm are available, you can select it as your method of purchase and there are a few time frames to choose from for you to pay for your ticket within.
Is tent camping included with festival passes?
Yes. All 3-day weekend tickets include tent camping. If you'd like to camp with your car, you'll need to purchase a Car Camping Pass in addition to your festival pass. Car Camping and RV Camping Passes are limited!

Does each person need a car camping pass who is camping with a vehicle?
No, each adult will need a 3-day weekend pass to receive their wristband and enter the festival, however you'll only need one car pass per vehicle.
What qualifies a vehicle as Car Camping vs RV Camping?
• Van or Camper-Van = Car
• Car with Trailer = RV
• 5th Wheel = RV
Our squad wants to come on Thursday, does each person in our group need to get an early arrival pass or do we only need one per vehicle?
Each person in your group must purchase the Shwirly Arrival Pass to arrive on Thursday. Tickets can be purchased at the gate
Is yoga included or do we need to purchase a separate pass?
Yoga and workshops are is included in your festival ticket.
NEED HELP?
We're here for you! Email info@enchantedforestmendo.com for assistance with purchasing a ticket.