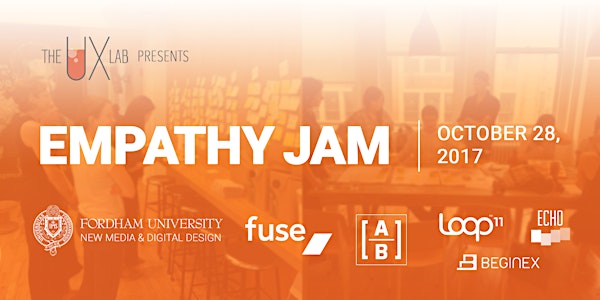 Empathy Jam 2017
When and where
Location
Fordham at Lincoln Center: Lowenstein Atrium 113 West 60th Street New York, NY 10023
Description
At one point or another, we have all wondered what the future will look like when many more jobs are automated. From cashiers and retail salespeople to waiters and laborers, many of our country's most common jobs may be at risk — and nobody has a great answer for how we can prepare ourselves for the future.
Calling developers, researchers, designers, product people, civic activists, prototypers, data heads, and leaders of NYC! Are you looking for a way to make a difference and have fun doing it? JOIN US!
Come to the Empathy Jam, a research and design event that brings NYC residents and technologists together to collaborate on new ways to feel connected, supported, and excited about creating our future.
At the Empathy Jam, you will:
– Learn or practice User Experience Design methods.
– Learn how empathy can connect you with those around you.
– Build something that has lasting impact.
We've heard leaders ask whether the tech world is solving the wrong problems with their innovations. We say, let's collaborate to solve the RIGHT problems. Let's gather and connect to show how EMPATHY can be a powerful tool for creating impactful solutions. Let's lead together.
WHO SHOULD ATTEND?
UX professionals, designers, researchers, developers, prototypers, leaders. We will be creating small pods of people with skills that complement one another, for maximum learning.
WHAT WILL THE DAY BE LIKE?
We will present a set of challenge areas at the beginning of the day. Groups of attendees will spend the day working through the phases of research, design, and testing, on a solution to their chosen challenge area, before presenting their learnings to a panel of judges.
- 9am: Breakfast & Kickoff / Challenges Announced
- Morning Session — UX Research
- 12:30pm: Lunch
- Afternoon Session — Design & Test
- 3pm: Fireside Chat/Q&A with judges
- 5pm: Snacks
- Presentations & winners announced
Light meals and refreshments will be provided. Exact schedule may change.
WHAT WILL WE MAKE?
At the end of the Empathy Jam, together we will have created empathy-driven solutions to a specific skills-focused challenge as well as new ways to help NYC residents feel prepared and ready for the jobs of the future.
I STILL DON'T GET IT. CAN YOU TELL ME MORE?
The Empathy Jam is kind of like a hackathon, but it focuses on a UX process instead of a development process. User experience research & design is all about creating empathy, so together we're going to use UX methods on a city's users: its residents. We envision a future where New Yorkers of every background feel like they live in a city filled with teammates who have their backs — from fellow commuters on the subway, to police, and beyond.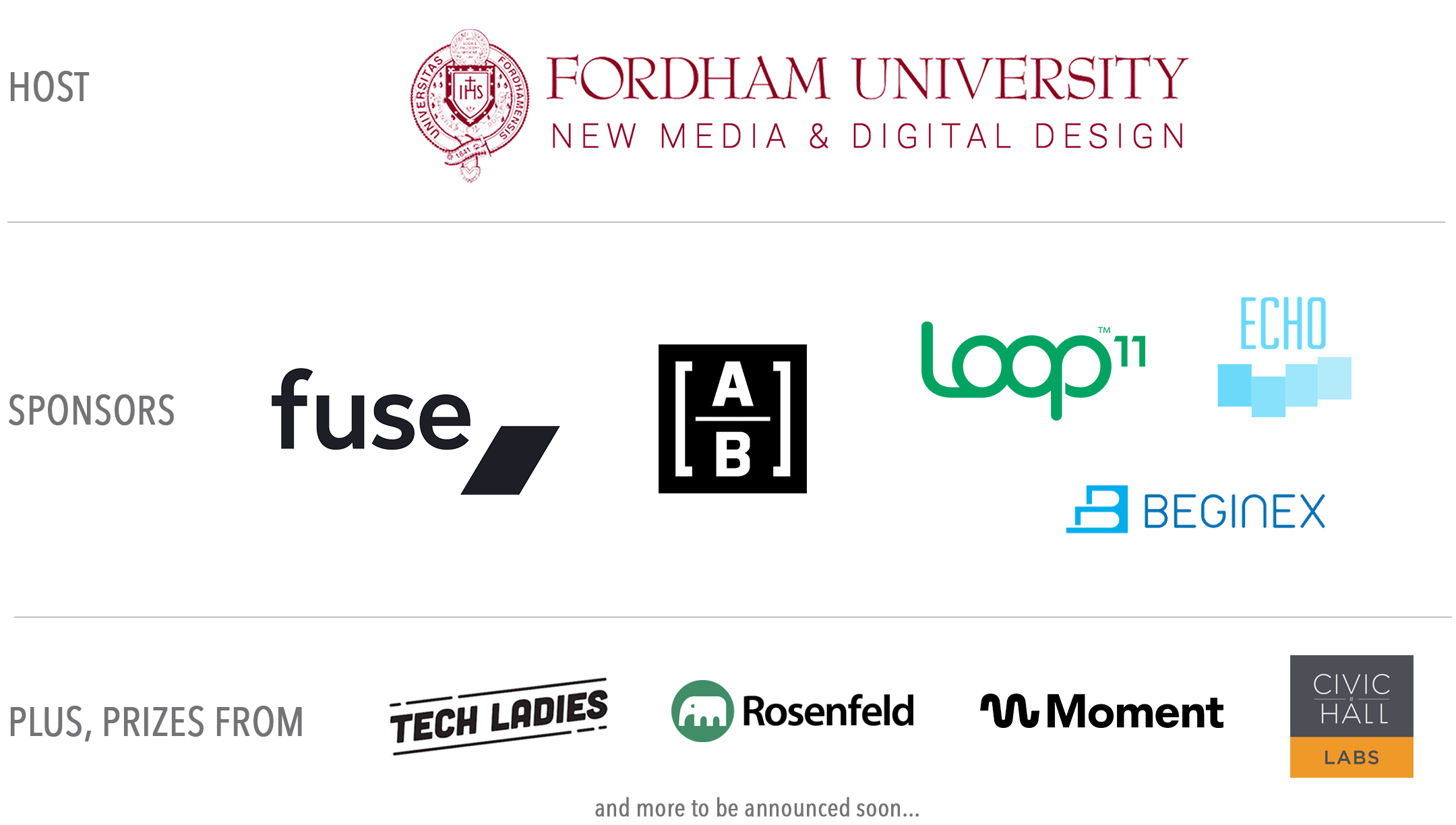 Visit our sponsors at:
Fordham University New Media & Digital Design program
---
If you have any questions, concerns, or if you'd like to help support the Empathy Jam, tweet @empathyjam, or at our organizers (listed below).
We can't wait to see you there!
Riri Nagao — @ririnagao
Ariella Chivil — @cruella_chivil
Krizia Fernando — @kriziafern
Shannon Copfer Brace — @scopferbrace