discussing and reading from their new book, Heaven, published by McSweeney's
About this event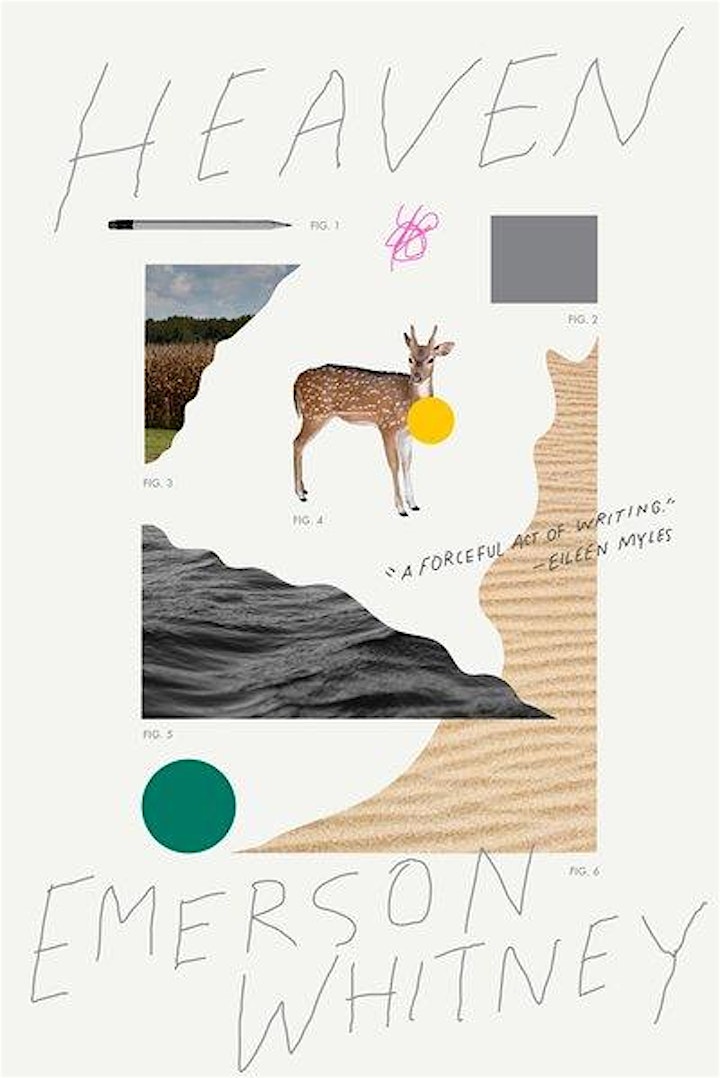 All registered attendees will receive a Zoom link on the day of the event. Tune in right at 6PM PST/9PM EST!
Books for this event may be purchased here at bookshop.org.
Emerson Whitney writes, "Really, I can't explain myself without making a mess." What follows is that mess—electrifying, gorgeous, defiant.
At Heaven's center, Whitney seeks to understand their relationship to their mother and grandmother, those first windows into womanhood and all its consequences. Whitney retraces a roving youth in deeply observant, psychedelic prose—all the while folding in the work of thinkers like Judith Butler, Donna Haraway, and C. Riley Snorton—to engage transness and the breathing, morphing nature of selfhood.
An expansive examination of what makes us up, Heaven wonders what role our childhood plays in who we are. Can we escape the discussion of causality? Is the story of our body just ours? With extraordinary emotional force, Whitney sways between theory and memory in order to explore these brazen questions and write this unforgettable book.
Emerson Whitney is the author of Ghost Box. Emerson teaches in the BFA creative writing program at Goddard College and is a postdoctoral fellow in gender studies at the University of Southern California.
Praise for Heaven
"An incisive, nuanced inquiry into gender and body."—Kirkus Reviews (starred review)
"Melodic and engagingly written, Heaven will enrapture anyone who loves reading for beauty and intellectual challenge at once."—Literary Hub
"Heaven delves into deep memory and deep thinking to offer an 'account of oneself' that questions, if not upends, the very idea of such a thing at every turn. The result is a poetic, candid, probing reckoning with childhood, the maternal, gender, and the possibilities of theory which will both speak to its time and outlast it."—Maggie Nelson, author Bluets and The Argonauts
"Emerson has written a story about Mommy and me but mainly they're extending to us a forceful act of writing in defense of the self that is taking pictures, running away—eyes full of tears, then pirouetting, and standing their ground to tell us this colossally wonderful and woefully broken story."—Eileen Myles, author of Chelsea Girls and I Must Be Living Twice
"Heaven is the book of deepest affections, a harrowing book, a bewitched book. Composed in a style of a bird-nest, Heaven weaves together multiple threads of conversation with self and with brilliant voices of others, as different as Lacan and Jos Charles, Allen Ginsberg and Michael Ondaatje. One can't help but be moved by this compelling record, this book of hours for pain made utterly beautiful by its author's patient meditation on childhood and gender, motherhood and sorrow."—Ilya Kaminksy, author of Deaf Republic
"Heaven goes down like a strong elixir… I can still feel its heat swirling through me."—Melissa Febos, author of Whip Smart and Abandon Me
"Heaven, although prose, is poetry. The language is tender and present. The word performs connection and recovery… Theory from such thinkers as Butler, Foucault, Freud, Haraway, Irigaray, and Lacan are broken down to its lived practical parts and brought back into common parlance, brought in relation to the etymology that is Whitney's becoming."—Arisa White, author of You're The Most Beautiful Thing That Happened
"Elegantly poetic, beautiful, brutal, and wise… Heaven is a wonder."—Michelle Tea, author of Valencia and Modern Tarot
"Someone asked me recently if I ever imagine writing from today that has the strength to remain in print centuries from now. 'Yes, I do,' I said, and told them about a book by Emerson Whitney called Heaven. Every page is beautifully written, pitch-perfect harrowing, but maybe more important is how it changes many things we thought we understood about life. Hundreds of years from now, readers can better appreciate this time and this nation through Emerson Whitney's extraordinary lens, where they write, 'The history of categorization around disability in the United States was always about social control.'"—CAConrad, author of While Standing in Line for Death
"Exploring and exploding gender, language, desire, this book is necessary reading for anyone who's used language, who has had a mother, who has a body at all."—Sam Sax, author of Madness