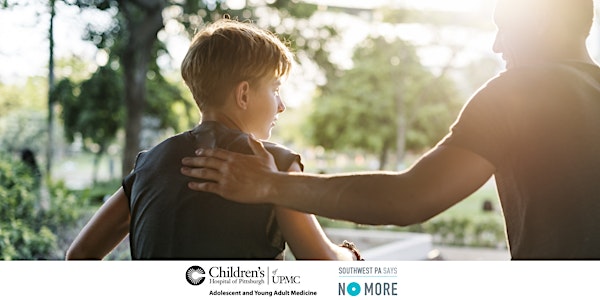 Emerging Data on Preventing Gender-Based Violence
When and where
Location
Rodef Shalom Congregation 4905 Fifth Avenue Pittsburgh, PA 15213
Refund Policy
Refunds up to 30 days before event
Description
The field of prevention is continuing to evolve. Practitioners are in the field every day, working to shift attitudes and behaviors to prevent the perpetration of abuse and to increase bystander intervention, but are often navigating by instinct and anecdotal feedback. In southwest PA, we are fortunate that Children's Hospital of UPMC is conducting multiple research studies related to the prevention of sexual harassment, assault and relationship abuse. The CHP Adolescent Medicine research team will present preliminary, unpublished findings from ongoing studies and seek input from practitioners to make meaning of the data. This workshop is a unique opportunity for researchers and practitioners to come together and dialogue about what is working, what is not, and how these findings can shape ongoing prevention efforts.
This session is designed for professionals engaged in efforts to break cycles of violence and prevent adolescent relationship abuse, sexual assault and domestic violence. Because the research findings to be presented are unpublished, all attendees will be required to sign a confidentiality and non-disclosure statement. This will protect the ability of researchers to publish findings in the future, for the benefit of the field.
Learning objectives – Professionals will learn:
• How widespread gender-based violence is, resources available to them and their patients, and how to help those experiencing such violence.
• To discern appropriate violence prevention strategies and incorporate such strategies
into their work with youth.
• To incorporate conversations about violence prevention and safety with patients as part of standard of care.
TENTATIVE AGENDA
8:30-9 Registration and networking
9-9:30 Welcome and introduction
Presenter: Dr. Elizabeth Miller
9:30-10:45 Coaching Boys Into Men: How much abuse does this dating-violence prevention program actually prevent? What have we learned about adapting this high school curricula for younger audiences?
Presenters: Dr. Elizabeth Miller, Dr. Kaleab Abebe, Dr. Kelley Jones
10:45-11:00 Break
11:00-12:30 Shifting Gender Norms: Manhood 2.0 and Sisterhood 2.0: How does focusing on gender and healthy sexuality impact abuse perpetration? This session includes breakout groups for in-depth discussions.
Presenters: Dr. Elizabeth Miller, Dr. Kelley Jones, Dr. Carla Chugani, Dr. Robert Coulter
12:30-1:30 Lunch will be provided.
1:30-3:30 Addressing sexual victimization and sexual health through college health centers What have we learned about who is at risk? How can we address alcoholrelated risk for SV and support those affected by SV?
Presenters: Dr. Elizabeth Miller, Dr. Kelley Jones, Dr. Alison Culyba, Dr. Patricia Bamwine
3:30-3:45 Break
3:45-4:15 Next steps: How can we integrate evaluation into current or new programming? What would be helpful to putting research into practice? What are some research questions we could explore?
Presenter: Dr. Elizabeth Miller
4:15-4:30 Conclusion
4:30 Adjourn
This workshop is open to the public. Pre-registration is necessary.
The program will cost $35 if you register by Nov 15; and $45 after.
Accommodations are available.
Student discount and scholarships available.
For student discount and scholarship or any other inquiries, please contact Sue Clarke at sue@fisafoundation.org or 412-456-5550.
Speaker Bios
Elizabeth Miller, MD, PhD, FSAHM

Dr. Miller is a Professor in Pediatrics, Public Health, and Clinical and Translational Science and Director of the Division of Adolescent and Young Adult Medicine, UPMC Children's Hospital of Pittsburgh and University of Pittsburgh School of Medicine. Trained in Internal Medicine and Pediatrics and medical anthropology, she has over a decade of practice and research experience in addressing interpersonal violence in clinical and community settings. She was involved in the development and pilot testing of Coaching Boys into Men (CBIM) and is currently leading the middle school randomized trial of CBIM in Pittsburgh. She is also the lead investigator for a sexual assault and alcohol prevention and intervention study based in 28 college student health centers across Western Pennsylvania, as well as the lead investigator to evaluate a healthy masculinity and sexual health curriculum to prevent sexual violence called Manhood 2.0.
Kaleab Abebe, PhD
Dr. Abebe, an Assistant Professor in Medicine, Biostatistics, and Clinical & Translational Science at the University of Pittsburgh, specializes in collaborative research in the design, conduct, coordination, and analysis of multiple ongoing multicenter randomized controlled trials (RCTs). Dr. Abebe collaborates with the Adolescent Medicine Division on 3 cluster randomized trials in sexual violence. Additionally, he oversees statistical cores of several comparative-effectiveness studies for gestational diabetes, collaborative care, and HIV. Kaleab is the founding director of the Center for Clinical Trials & Data Coordination, created to standardize the design, conduct, and analysis of RCTs. Within the Institute for Clinical Research Education, he directs the Clinical Trials Track for the MS in Clinical Research. Kaleab recently chaired the Society for Clinical Trials' 2018 SCT Annual Meeting and is the incoming chair of PCORI's Clinical Trials Advisory Panel.
Kelley Jones, PhD, MPH
Dr. Jones is a Research Scientist at the University of Pittsburgh, Department of Pediatrics, Division of Adolescent and Young Adult Medicine. Trained as an epidemiologist, she is focused on the intersection of gender-based violence and sexual and reproductive health of young adults. She serves as the primary data analyst for multiple large cluster-randomized controlled trials that test interventions to reduce intimate partner violence and sexual violence perpetration and victimization.
Alison Culyba, MD, PhD, MPH
Dr. Culyba is an Assistant Professor of Pediatrics in the Division of Adolescent and Young Adult Medicine and an Assistant Professor of Public Health in the Graduate School of Public Health at the University of Pittsburgh. She is an expert in youth violence prevention. Her research examines the role of families, social networks, and neighborhood contexts in protecting youth in under-resourced urban communities from violence and mitigating the consequence of exposure to violence.
Carla Chugani, PhD, LPC
Dr. Chugani is an expert in collegiate mental health who studies college suicide prevention and intervention in vulnerable populations, including students with disabilities and LGBTQ students. She has been a leader in bringing Dialectical Behavior Therapy (DBT), an evidence-based therapy for chronic suicidality and self-injury, to college counseling centers. She is currently a postdoctoral scholar at the University of Pittsburgh, Department of Pediatrics, Division of Adolescent and Young Adult Medicine.
Robert Coulter, PhD, MPH
Dr. Coulter is a Postdoctoral Scholar in Division of Adolescent and Young Adult Medicine as well as the Clinical and Translational Science Institute at the University of Pittsburgh. His research broadly focuses on the health of lesbian, gay, bisexual, and transgender (LGBT) youth and young adults. Three common threads of his work include: (1) assessing LGBT health inequities; (2) investigating causes of such inequities; and (3) evaluating programs that aim to reduce these inequities.
Patricia Bamwine, PhD, MSW, MA
Dr. Bamwine's scholarship centers on the role of context of systems of oppression, identity within traumatic experiences, and the impact of culturally relevant interventions in reducing negative health outcomes and strives to identify protective factors that can be enhanced to mitigate these outcomes. She utilizes a critical and constructionist perspective to examine the intersection of gender, race, class, and social problems and how they shape service design and delivery. Her primary aim is to ensure that interventions are culturally relevant, trauma-informed, and effective. She is currently a postdoctoral scholar at the University of Pittsburgh.


CONTINUING EDUCATION CREDIT INFORMATION:
Physician CEUs:
Sponsored by Children's Hospital of Pittsburgh of UPMC's Division of Adolescent Medicine and University of Pittsburgh School of Medicine Center for Continuing Education in the Health Sciences. The University of Pittsburgh is an affirmative action, equal opportunity institution.

This activity has been approved for AMA PRA Category 1 Credit™

Social Work CEUs:
This program is offered for 6 hours of social work continuing education through
co-sponsorship of the University of Pittsburgh's School of Social Work, a Council on
Social Work Education-accredited school and, therefore, a PA pre-approved provider
of social work continuing education. These credit hours satisfy requirements for LSW/
LCSW, LPC and LMFT biennial license renewal. For information on social work continuing
education call (412)624-6902. The certification fee for social work continuing education
hours is $10.00/person. Payment can be cash or check and must be paid at the event.

Act 48:
Trying Together can offer 5 hours of Act 48 credit or 5 hours of PQAS/ DHS Credit for this event.
If interested, you must have your professional personnel identification number at the event.