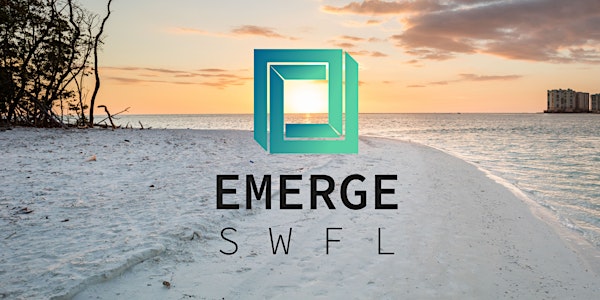 Emerge SWFL Hackathon
Emerge SWFL Hackathon - Powered by Endevr and Stickboy
When and where
Date and time
Saturday, April 24, 2021 · 9am - 6pm EDT
Location
Millennial Brewing Company 1811 Royal Palm Avenue Fort Myers, FL 33901
About this event
Hello SWFL friends,
Thanks to your support, we at Emerge SWFL are ready to announce the next phase in our effort to stimulate the local tech ecosystem... and it all begins with a Hackathon of epic proportions!
Emerge SWFL Hackathon
Saturday, April 24th 2021, 9 am - 6 pm
Millennial Brewing
Attendance is Free!
Join Emerge, Endevr and Stickboy, in pursuing our shared mission - to elevate Southwest Florida as a hub for emerging technology and innovation. On Saturday April 24th, we're hosting a Hackathon focused on a common theme - to enhance SWFL's tech workforce by providing equitable opportunities for all.
The purpose of the Hackathon is for dozens of elite and newcomer developers, designers, and biz devs to come together and compete to solve a problem and present the winning solution. Teams will be tasked with a prompt related directly to tech workforce development with an emphasis on diversity, inclusion, and equity.
Attendees will have the opportunity to:
- Meet local leaders, business owners and mentors who are on the cutting edge of the tech ecosystem in SWFL.
- Learn about companies like Emerge, Endevr and Stickboy and how they are changing the future of the local tech landscape.
- Compete in the first ever Emerge SWFL Hackathon head to head with fellow emerging tech professionals.
A major problem the tech industry is facing is a lack of diversity and inclusion. Most opportunities are filled based on "who you know" rather than "what you know," which leads to exclusionary hiring practices. In other words, tech roles aren't being filled by the most qualified but instead the most connected. The same goes for entrepreneurs and startup founders in need of funding or mentorship.
Prompt: What can we do, as a cohort, to improve companies like Endevr and Emerge SWFL to empower diversity and inclusion in technology?
The Emerge SWFL Hackathon is powered by Endevr and Stickboy. Also a big thanks to our venue sponsor, Millennial Brewing!
Please help us spread the word about this groundbreaking FREE event. See attached for the event flyer.
This event would not be possible without your support, commitment and expertise. In joining our efforts, you are investing your time and energy into the education and advancement of the next generation of engineers, tech leaders, and change-makers. You are making a difference by donating your time to this event and we are so grateful to have you onboard with us.
Thank you and we look forward to seeing you there!
FAQs
What is Emerge SWFL?
Emerge SWFL is where emerging technology and community leaders unite to transform the future of local business. Our mission is to elevate SWFL as a hub for emerging technology and innovation by empowering local entrepreneurs and professionals to bring their ideas to life while attracting startups, existing businesses and emerging talent to SWFL.
What is Endevr?
Endevr is a socially-interactive online marketplace matching emerging professionals in tech with the best-suited online education. Grow your network, save time/money, and elevate your career.
What is Stickboy?
Stickboy is a full-service business technology partner specializing in custom software development, mobile app development and managed IT solutions.
Who can register?
Whether you're an experienced developer, designer, or business development professional or you're a newcomer, you are welcome. We encourage teams to register together, but we also are open to free agents who can choose to work solo or will be strategically placed on a team. We're aiming for teams of 3-4 members with a balance of developer, designer, and biz dev. Innovative digital product creation involves seamless end-to-end design which means both software development and product design.
How can I register?
Each team must register their team members with the name and email of every participant before the registration deadline of April 17th. Signup on Eventbrite and we will contact you when we have added you to a team, or confirmed your registered team.
Participation is 100% free to all attendees. Every participant must register on Eventbrite. Tickets from third-party websites other than the Eventbrite event page will not guarantee participation in the hackathon. Selected applicants will receive a participation confirmation email from us & invitation to join the private Emerge SWFL Hackathon Slack channel.
Will there be food and beverages provided?
Snacks and beverages will be provided throughout the day, along with food trucks parks outside. Upon the end of the program, we will be doing group pizza and offering one free drink voucher to each participant.
Will there be prizes?
Yes and swag for all!
1st prize - $1,000 in Bitcoin (or cash if preferable) & one free month of co-working at Two39 Work
2nd prize - One free month of co-working at Two39 Work
Join our Slack Workspace: https://join.slack.com/t/swfltech/shared_invite/zt-ohjb19gh-kazXEKD2iG37I1hPto~2aQ
Emerge SWFL Hackathon Slack Channel: https://swfltech.slack.com/archives/C01T7P3MQ4R
Sponsor tables are available upon request.
For more information on the event and how to be a part of this enormous opportunity, reach out to:
Jordan Azis
239-822-3997
hello@emergeswfl.com
------------
**Disclaimer - We're committed to the health and well being of our attendees, partners, and the community as a whole. If there is any newly released information by the CDC between now and the event, please note that specific dates and times currently listed about this event may be adjusted.