Description
Join us for a summer long series of educational and enjoyable activities for the children! We aim to provide a warm and nuturing afro-centric environment to keep our little ones busy over the summer vacation. Our activities are perfect for families that are looking to supplement their own summer plans with academic, creative and social enrichment without breaking the bank. We offer a wide range of subjects and most classes are appropriate for school age children. The Watoto Rhythm & Play is designed especially for littles age 0-4, although everyone is welcome to join. The Little Entrepreneur class is designed for ages 6-12 and costs apart the regular activities.
Homeschooling families: this is a great opportunity to continue building (or start) your portfolio. Summer activities count for the fall in PG County!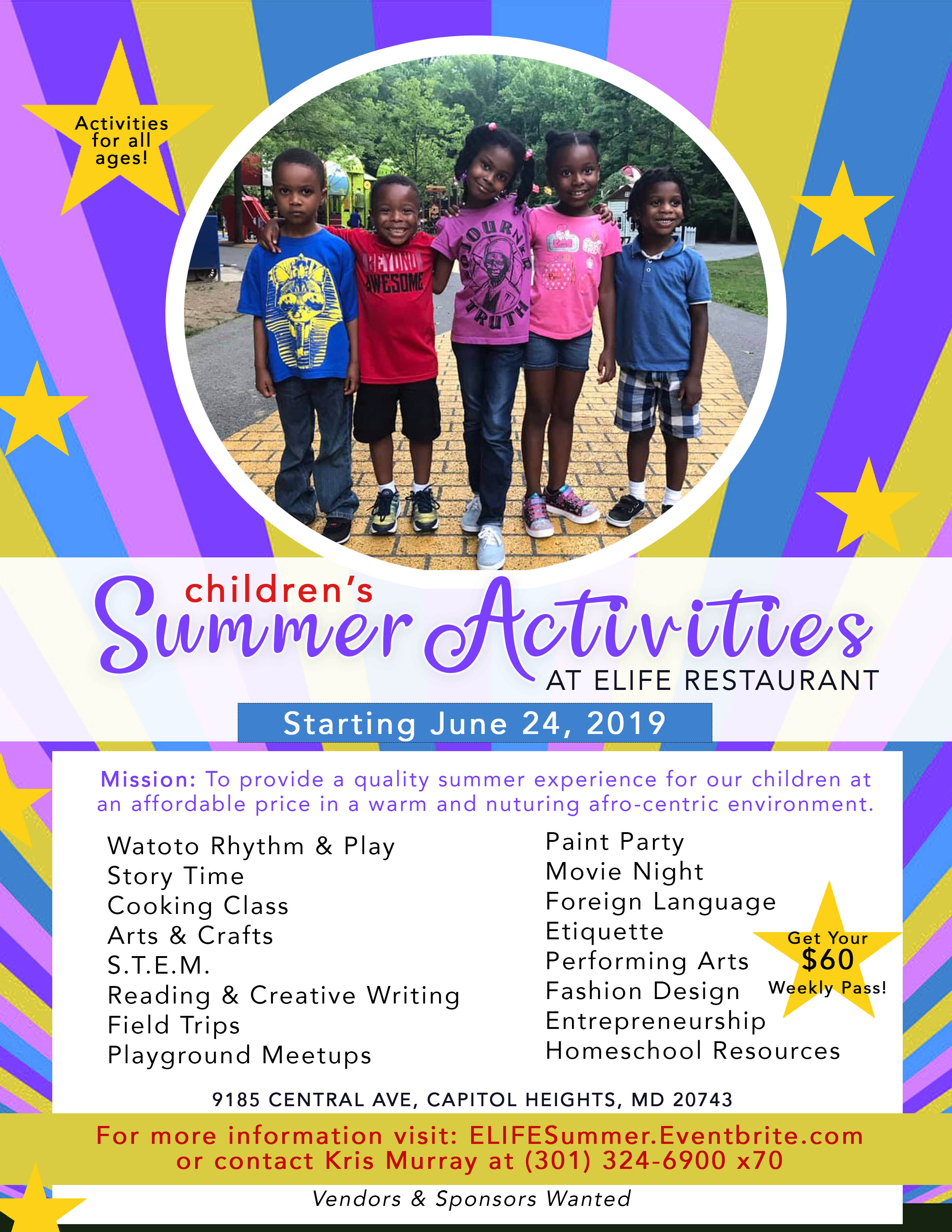 General Schedule: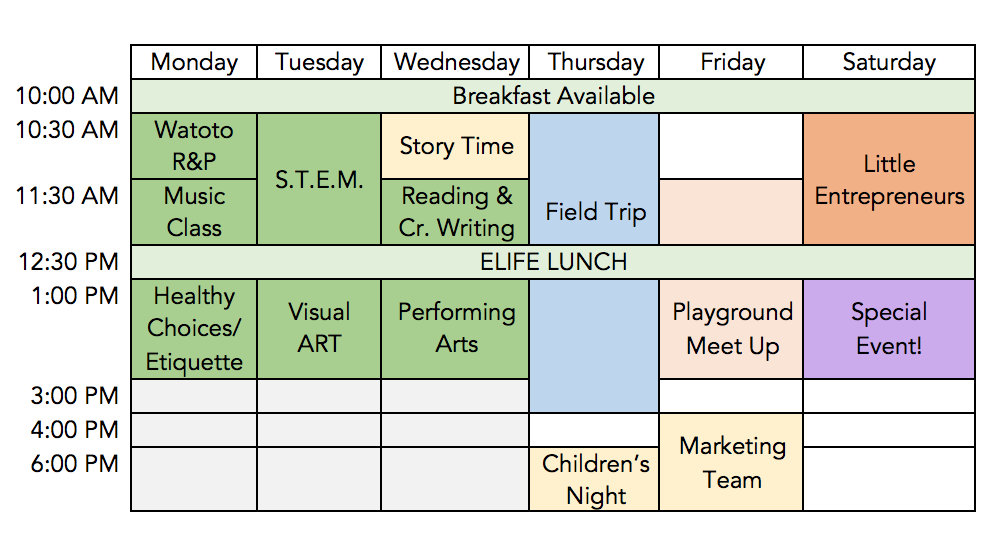 Thursday, July 11th: Join us for the Fun Language Day Pop Up Museum hosted by the National Museum of Language! 11AM to 1PM - FREE
Registration Options:
Weekly Pass (Best Value!):
$60 per calendar week. Pick up to six regular activities between Monday and Saturday.
Series Pass
$40 per weekly activity. Pick your favorite activity and join us once a week during that activity block.
Drop In Activity
$15 drop in fee to just join the activities that you want. No commitment.
Sibling Discounts
%50 discount for 2nd-5th sibling (for regular activities only)
Regular Activities
Watoto Rhythm & Play (Monday 10:30AM-11:30AM)
Get your early morning groove on through exploration of rhythm and movement. Perfect for toddlers 0-4 years. All ages welcome.
Music Class (Monday 11:30AM-12:30PM)
Introduction to music through use of voices and instruments for our school age friends.
Healthy Choices & Etiquette (Monday 1-3PM)
Learn how to live your best healthy life including social etiquette for children.
S.T.E.M. (Tuesday 10:30AM-12:30PM)
Explore science, technology, engineering and math through innovative play.
Visual Art (Tuesday 1PM-3PM)
Painting, drawing, fashion design and more creativity stimulating activities perfect for school age children
Reading & Creative Writing (Wednesday 11:00AM-12:30PM)
Keep your reading and writing skills on point with age-appropriate language strengthening activities.
Free Activities:
Children's Night - Join us for a different activity each Thursday 6-8PM
Story Time - Listen to and read amazing stories with your ELife friends Wednesday mornings 10:30-11AM
Playground Meet Up - Link up with the ELife Summer Activity group at various local playgrounds. The location will be announced at the beginning of each week. Bring a yummy bagged lunch!
Special Activities
Little Entrepreneurs - $50 per session (2nd & 4th Saturdays 10:30AM-12:30PM) - An intense program that exposes children to entrepreneurship.
Field Trips - Cost varies depending on trip. Details will be posted with the announcement of each field trip
Breakfast and Lunch are available at ELife for an additional cost. Purchase your meal discount card to save!
Please note these are NOT drop off activities. Please plan to stay on the premises for the duration of the activities and to stay with your child if he/she is under 10 years old.
Vendors & Sponsors
We are looking to partner with organizations that have something special to offer to our wonderful children and their parents. If you would like to sell your products or if you have a service, activity or book that you believe would fit perfectly into our program please contact Kris Murray at (301) 324-6900 x70.