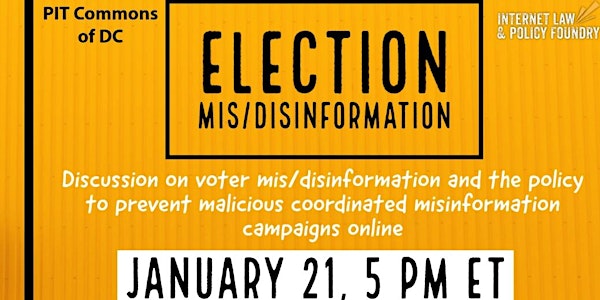 Election Mis/Disinformation
Discussion on voter mis/disinformation and the policy to prevent malicious coordinated misinformation campaigns online
Refund Policy
Contact the organizer to request a refund.
Eventbrite's fee is nonrefundable.
About this event
From mis and disinformation flying around about mail-in ballots, inauthentic coordinated behavior by Russia and QAnon, to threatening emails from fake Proud Boys to Democratic voters coordinated by Iran this year during elections mis/disinformation has been pervasive. With dis/misinformation campaigns and voter interference at scale with the current mass media infrastructure this event will focus our discussion on
Election mis/disinformation campaigns now and how we expect this to evolve over the years
Accurate voting information for voters
Use of social media to combat mis/disinformation
Equity and fairness in voting
Format: Panel and Virtual networking opportunity with speakers
45-minute panel discussion
30 minute networking session after the panel
A link to the event will be sent to registered attendees before the event.
Tickets are free. Donation tickets are available in case you wish to support the Foundry activity.
To share this event: https://electionsmisinformation.eventbrite.com
Kristina Wilfore is Principal of Karakoyun Strategies and Senior Advisor of Disinformation Strategies at the Strategic Victory Fund where she is helping US organizations detect, respond to, and preempt orchestrated disinformation in elections. As a global democracy activist and international development expert, Kristina has worked on the ground with advocates in over 25 countries, in hotspots such as Ukraine, Turkey, Serbia, Syria, Kosovo, Kenya, Tunisia, and Afghanistan. Kristina
She has supported hundreds of women in their campaigns for higher office and worked hand-in-hand to break systemic barriers to political participation. She is a founding board member of Global Gain and host of Fatima's Hand, a podcast featuring women change agents. In 2018 she helped launch the Transatlantic Progressive Campaign Committee, an exchange and networking group for center-left campaign strategists and elected officials in North America and Europe. Kristina is on faculty with The George Washington University's Elliott School of International Affairs teaching the Global Capstone course and is an Advisory Group member of the Gender Equality Initiative in International Affairs at GW.
David Brody leads the Digital Justice Initiative at the Lawyers' Committee for Civil Rights Under Law. He focuses on issues related to the intersection of technology and consumer privacy, free speech, hate group activity, government surveillance, and racial discrimination. The Digital Justice Initiative engages in anti-discrimination litigation and advocates for civil rights protections from abusive commercial data practices. David previously served in the Federal Communications Commission, where he helped write federal regulations protecting broadband Internet consumer privacy and conducted antitrust review of telecommunications mergers. He clerked for the Honorable Stephen H. Glickman of the District of Columbia Court of Appeals and the Honorable Frederick H. Weisberg of the Superior Court of the District of Columbia. He began his career as a fellow at the Electronic Privacy Information Center and he is a graduate of Harvard Law School.
Spencer Overton is the President of the Joint Center for Political and Economic Studies, which was founded in 1970 and is America's Black think tank. He is also a tenured Professor of Law at George Washington University in Washington, DC.
Spencer is the author of the book Stealing Democracy: The New Politics of Voter Suppression (W.W. Norton) and several academic articles and popular commentaries on voting rights, race, and public policy, including State Power to Regulate Social Media Companies to Prevent Voter Suppression, 53 U.C. Davis Law Review 1793 (2020). In 2020, he testified before the Communications and Technology and the Consumer Protection and Commerce Subcommittees of the U.S. House Committee on Energy and Commerce on disinformation online and submitted answers to Additional Questions for the Record for that hearing, testified before the Elections Subcommittee of the House Administration Committee and submitted answers to Additional Questions for the Record, and submitted comments to the Federal Communications Commission opposing the Trump Administration's petitions to prod the FCC to adopt rules that would discourage online platforms from removing disinformation that suppresses Black votes and other objectionable material.
Spencer's work as a commissioner on the Carter-Baker Election Commission and the Commission on Presidential Nomination Timing and Scheduling shaped the modern voter ID debate, and resulted in Iowa restoring voting rights to 98,000 returning citizens. He was also a part of a group of commissioners that worked to successfully move more diverse states like South Carolina and Nevada to the beginning of the modern Democratic presidential primary process.
Spencer led the 2008 Obama transition team's Election Assistance Commission agency review group, and during the Obama Administration he served as Principal Deputy Assistant Attorney General in the Office of Legal Policy (the "think tank" of the Department of Justice). In that position, he partnered with White House officials to lead the Administration's policy efforts on democracy issues, including conceptualizing and/or implementing policies related to the Military and Overseas Voter Empowerment Act, the National Voter Registration Act, and the Voting Rights Act.
Spencer has also practiced law at the firm Debevoise & Plimpton, clerked for U.S. Court of Appeals Judge Damon J. Keith, and graduated with honors from both Hampton University and Harvard Law School.