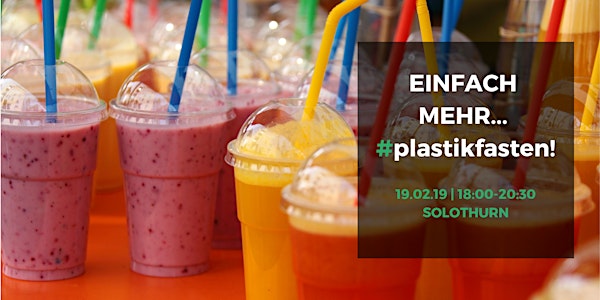 EINFACH MEHR... #plastikfasten!
When and where
Location
Genossenschaft Kreuz, Solothurn 4 Kreuzgasse 4500 Solothurn Switzerland
Description
Stören dich die zahlreichen Plastikprodukte und -verpackungen in unserem Alltag und beunruhigen dich die Auswirkungen von Plastik auf uns und unsere Umwelt? Bist du an daran interessiert und möchtest, wie wir, aktiv etwas dagegen unternehmen? Dann komm zu unserem Workshop! Mit inspirierenden Inputs von André Haueter von der Hafebar, und einem praktischen Schritt Richtung Plastik fasten, sammeln wir gemeinsam coole Projektideen, wie der Plastikverbrauch in Solothurn gesenkt werden kann - sei das zu Hause, im Büro oder in der ganzen Stadt. Beim Apéro hast du die Möglichkeit dich mit Gleichgesinnten auszutauschen. Wir freuen uns auch dich! Der Workshop ist kostenlos; gerne hier anmelden. Bei Fragen sind wir erreichbar unter solothurn@umweltplattform.ch.
Dies ist der zweite Event von UP in Solothurn und ein Teil der Eventreihe "Einfach mehr". UP widmet sich der Genügsamkeit - mit kreativen und positiven Events wollen wir eine Nachhaltigkeitsbewegung lancieren.
----
Are you annoyed by the numerous plastic products and packaging in our daily lives and are you worried about the consequences for us and our environment? Are you, like us, interested in plastic reduction and do you want to do something about it? Then join our workshop! We will create cool ideas for projects in Solothurn - at home, in the office or for the whole city. There will be inspiring inputs given by André Haueter from the Hafebar, a hands-on workshop for less plastic in your own life, and while having a drink you can meet like-minded people. We are looking forward to meeting you! The workshop is for free. Please register here. If you have any questions, don't hesitate to send us an email to solothurn@umweltplattform.ch.
This event is the second of the UP event series "Simply more" in Solothurn . We organise creative and fun events around sufficiency and intend to lance a sustainability movement.