Description
LEARN ABOUT EGG FREEZING & ENDOMETRIOSIS with Dr. Meir Olcha and CIGC's Dr. Paul MacKoul!

New Hope Fertility Center, the center that pioneered American Egg Freezing, invites you to learn everything you need to know about Egg Freezing and Endometriosis. This event will be hosted by New Hope's Dr. Meir Olcha and guest speaker Dr. Paul MacKoul from The Center for Innovative GYN Care.
All those attending will enter a raffle for 1 free egg freezing cycle!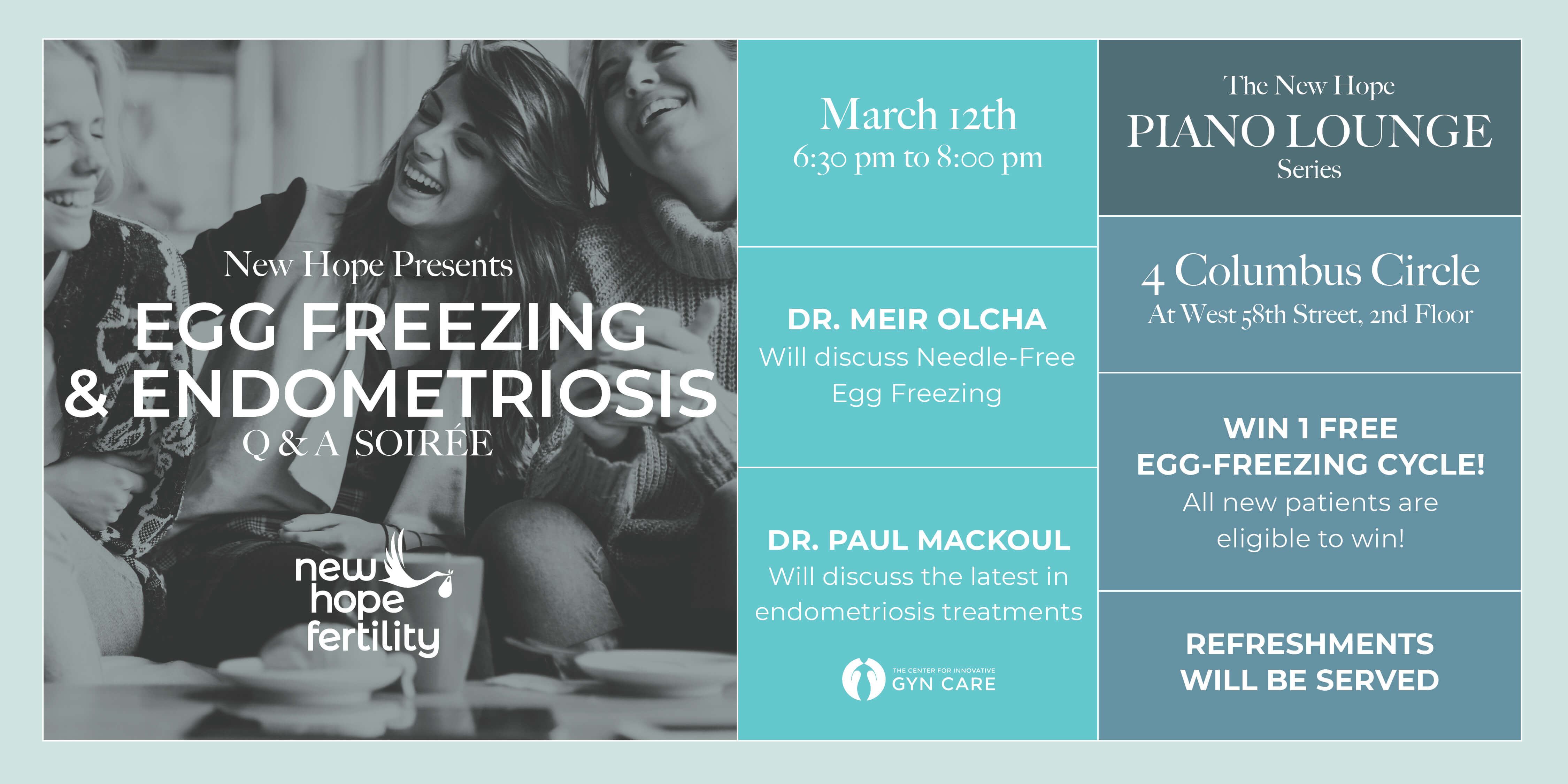 Find out how to tailor an egg freezing protocol to your needs. Learn about our options!
This in-depth introduction to Egg Freezing and Endometriosis at New Hope Fertility Center will cover:
WHAT IS EGG FREEZING?
WHAT IS ENDOMETRIOSIS AND HOW IT AFFECTS FERTILITY.
WHAT IS NEEDLE-FREE EGG FREEZING?
HOW IS EGG FREEZING DONE?
HOW TO CHOOSE THE RIGHT IVF CENTER FOR YOUR EGG FREEZING?
HOW MANY EGGS DO I NEED?
HOW MUCH DOES EGG FREEZING COST?
WHAT SHOULD I KNOW BEFORE DOING EGG FREEZING?
YOU WILL ALSO HAVE THE OPPORTUNITY TO ASK ANY QUESTIONS DURING THE Q&A PORTION OF THE EVENT.
This event is FREE and perfect for you and a friend to attend. Enjoy a complimentary fine wine tasting as a courtesy from our director's private collection.
SEATS ARE LIMITED so please book your ticket TODAY!
Disclaimer:
1. Tickets are only valid for new guests who have never completed an initial consultation with any New Hope Fertility Center physicians.
2. Must register to attend. Please bring your ID.
3. To be eligible to join the free cycle raffle, please arrive no later than 6:45pm.
Organizer of Egg Freezing & Endometriosis Event
New Hope Fertility Center provides world-class fertility care at renowned clinical centers, offering treatments designed to surmount infertility for couples trying to conceive.
Starting a family is unique to everyone, so New Hope fertility specialists use treatments designed for each patient based on their medical history.
Our physicians work diligently on perfecting in-vitro fertilization (IVF) treatments, including Mini-IVF, Needle-free IVF, and Natural IVF. A wide range of other minimally-invasive treatments, including Intrauterine Insemination (IUI) and Intracytoplasmic Sperm Injection (ICSI), are also available.
At New Hope, patients come first and with expert knowledge, careful monitoring, and a little hope, family starts here.