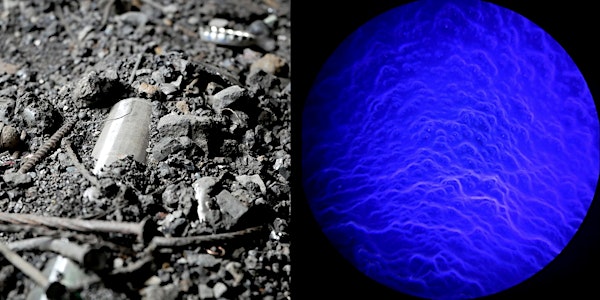 Écotones
Écotones: Investigations expérimentales et activation de sols contaminés au Champ des Possibles
When and where
Location
Champ des Possibles 5605 Avenue de Gaspé Montréal, QC H2T 2A4 Canada
About this event
FR
Un projet par Brice Ammar-Khodja et Philippe Vandal
Écotones consiste en un laboratoire urbain amalgamant interventions artistiques et table ronde afin d'articuler une réflexion esthétique, critique et sociale sur la pollution des sols à Montréal. À travers deux installations artistiques expérimentales implantées sur le site du Champ des Possibles, Écotones explore la pollution urbaine comme matériau de création. Souhaitant produire de nouvelles visualisations de la pollution, les artistes souhaitent initier un dialogue entre les communautés citoyennes, académiques et artistiques sur les enjeux de la contamination des sols en ville.
Organisées en partenariat avec l'association Les Amis du Champ des Possibles, cette table ronde / marche au cœur du Champ des Possibles réunira des citoyens de quartier du Mile-End, des artistes, des académiciens et un expert en mycoremédiation.
La table ronde débutera au point de ralliement (communiqué un jour avant l'évènement) à 16h00 et se terminera autour de 17:30. Le vernissage des œuvres aura lieu à 18:00.
La table ronde sera filmée et enregistrée, en tant que participants extérieurs vous etes suceptibles d'apparaitre de manière fortuite dans la documentation. Si vous ne souhaitez pas apparaitre dans la documentation, merci de nous le préciser au début de l'évènement.
Plus d'information à l'adresse suivante : brice.ammar-khodja@mail.concordia.ca
EN
A project by Brice Ammar-Khodja and Philippe Vandal
Écotones is an urban laboratory combining artistic interventions and a round table to articulate an aesthetic, critical and social reflection on soil pollution in Montreal. Through two experimental artistic installations on the Champ des Possibles site, Écotones explores urban soil pollution as a creative material. Aspiring to concretize new visualizations of pollution, the artists desire to initiate a dialogue between the citizen, academic and artistic communities on the issues emerging from urban soil contamination.
Organized in partnership with the Association Les Amis du Champ des Possibles, this walk /round table at Champ des Possibles will gather citizens, artists, academicians and an expert in mycoremediation.
The round table will start at the meeting point (communicated one day before the event) at 16:00 and will end around 17:30. The vernissage will take place at 18:00.
The roundtable will be filmed and recorded, as participants you may appear incidentally in the documentation. If you do not wish to appear in the documentation, please let us know at the beginning of the event.
Contact: brice.ammar-khodja@mail.concordia.ca