Join us for tea and live entertainment with your favorite Easter characters!
About this event
SEATING INFORMATION:
Modified seating due to balcony construction (tables temporarily not available)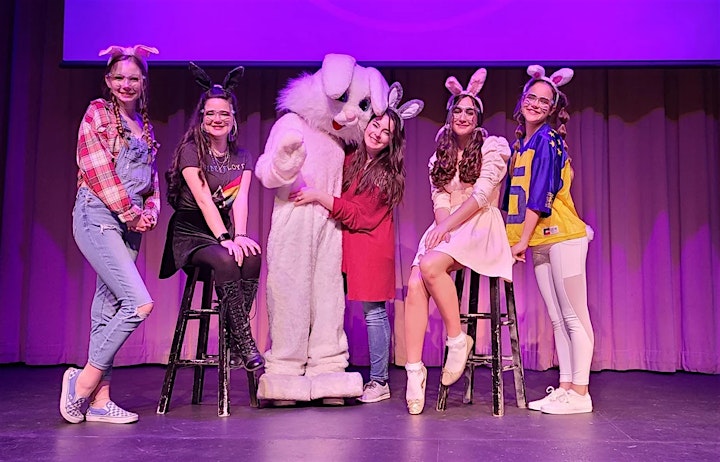 Join the Easter Bunny and friends for an interactive Easter Tea that is great for all ages. Yes, we really will be serving tea!
Join your favorite characters for this audience-interactive show. Hot or cold tea served with fresh-baked cookie. Characters will sing, dance, and tell stories all while engaging the entire audience. A socially-distanced meet and greet will allow participants to snap a photo with their favorite characters.
Featuring an all-star cast of regional youth.
MEET THE CAST!
Bella Myers
Bella is a senior at Cape Henlopen High School. She has been performing since she was four years old and has participated in 13 The Musical (Kendra), The Little Mermaid (Ariel), Brighton Beach Memoirs (Laurie), The Sound of Music (Gretl and Marta), The Lion, the Witch and the Wardrobe (Lucy), and has performed with The Milton Theater in Disney World four times. Bella has also attended All State Choir four years in a row, and was a choir participant in the Governor's School for Excellence. She maintains a 4.11 grade point average and is enrolled in many accelerated, honors, and AP courses. She is the oldest of five siblings whom she would like to thank, as well as her parents, for their unwavering support in her theatrical endeavors.
Haley Cummins
Haley Cummins is 15 years old and has been performing for most of her life. She was 8 the first time she got on stage in Aladdin and the Magical Lamp (Genie of the Jewels) at Second Street Players. When she was 10 she joined the Milton Theatre Musical Theatre Ensemble and later auditioned and was accepted into the Triple Threat training program. Other credits include Milton Theatre's 13 The Musical (Lucy), Lion King Jr. (Young Nala) and Shrek Jr. (Dragon), Sussex Academy's Little Shop of Horrors (Costumer).
Aubrie Myers
Aubrie is a freshman at Cape Henlopen High School, where she participates in athletics, theater and choir. She began performing at the age of three and has participated in productions of Annie (Molly and Annie), Peter Pan (Peter Pan and Tiger Lily), Lion King (Timone), Into the Woods (Jack), and performed with The Milton Theater at Disney World three times. Aubrie is the second of five children and appreciates all the love and support her family has given her throughout her lifetime.
Sara Freih
Sara Freih is 13 years old and an eighth grader at Worcester Preparatory School. She is a classically trained vocalist who started her training at the age of 5, and her interest in musical theatre began at the age of 6. She has been performing ever since and is currently a Musical Theatre Ensemble and Triple Threat student at the Milton Theatre, participating in many performances since 2016. She has played many roles in musicals throughout the region. Some of her favorite roles have been Dorothy (Wizard Of Oz), Jasmine (Aladdin), Belle (Beauty and the Beast), Yellow Riding Hood (The Fairytale Network), and Winnie the Pooh (Winnie the Pooh). Sara has participated in numerous events locally and statewide as a lead vocalist.
About the Milton Theatre
Official Website | Facebook | Twitter | Instagram
The historic Milton Theatre is a uniquely diverse venue where you will find the best local, regional, national, and international talent. Free municipal and on-street parking are available. Full bar and light food options available. This facility is fully accessible.