East Meets West: Combining Five Elements with Family Constellations
Event Information
Refund policy
Contact the organizer to request a refund.
Eventbrite's fee is nonrefundable.
Guest presenter, John Cheney, LMT, demonstrates innovative blend of healing methods with three CE credits
About this event
Traditional Family Constellations focus on the dynamics of our family systems and can offer powerful healing for the individual seeking insight and resolution from the burdens that we might carry from our family of origin.
John Cheney, a facilitator of Family Constellations and practitioner of Traditional Chinese Medicine, introduces his innovative blend of Family Constellations and the Chinese philosophy of Five Elements. This inclusive systemic approach looks at issues that may have their roots in the family – as well as other issues we carry related to our health, work, friends, loved ones, addictions and to nature. He has found this approach can be particularly helpful for acute health problems, sleeping disorders, and lack of energy.
In this online training and experiential workshop, facilitated by John Cheney, LMT, we will gently examine healing our bodies. With love, humor and patience and look at our strengths, human nature, burdens and entanglements to see, bring light, and provide an environment to feel and release these burdens.
Five Elements Constellations provide an inclusive lens that we can use to look at phenomena that impact our lives and our bodies. They include family, spiritual, environmental, diurnal, astrological, and physical impacts that can throw our life and health out of balance.
You will learn:
An overview of the Chinese system of Five Elements (fire, earth, metal, water and wood) that has been used for thousands of years as a way of describing interactions and relationships between phenomena.
How seasonal changes impact the body and how epigenetic memory show up within the body. This class is a detailed guide into the operating system of our subtle body.
An overview of classic Family Constellations, as developed by German family therapist Bert Hellinger, which examines family systemics with an experiential perspective.
How acupressure, acupuncture, acutonics, bodywork and EFT may be appropriately employed as supplemental resources during a session and how yoga and tai chi may be assigned between sessions for additional healing and growth.
The experiential training workshop will take place from noon to 3 p.m. Eastern Time Oct 2 using the online platform Zoom. There will be the opportunity for one to two people present personal issues for demonstration purposes, although all will benefit personally and professionally from this presentation.
Who will benefit
This training is designed for mental health professionals and professional helpers, including social workers, marriage and family therapists, licensed counselors, Traditional Chinese Medicine practitioners, addictions counselors, physicians, nurses, creative arts therapists, drama therapists, massage therapists and bodyworkers, alternative health practitioners, life and wellness coaches, educators, clergy, clinical supervisors, administrators, youth leaders, group leaders, graduate students and others interested in experiential psychotherapies and experiential learning.
Tuition
Tuition is $60 if registered by Sept 29th, and $75 after, and includes three CE credits and psychodrama hours, plus a generous online handout page of handouts and links to videos and online information of interest, which you may retrieve online.
CE credits and psychodrama hours
The program provides three CE credits for social workers, marriage and family therapists, professorial counselors and psychologists, plus psychodrama credits and Act 48 hours.
How to register
You may register online here with your credit card.
We suggest that you use your credit card to register with Eventbrite rather than the PayPal option, since some attendees have reported problems with PayPal.
If you wish to register and pay in another way, please contact Karen for information.
CE credits
Karen Carnabucci, LCSW, TEP, Companions In Healing and the Lancaster School of Psychodrama and Experiential Psychotherapies are approved by the Pennsylvania State Board of Social Workers, Marriage and Family Therapists and Professional Counselors to offer continuing education for social workers, marriage and family therapists and professional counselors according to Pennsylvania Board Approval # 004002.
The Pennsylvania State Board of Psychology has approved continuing education programs with License #PSY000216.
The Wisconsin State Board approves continuing education credits for social workers, MFTs and LPCs Provider #6834-123.
These training hours may be counted towards the Certified Psychodramatist (CP) credential as approved by the American Board of Examiners in Psychodrama, Sociometry and Group Psychotherapy.
Training hours may be counted towards certification by the International Society of Experiential Professionals.
Training hours are approved for Act 48 credits for educators, school counselors and administrators.
You may be able to submit your certificate for credits in another helping discipline or in another state. Please contact your respective state board for information.
About Zoom
Our classes are currently online due to the coronavirus pandemic, and we are using the online platform Zoom. If you are a new user to Zoom, please download on your computer or tablet here.
You may also use your smartphone but keep in mind that you may not enjoy the same learning quality due to the small screen on your smartphone.
If you have used Zoom in the past, please make sure you download the most recent version of Zoom a day or two before the program.
Questions
Contact Karen for questions including information on refunds.
About John Cheney
John Cheney holds a licensed massage therapist credential and studied Jin Shin Do acupressure for three years. He has been involved with Family Constellations for the past 21 years and developed his facilitation of Five Element Constellations during the past 15 years.
He studied Family Constellations with Dietrich Weth, German family therapist, for seven years as well as trainers such as Sneh Victoria Schnabel, Johannes Schmidt, Albrecht Mahr, Mark Johnson, Ursula Franke, Thomas Bryson, Stephan Hausner, Anngwyn St. Just and Francesca Mason Boring.
In 2006, John began his journey integrating Family and Systems Constellations with the Five Elements of Chinese medicine. After setting up several "blind" constellations John was surprised to see the imbalance express itself through the representatives so clearly, similar to representatives in the family of origin constellation sessions.
John contributed a chapter to the groundbreaking Returning to Membership in Earth Community, a book focused on system constellations with nature. He has written for The Knowing Field, the English language journal of Family Constellations, and has presented at several North American Systemic Constellations Conferences.
John has facilitated Five Elements Constellations internationally and across the United States; for the past seven years he has held a yearlong program in his community in Seattle, Wash. He also offers trainings on how to facilitate the Five Elements and systemic constellations.
For more about John, click here.
About Chinese Medicine
Five Element constellations generally focus on health issues but are effective with interrupted reaching out, physical trauma, early developmental trauma, epigenetic trauma systemic Family issues, emotional regulatory issues, and seasonal affective disorder to name a few.
Chinese medicine is based on what might be called an emotional regulatory system. In Chinese medicine practitioners stimulate energy channels (or meridians) to rewire or restore the individuals system in order to promote harmony or balance. John has found this tool to be helpful in developing new insights into emotional and physiological patterns, insights on how nature impacts or nourishes us, and a great mirror (from the representatives) on how we treat ourselves and how we treat others.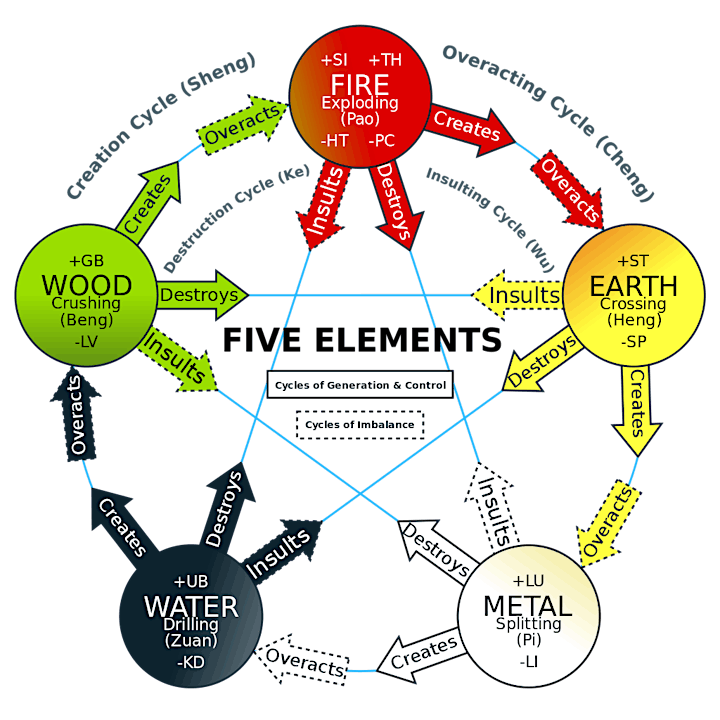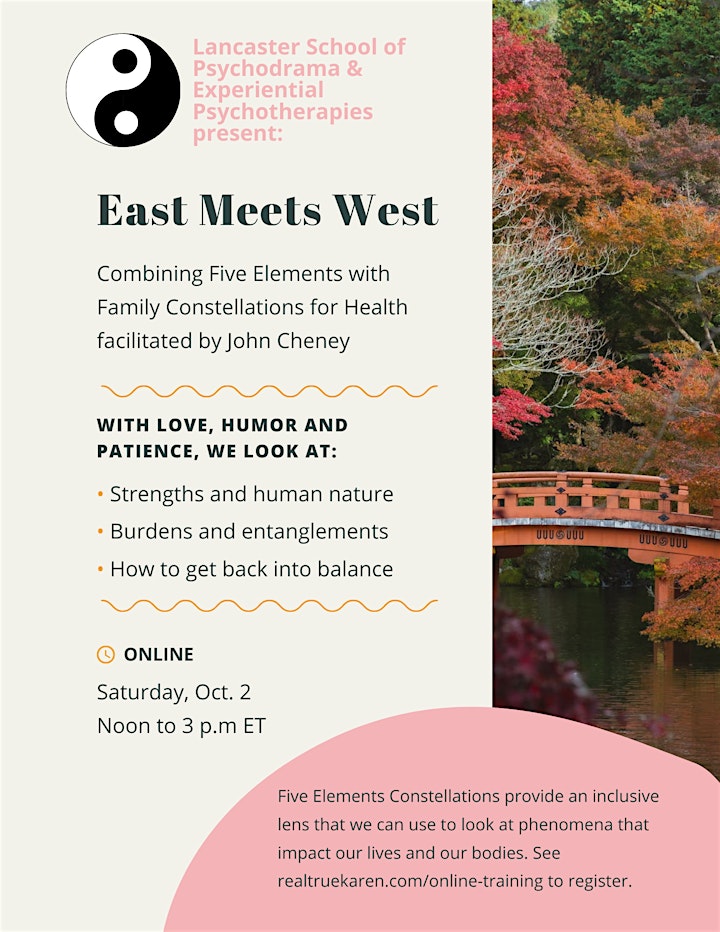 Date and time
Location
Refund policy
Contact the organizer to request a refund.
Eventbrite's fee is nonrefundable.
Organizer of East Meets West: Combining Five Elements with Family Constellations