Is illegible handwriting why your student is failing? It could be a disability in written expression, dysgraphia.
About this event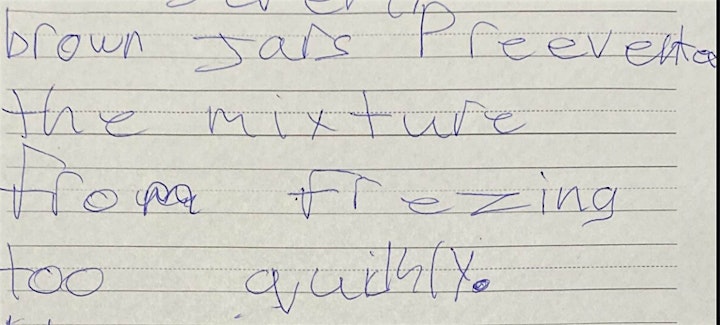 Kathy was listening as Beth spoke about John. She talked about hand pain, spelling issues, and difficulty writing sentences. He refused to do homework and often crumbled his worksheets in frustration. If this sounds like a student you know, join us at the webinar to learn more about dysgraphia, a disability with written expression.
What is dysgraphia?
Dys = Difficult graph = to write ia = condition
Some of the symptoms include:
Illegible handwriting
Unfinished worksheets
Confusing sentence structure
No capitalization and punctuation
The writing sample is from a student with dysgraphia. In the handwriting sample,
The sizing is inconsistent.
There are spelling errors.
The student misjudged the right margin.
Line placement is variable.
This sample is an example of a student after he participated in 30 minutes of functional activities. Prior, he refused to write.
Dysgraphia is a developmental delay in the ability to write. 33% of students who are learning how to form letters have difficulty. Up to 65% of people graduating from high school have problems designing legible paragraphs at a rate similar to their peers.
Symptoms include difficulty recognizing letters, numbers, and shapes, hand pain, difficulty recalling spelling, sentence structure, or paragraph design.
Join the webinar and discover if your students show symptoms of this developmental delay.
This workshop-style webinar is interactive. It includes small group discussions. Please be prepared to have your video camera and mic on.
Organizer of Dysgraphia Webinar
Confusion surrounding dysgraphia is just not right. No child should have to struggle with a writing disability. It can be overcome with proper modifications.
Although my grades were adequate, I worked hard to achieve every grade throughout my school and college years. Writing tasks weren't easy for me. Spelling was difficult. I have dysgraphia. Essays terrified me. I even had difficulty reading small print, so many literature assignments turned me off. Apps like Audible and Kindle have rejuvenated my joy of reading. Predictive speech and Grammarly have revitalized my ability to write.
Being a student who was expected to come home with As and Bs but hovered around Cs. My heart is sensitive to that child that "doesn't qualify" for therapist services. Their standardized scores on a test put them in a category that didn't provide support. My writing struggles also created an atmosphere of being bullied. Struggling students fill my heart with pain. Invisible disabilities like dysgraphia make the struggle more difficult because adults or peers do not understand the student.
Being blessed with two gifted children yet struggling with writing disabilities, my aha moment came when I noticed many referrals were students who read above grade level and excel in math. However, their writing skills are minimal.
I designed a sensory-motor-based intervention program to support all students in the classroom. This program is included in my book, Handwriting Brain-Body DisConnect, and my course, Dotterer Dysgraphia Method.