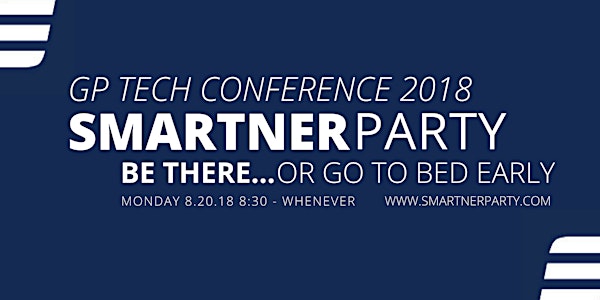 Dynamics GP tech 2018 "SMARTNER PARTY" Hosted by eOne Solutions
When and where
Location
eOne Solutions Office "SMARTNER PARTY" 4170 41st Ave S Ste 101 Fargo, ND 58104
Description
Are you coming to Fargo for #Dynamics GP tech 2018?
If so, we've got some great news, and if you're not... You should really think about it.
Fargo is the epicenter of Dynamics GP and to celebrate all of the hard-working consultants and partners in the GP Channel we are throwing a huge party. It's going to be a night filled with music, games, laughter, fun, and most importantly YOU!!!
Thanks for the years of dedication, now come have a drink (or many) on us. Side Note: Get VIP Access when you attend the SmartConnect Bootcamp.

eOne is relocating to a new office and we couldn't think of having any better guests than you to kick of our grand opening. So, come on out and be our special guest and join us on Monday Aug 20th after the Microsoft Welcome Reception. We booked a killer band to make sure you have a Rockin' time in Fargo. Shuttles will run between Microsoft, The Party, and the nearby Holiday Inn and Holiday Inn Express after the Microsoft Welcome Reception.

SmartConnect Bootcamp
Interested in learning how to jumpstart those GP, D365, CRM, Salesforce, and all those Cloud App. projects?
Join eOne and learn how you can get those projects to market quick and create those complex integrations without writing code. Our SmartConnect bootcamps are certification-based training sessions designed for consultants to learn how to create complex integrations, be smart on how you approach them, and get the most value out of SmartConnect.
The sessions will be held in Fargo, ND at the Hilton Garden Inn – Thursday August 23rd and Friday August 24th from 9 am to 5 pm CST.
View the Bootcamp Details or Register here now