Duval's Biggest Annual Platform for Indie Creatives is BACK! Hosted by CW17/LIVE from New Jax City Hosts and More Special Guests TBA
About this Event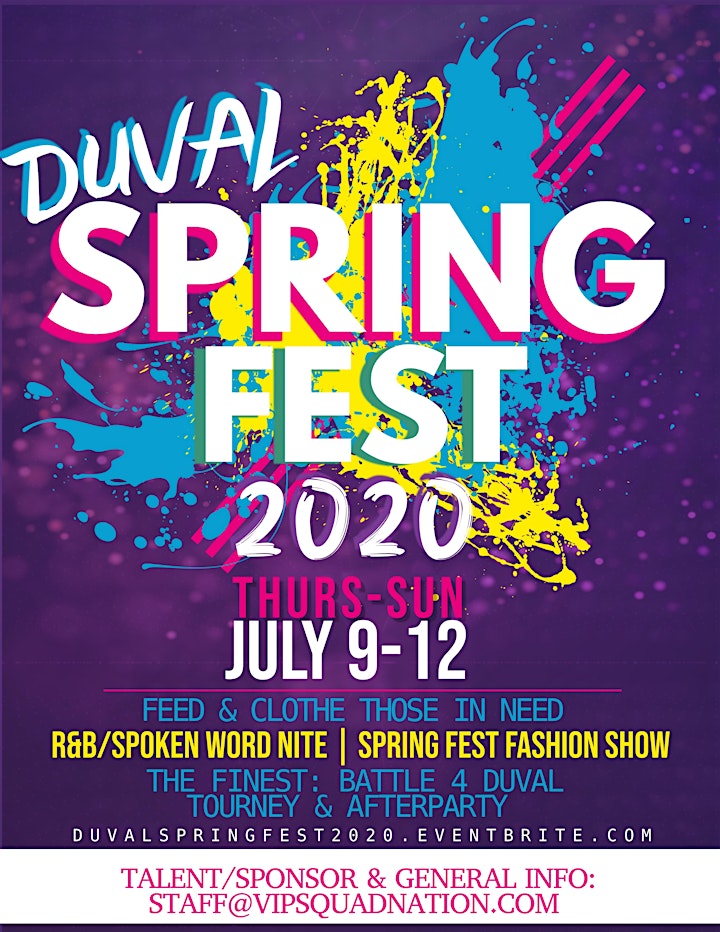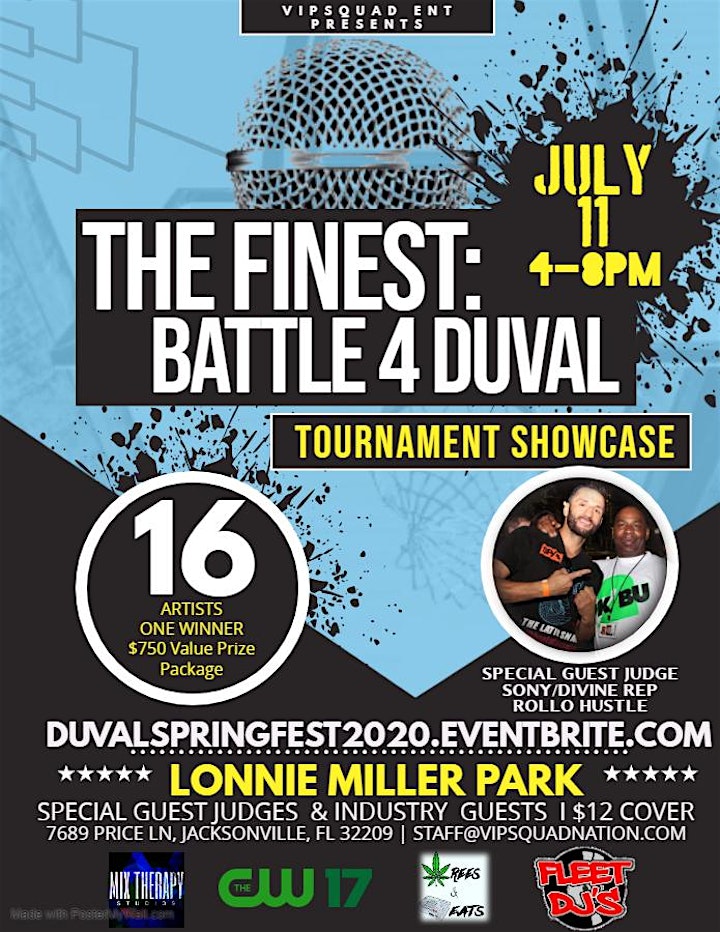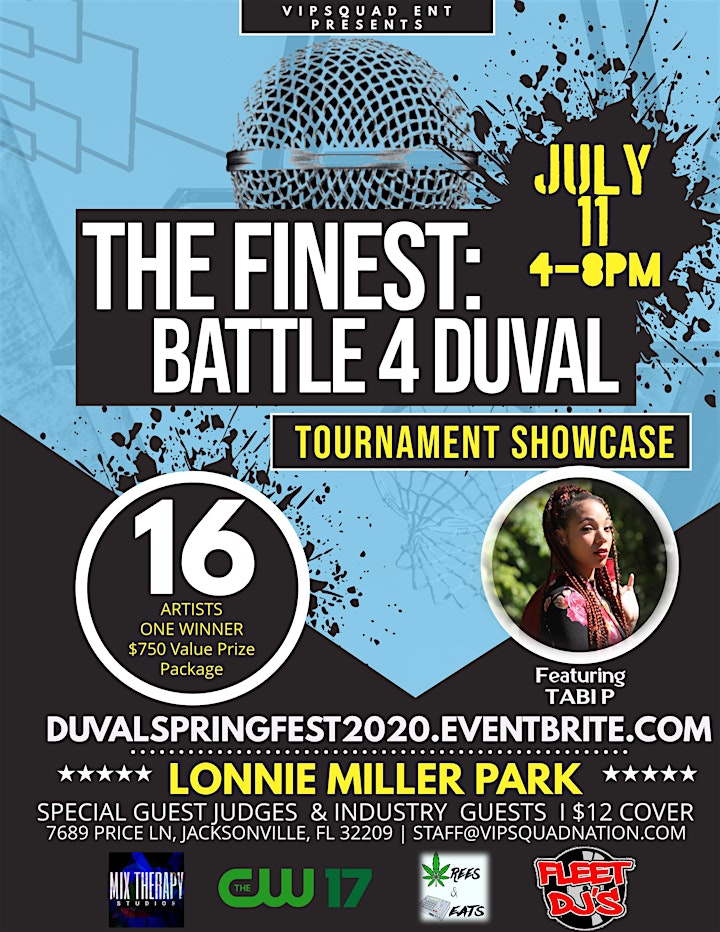 VIPSquad Entertainment | Candice Alvita | CW17's New Jax City Uncut | Groundbreakin' Entertainment
#DUVALSpringFest2020
>> THU JULY 9-SAT July 12
LIVE Taping of Jacksonville-based CW17 Urban Entertainment TV Series -- LIVE from New Jax City's New Jax City: Uncut all Spring Fest weekend
Spring Fest Eventbrite Page: www.DUVALSpringFest2020.eventbrite.com
Spring Fest Facebook Page: www.facebook.com/events/181025219860364
>Thursday, July 9 -- Game Nite + Open Mic
The OFFICIAL DUVAL Spring Fest 2020 Kickoff Event in the Heart of Jacksonville
R&B, Spoken Word, Spades Tournament and More -- 8PM-Midnight | Spades/Spoken Word Open Mic Sign Up: 8-9pm, Performers & More: 9pm-until
Featuring Limited Open Mic Spots & Special Guest Artists
--Full cash bar and food will be available for purchase
>Friday, July 10 -- DUVAL Spring Fest Annual Fashion + Designer Meet & Greet + TV Taping
DUVAL Spring Fest Annual Fashion Show MEET & GREET [TV Taping for Promo of the Summer Fest Fashion Show later this Year] -- 7PM-11PM -- @ Get Candid Studios 903 Edgewood Ave W Jacksonville FL 32208
--Full cash bar and food will be available for purchase
Featuring Jacksonville-based designers, models, and performing artists. Interested in participating in the fashion show later this Summer/Fall? Contact Candice Alvita on Facebook or Instagram. Is your organization interested in sponsoring and/or donating prom dresses/tuxes for the giveaway? EMAIL: STAFF@VIPSquadNation.com
Hosted by Makeeta Le Model from CW17's LIVE from New Jax City | Coordinated by Jax-based Make-up artist and Fashion/Model Coordinator Candice Alvita
LOOK OUT FOR THESE VENDORS AT THIS EVENT >> Hempnotized -- Jacksonville small business specializing in hemp-based, natural products promoting wholistic health & wellness -- Check Them Out @ thagreenhouseeffect.com and drinkshrinkandgetpaid.com -- or on Instagram: @hemp_notized @bawdybygawd
>Saturday, July 11 -- Battle 4 DUVAL: Sweet 16 Tournament & Day Party Media/Industry Mixer
In the spirit of March Madness, this year we're inviting Jacksonville's hottest up-and-coming artists to perform for regional industry and media heavyweights to receive feedback, network, and make connections that could elevate their careers. Select artists will receive cash prizes, free studio time, free performance spots/entry at exclusive upcoming events like Saucy Sundays: Labor Day weekend and BET Hip Hop Awards Weekend in Atlanta, free production & studio time, free VIP at the Spring Fest main event concert later this summer/fall, free placement and interviews on cable TV (CW17), free placement on the BET Hip Hop Awards weekend mixtape, and more.
Battle 4 DUVAL: Sweet 16 + Media/Industry Mixer-- 4PM-8:30PM @ Lonnie Miller Park 7689 Price Ln, Jacksonville, FL 32209 FEATURING: Boss Byrd, Rasta PR, TyWatcher, Tavan Lhoid, Camo, CopyRyte, Tabi P, KALE, TRIPLEXROSSS, Jay Neal, QUE3, ADEMONWITHEFACEOFANANGEL, KALE, & More Participants TBA with Special Guest Judges President of Mix Therapy Studios Rashad Taylor, DJ Will and DJ Ms Tan of the Fleet DJs, Producer Burnamen Jones, Sony Music & Ace Magazine Rep Rollo H. Jones, Former Slip N' Slide/Upstart Road Manager Monica "Russia" Ross, and CW17-WCWJ Producer/Artist Charlie Bravo
Interested in vending, sponsoring, or performing? EMAIL: STAFF@VIPSquadNation.com | ONLY SPACE for 16 JAX ARTISTS to compete in this one-of-a-kind event; cash prizes go to the two artists who bring out the most paying guests/sell the most tickets in advance; the Tournament Winner who will be invited to perform for CW17 later this summer/fall at the Main Event: Jax Artists 2 Watch 2020
The Finest: Jax Artists 2 Watch Concert -- 7:30PM-1AM -- DATE TBA (2nd CW17 Spring Fest New Jax CYPHER will be filmed for TV 9PM-10PM) @ Onyx Sports Bar and Lounge Jacksonville, FL 32208 -- CW17 and 93.3 The Beat will be LIVE on site | Hosted by LIVE from New Jax City's YahGuru, Charlie Bravo, Bridget J., Da Chief Session, Makeeta Le Model --Full cash bar and food will be available for purchase + VIP & Bottle Service available via pre-order
REGISTRATION/INFO: STAFF@VIPSquadNation.com | Sign Up ASAP
Full cash bar and food will be available for purchase + VIP & Bottle Service available via pre-order
LOOK OUT FOR THESE VENDORS AT THIS EVENT >> Hempnotized -- Jacksonville small business specializing in hemp-based, natural products promoting wholistic health & wellness -- Check Them Out @ thagreenhouseeffect.com and drinkshrinkandgetpaid.com -- or on Instagram: @hemp_notized @bawdybygawd
>Sunday, July 12 -- Sunday Service + 7th Annual Feed & Clothe Those In Need Drive
Chips, snacks, fruit cups, similar food items, water, small juices, clothing, hygiene items, etc. will be accepted at all Spring Fest events for discounted entry
Sunday Service -- 10AM-12PM @ Open Arms Community Church 2763 Dunn Ave # 1, Jacksonville, FL 32218
7th Annual Feed & Clothe Those In Need Drive -- 1PM-3PM 7th Annual Feed & Clothe Those In Need @ Main St. Pocket Park with Get It Poppin' Treats -- 325 Main St N, Jacksonville, FL 32202
Donation Drop-Offs Before DUVAL Spring Fest Weekend Contact: STAFF@VIPSquadNation.com | 323-379-2476 | We need Volunteers! Please help us prepare packages and distribute them. We welcome those interested in giving back to the community by volunteering your time 1-3pm on Sunday July 12
-Interested in Vending at these Events?
-Got a Brand/Business, Event, Talent, or Client who Could Benefit from Exposure to 80,000+ Potential Consumers that our Promotional/Marketing Campaign will Reach?
-Interested in Sponsoring any of these Televised Events and Receiving Unmatchable Visibility and Unrivaled Access to our NE Florida/SE Georgia Demographic? Let's Work!
>> CONTACT: 323-379-2476 or STAFF@VIPSquadNation.com <<
END OF SPRING FEST INFORMATION
________________________________________________
Check Out our Affiliates' Recent Projects:
#FreestyleFilez7 the unofficial #BETHipHopAwards weekend mixtape includes live audio taken straight from the RED CARPET at the 2019 Awards along with #BARZin60Seconds, a new freestyle/cypher style segment that will air on CW17 bi-weekly as a part of LIVE from New Jax City's spin off: New Jax City Uncut
**The #FreestyleFilez mixtape and #FLAsFinest mixtape both contain exclusive tracks from the newly released album "LPYH SSNZ: 90s Tape" by @deznado for promotional use only. Follow Dez on instagram and/or Facebook for updates on upcoming showcase/networking/celebrity events. Pre-Sales for the album started on November 20, 2019 @ www.VIPSquadNation.com and the album is officially available TODAY at VIPSquadNation.com and everywhere music is streamable via online/mobile app. Those who purchase the album will receive discounted entry to the Saucy Sunday event of their choice starting when Saucy Sundays returns MEMORIAL DAY WEEKEND 2020 -- www.facebook.com/saucysundaysjax
Every September/October, the unofficial BET Hip Hop Awards Weekend mixtape FREESTYLE FILEZ hits #ATL (or wherever the Awards are; #Miami in 2018 and 2017) and features some of the HOTTEST indie & major bars, freestyles, cyphers, and conscious talent all on one tape -- like the page www.facebook.com/FreestyleFilez & be the first to DL/stream 2020's release OR download the latest editions directly from VIPSquadNation.com in FULL for FREE today
The latest mixtape features exclusive behind the scenes content from the 2019 #BETHipHopAwards in #ATL.. #FreestyleFilez7 - www.soundcloud.com/freestylefilez7 to stream today
The mixtape series that follows Freestyle Filez produced by VIPSquad DJs is Florida's Finest/ #FLAsFinest which is released in November after #FAMUHomecoming weekend & before #FloridaClassic weekend where the #FLAsFinest6 release party was held in Orlando in 2018 and was held again in 2019 for Florida's Finest Vol. 7 -- visit www.Patreon.com/deznado or EMAIL STAFF@VIPSquadNation.com for exclusive access and VIP offers to these events and more upcoming events 1st quarter 2020 like HBCU & SE College Spring Break, Black Bike Week, Black Beach Week, Orange Crush, Memorial Day weekend FL-GA-SC, DUVAL Spring Fest, and info relating to the new regional cable TV series New Jax City: Uncut (WCWJ/CW17) airing throughout the spring 2020.
The mixtape series that have generated over 500,000 REAL plays/downloads: Freestyle Filez + Florida's Finest!-- prod by VIPSquad DJs @vipsquadent -- www.facebook.com/vipsquaddjs
+Florida All-Star Mixtape #FLAsFinest6 (2018) Available TODAY [Click the Hashtag to Stream or visit www.VIPSquadNation.com to download in FULL for FREE] -- Florida's Finest 7 ALSO available exclusively in FULL for FREE @ VIPSquadNation.com -- streaming at https://audiomack.com/artist/flasfinest7
+The Much Anticipated album "LogophiliYaH" from Dez Nado will be preceded by two mixtapes, the 1st of the 2 was released Dec 24th 2019 #LPYH90sTape -- a groundbreaking original mixtape 100% inspired by trends and classics from the greatest decade of the century-- Freestyle Filez the unofficial BET Hip Hop Awards wknd mixtape and Florida's Finest the unofficial Florida Classic wknd mixtape are the only two mixtapes with previews and samples from the upcoming decade mixtapes (LogophiliYaH 90s and 80s Tapes) and the LogophiliYaH album, available late 2020.
_____________________________________________________________________
***Celebrating the release of the #ShootYaShot LP featuring the hit single "Shoot Ya Shot" by Dez Nado featuring G-Slim, as seen on Thisis50.com, featured in Playboy Magazine, and HYPE Magazine, and crossing the 100,000 Spotify stream mark within the first 6 weeks of its release, along with #LPYH90sTape + #FLAsFinest + #FreestyleFilez -- THE go-to mixtapes for your #HipHopAwards weekend, Howard U + FAMU + Bethune + CAU + Spelhouse and general college Homecoming weekend, Florida Classic weekend, Saucy Sundays, EOY/New Year's festivities and beyond -- FF6 Series Available NOW @ audiomack.com/artist/flasfinest6/ + https://audiomack.com/artist/dez-nado-1 and the brand new FF7 series can be found at https://audiomack.com/artist/freestylefilez7 or download in FULL @ www.VIPSquadNation.com --FEATURING
Rick Ross | Tory Lanez | Rapsody | Kamillion | Big Pun & Terror Squad | Ace Hood | Drag-On | Lil Duval | Jay-Z | Drake | Lil Wayne | Dez Nado | DMX | G-Slim da Vet | Bangem Banzz | Cassidy| Chris Rivers | Cardi B | Wiz Khalifa | Nipsey Hussle | Lil Kim | Ludacris | J Cole | Common | 2Pac | 2 Chainz | Andre 3000 | Killer Mike | Big Boi | DaBaby & MORE
[Florida's Finest 7: The Classic Weekend mixtape uploaded/released live on Soundcloud and Audiomack Nov 11-24 2019; with the full FREE version available @ VIPSquadNation.com]
Check out past versions (500,000+ REAL Plays/Downloads since 2012) BELOW
Freestyle Filez: Volume 1 (Mixtape - Hosted by Dez Nado) - May 2012 - Indie release – DatPiff Rating: 3 Stars; 332 plays/downloads DatPiff/MediaFire, 500 CDs distributed – Album of the Summer 2011 (Hip Hop Stardom Magazine) https://www.datpiff.com/Dez-Nado-Freestyle-Filez-Volume-1-mixtape.345073.html
Freestyle Filez: Volume 2 (Mixtape - Hosted by Dez Nado) - October 2012 - DatPiff Rating: 5 Stars; 1,302 plays/downloads, 350 CDs distributed https://www.datpiff.com/Dez-Nado-Freestyle-Filez-Volume-2-mixtape.410094.html
#FLAsFinest (Mixtape - Hosted by VIPSquad Entertainment) - June 2013 - DatPiff Rating: 5 Stars; 128,210 plays/downloads | www.soundcloud.com/flasfinest
#FLAsFinest2 (Mixtape - Hosted by VIPSquad Entertainment) - July 2014 - Indie - DatPiff Rating: 3 Stars; 11,751 plays/downloads | www.soundcloud.com/flasfinest2
Freestyle Filez: Volume 3 (Double Mixtape - Hosted by Dez Nado & VIPSquad DJs) - Sept 2015 - Indie - DatPiff Rating: 5 Stars; 9,616 plays/downloads www.soundcloud.com/freestylefilez3
Florida's Finest 3 (Double Album - Hosted by Dez Nado & VIPSquad DJs) - Nov 2015 - DatPiff Rating: 5 Stars; 177,985 plays/downloads www.audiomack.com/artist/flasfinest3/
LaDolceVita (Album)/Futuristic A-Side; Duele B-Side Singles - March 2016 - Universal Music Group/VIPSquad Entertainment 85,000 Sound Exchange/Pandora streams, 1,113 Spotify Streams/Downloads, 719 iTunes/Amazon Streams/Downloads, Indie Digi/Physical Distribution: 13,560 (Digiwaxx/PlayMPE Int'l distribution); 389 Total DJ downloads, global www.soundcloud.com/DezNadoLaDolceVita
Freestyle Filez: Volume 4 (Double Mixtape - Hosted by Dez Nado & VIPSquad DJs) - Sept 2016 - Indie - Independent Release; 6,558 https://www.audiomack.com/artist/freestylefilez4
Florida's Finest Vol. 4 (Double Mixtape - Hosted by Dez Nado & VIPSquad DJs) - Nov 2016 - Indie - VibeMixtapes/Independent Release Rating: 5 Stars; 3,054 Independent Downloads (Media Fire) 9,407 plays https://www.audiomack.com/artist/flasfinest4
Florida's Finest Vol. 5 (Double Mixtape - Released Independently & Hosted by 1017 Brick Squad Mafia Gang Nation Artist Seerious Penny & Dez Nado) - Nov 2017 - MEDIAFIRE Secure Full Download - SoundCloud -- 815 Independent Downloads, 10,011 multi-platform plays/streams Total http://www.mediafire.com/file/6d4zaz5b5jom5uc/FLAsFinest5_FULL_Final_-_VIPSquad_DJs.zip/file
Freestyle Filez Vol. 5 (Double Mixtape - Released Independently & Hosted by 1017 Brick Squad Mafia Gang Nation Artist Seerious Penny & Dez Nado) - Oct 2017 - MEDIAFIRE Secure Full Download - SoundCloud -- 425 Independent Downloads, 5,885 multi-platform plays/streams Total http://www.mediafire.com/file/e5wmeigavgsppcp/Freestyle_Filez_5_-_VIPSquad_DJs_FULL_DOUBLE_MIXTAPE.zip/file
Freestyle Filez Vol. 6 (Double Mixtape - Released Independently & Hosted by Dez Nado) - Sept 2018 - MEDIAFIRE Secure Full Download - SoundCloud -- 296 Independent Downloads, 6,989 multi-platform plays/streams Total https://audiomack.com/artist/dez-nado-1 | http://www.mediafire.com/file/iqcjhytk71d394t/Freestyile_Filez_6_FULL_Final.zip/file
Florida's Finest Vol. 6 (Double Mixtape - Released Independently & Hosted by Dez Nado & DJ Purfiya) - Oct 2018 - MEDIAFIRE Secure Full Download - SoundCloud -- 175 Independent Downloads, 9,612 multi-platform plays/streams Total https://audiomack.com/artist/flasfinest6 | http://www.mediafire.com/file/lyvv04wucmpciju/FLAsFinest6_Official_Double_SauceTape_-_VIPSquad_ENT.zip/file
Shoot Ya Shot LP (Album)/Shoot Ya Shot A-Side; Squad Goals/What U Tellum B-Side Singles - March-Sept 2019 - VIPSquad Entertainment 231,318 Spotify/Pandora/Apple Music streams + Sales -- https://open.spotify.com/album/4uh5ZoWlVfIsJWIiwCozDC | https://vipsquadnation.com/album/1006814/shoot-ya-shot-lp | www.youtube.com/deznado
PRESS/INFO >>
>>> Follow www.facebook.com/VIPSquadDJs for up-to-the-minute updates as each month's featured event approaches
CONTENT recorded from the events will be TELEVISED on CW17 & DeKalb-Comcast 25 Atlanta -- like/follow these links to be the first to check out the footage which might feature YOU -->
www.youtube.com/LifeGrindDuval | SUBSCRIBE to Live from New Jax City/New Jax City Uncut: https://www.youtube.com/channel/UC45nxzzJT9dsKPzATawYWQQ
www.facebook.com/LifeGrindDuval | www,facebook.com/NewJaxCityLIVE -- Instagram: @LifeGrindDuval & @NewJaxCityLIVE | @SaucySundaysJax | http://www.instagram.com/saucysundaysjax | LIVE from New Jax City BET Awards 2018 Media Coverage -- https://youtu.be/Dnvq-NoQY8c | www.facebook.com/LifeGrindATL
#Support the #Indie MOVEMENT! #Vippin
Spring Fest Eventbrite Page: www.DUVALSpringFest2020.eventbrite.com
Spring Fest Facebook Page: www.facebook.com/events/181025219860364