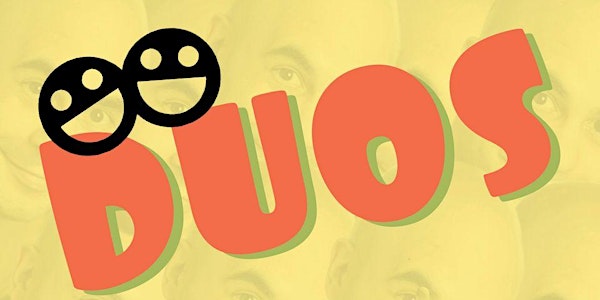 Duo Comedy Showcase
LIVE and onstage at the Market Theater in Pike Place Market
When and where
Location
Unexpected Productions Market Theater 1428 Post Alley Seattle, WA 98101
About this event
LIVE and onstage at the Market Theater in Pike Place Market
Duo Comedy Showcase is Seattle's only public open-mic for improv. Two-person teams doing what they do best: creating spontaneous scenes on the fly that are so hilarious, quick-witted, and perfectly constructed, it's hard to believe they are made up on the spot. At Duos, newer improvisers have an opportunity to improve while professional improvisers practice and try new things. Who knows, you might even want to join them. $10 every Wednesday at 8:00 at the Gum Wall in Pike Place Market
UP COMING DUO EVENTS
12/28/22 - Blind Date Night
1/11/23 – Old Dogs New Tricks Night
2/15/23 – Duo Prom Night
2/22/23 – Infiltration Night
3/1/23 - TRIOS!
3/22/23 – DUO TOURNAMENT 7 BEGINS!
3/29/23 – TOURNAMENT ROUND 2
4/5/23 - TOURNAMENT ROUND 3
4/12/23 - TOURNAMENT ROUND 4
4/19/23 - TOURNAMENT CHAMPIONSHIPS
SIGN UP! All experience levels sign up for this. So don't be afraid – YOUR TEAM may be the next Penn & Teller, Martin & Lewis, Bevis and Butthead…. or you may end up driving off a cliff like Thelma & Louise! Sign your duo up at duoshowcase@gmail.com
All ticket sales are final and non-refundable. There are no refunds, exchanges or transfers. Please confirm your date.
Current as of July 15, 2022: Our top priority continues to be the safety of our audiences, improvisers, students, staff, and the community. We strongly encourage and recommend when attending a performance at Unexpected Productions' Market Theater that all audience members wear a mask over their nose and mouth except when eating or drinking.
We are continually assessing the changing guidelines and local government updates. We reserve the right to require health and safety protocols for all performances.  We will proactively communicate any change in health protocols with advance notice.If you feel sick, have any symptoms, or have tested positive for COVID-19, please do not attend any performances.Thank you for your understanding and cooperation. We look forward to welcoming you soon.