Location
San Jose McEnery Convention Center
150 West San Carlos Street
San Jose, CA 95113
Description
In partnership with the Blockchain Connect Conference, DoraHacks presents the Largest Blockchain for Future Hackathon.
Confirmed Participants include:
•

Tan Anlyv,

Xiaomi

Blockchain Lead
•

Core Engineers, Tech and Community Leads of 10 public chains and other blockchain projects including IoTeX, ThunderToken, Nebulas, Wanchain, NKN, Bodhi, Truechain and more.
•

10+ CEOs / CTOs of Startups and 30+ engineers from IBM, Google, Facebook and more.


Confirmed Judges include:
•

Dr. Jiang Xuxian - Founder & CEO of

Peckshield

, former chief scientist of

360

and lifelong professor at North Carolina State University
•

Jing Sun & Qevan Guo - Co-Founding Team of

IoTeX
•
Dr. Elaine Shi, Chief Scientist, Thunder Token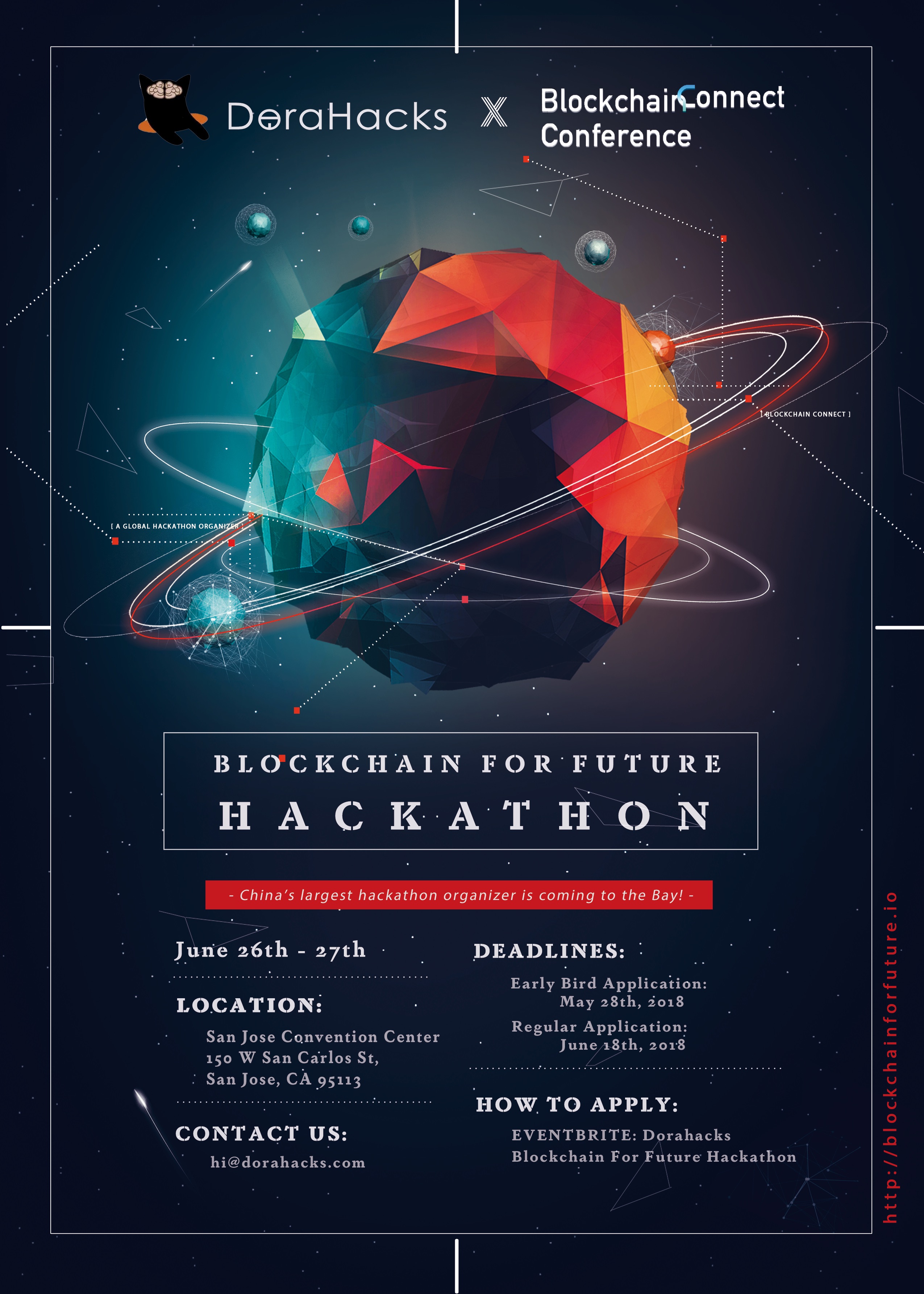 DoraHacks Blockchain For Future Hackathon, like all Dora's previous hackathons, is completely FREE! Here, you will be able to meet with the best hackers and top industry professionals!
For each successful registrant of Dora's Blockchain For Future Hackathon, DoraHacks will cover the conference entrance ticket ($800 of worth) for you, and bring you to the best blockchain hackathon this year!
Participating in this hackathon, there's high chance that you'll team up with the tech lead from IoTeX, community leader of Nebulas and core member from Wanchain (all confirmed). Please also get ready to be invested by Hacker's Fund, the very fund that believes that hackers can change the world.
Register now, win a chance of becoming the top 5 winners to present your demo on the main stage of the Blockchain Connect Conference
in front of 2000+ investors, blockchain founders in US and China and
hundreds of industry leaders with the opportunity to win $10,000 in prizes and TONS OF CRYPTOS!
DoraHacks is a global hacker community focusing on cutting-edge technologies, including AI, Blockchain, and Commercial Space Engineering. In 2018 we're branching out to global hubs including San Francisco, Paris, Tokyo, New York, Seoul, Boston, Berlin, Oslo and major cities in the world.Check us out and follow us on Youtube!
Blockchain For Future Hackathon will be DoraHacks' 4th blockchain hackathon in the San Francisco Bay Area. There is no limit on what to create as long as it is blockchain related. Food, snacks, and great music will be provided to better your hacking experience.
There are two

MAJOR TOPICS

of this Hackathon:
1. Public Blockchain Security
2. High Impact DApps
Who are the hackers?
Ethereum Developers!
Blockchain Hackers!
Security Experts!
Consensus Gurus!
Full Stack Coders!
Super Cool Designers!
Super Crypto Investors with Great Ideas!
Embark on a 24-hr journey with top developers, brainstorm solutions to pressing issues using Blockchain. Showcase your ideas, win prizes from a pool of over $10,000, and connect with partnering investors.
Join us to not only meet 120+ super cool hackers, but also if accepted, win a ticket ($800 value) to the conference where you can meet top speakers and industry professionals from the Blockchain Connect Conference! Check out more about the conference here at: http://www.goblockchainconnect.com.
Applications are open until June 18th. We will review applications on a rolling basis. Applicants will be selected based on skills, experience and availability. Qualified applicants will be notified via email.
Early bird applicants, which are the first 350 applicants entered by June 8th, will have a higher chance to be selected.
Follow Us:
Schedule:
Tuesday June 26:
9:30-10:30 Sign in, Networking
10:30-12:00 Pitching & Team Building then Hack!
12:30-13:30 Lunch Served
13:30-18:00 Coding Continues
18:00-19:00 Band Performance, Dinner
19:00-20:00 Hacks 20:00-21:00 Hacks, Collect Team Info
21:00-24:00 Hack, Midnight Snack
Wednesday June 27:
0:00-8:00 Overnight Hack(Or not)
8:00-8:30 Breakfast
8:45 Demo Submission Deadline
9:00-11:00 Demo fair, Voting
11:00-11:30 Closing Ceremony & Cash & Crypto Awards!
11:45-13:00 Demo Presentation
FAQ
What is a DoraHacks hackathon?
Dorahack is a global hackathon organizer. Our mission is to connect the top hackers around the world. During the 2nd Blockchain Connect Global Summit, DoraHacks is going to host a 24-hour blockchain hackathon, bringing creative solutions to the industry.
Who can come?
DoraHacks welcomes enthusiastic hackers from all over the world! Whether you are a college student, professional engineer, or designer, as long as you share the passion for hacking, you are welcome.
Do I need to have a team to register?
You can sign up as a team of 4 to 6 people. If you do not have a team in mind, no need to fret! Once you are selected, we will help you to find your teammate.
What should I bring?
All you need is a valid ID and a laptop (AND a laptop charger). We will provide the rest!
Do I need to bring any sleepover stuff?
We will provide cushions, bean bags and sleeping bags. Hackers are encouraged to bring pillows, blankets, toiletries, etc.
What can I build?
Anything relating to blockchain as your heart desires!
Application Deadline?
All participants can apply via Eventbrite. The deadline for our pre-round selection is June 18th. We will review applications on a rolling basis. The first 350 pre-round selection application by June 8th will be considered as Early Bird applications. Fill out the Application by June 8th for a higher chance to be selected!
How do I apply?
All you need to do is to fill out this application with your information (link here). Although the deadline is June 18th, we have a cap of 120 hackers and will notify applicants on a first come first serve basis.
What does it cost?
Dorahacks is free for all accepted hackers. After you fill out the pre-round application, we will notify you via email once you are selected. You will need to make a deposit to secure your spot, and your deposit will be returned if you make it to the hackathon. We provide meals, caffeine, swag, workspace, and WiFi for the weekend; travel reimbursements for qualifying overseas hackers.
What is the Dorahacks code of conduct?
You can read it here.
I have some other question!
Please feel free to email us at hi@dorahacks.com.
Panel of Judges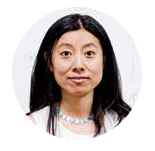 Dawn Song, Professor, Computer Science Division, University of California, Berkeley. IC3 Co-director.
B.S Tsinghua, Master at Carnegie Mellon University, Ph.D. UC Berkeley.
Research Area: Deep Learning, Security, and Blockchain decentralized System. MacArthur Fellow, Guggenheim Fellow, Alfred P. Sloan Fellow, Alfred P. Sloan Fellow.
MIT Technology Review Top 35 Innovators under 35 (TR35).
AMiner Most Influential Scholar Award, for being the number one most cited scholar in Computer Security.

Elaine Shi, Associate Professor at Cornell University, Thunder Scientist, IC3 co-director.
B.S computer science Tsinghua University. Ph.D. at Carnegie Mellon University.
Author of the first bitcoin and decentralized system research article.
ONR YIP Award, Packard Fellowship, Sloan Research Fellowship, First Place in the CSAW Applied Cybersecurity Research Competition, ASPLOS Best Paper, HLI Award for Secure Multiparty Computing, Google Faculty Rewards.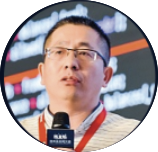 Dr. Jiang Xuxian, Founder & CEO of Peckshield, the Former chief scientist of 360, the Lifelong professor at North Carolina State University.
Current research interests: smartphones, hypervisors, and malware defense.
B.S at Xian Jiaotong University, Ph.D. at Purdue University.
Other Panel Of Judges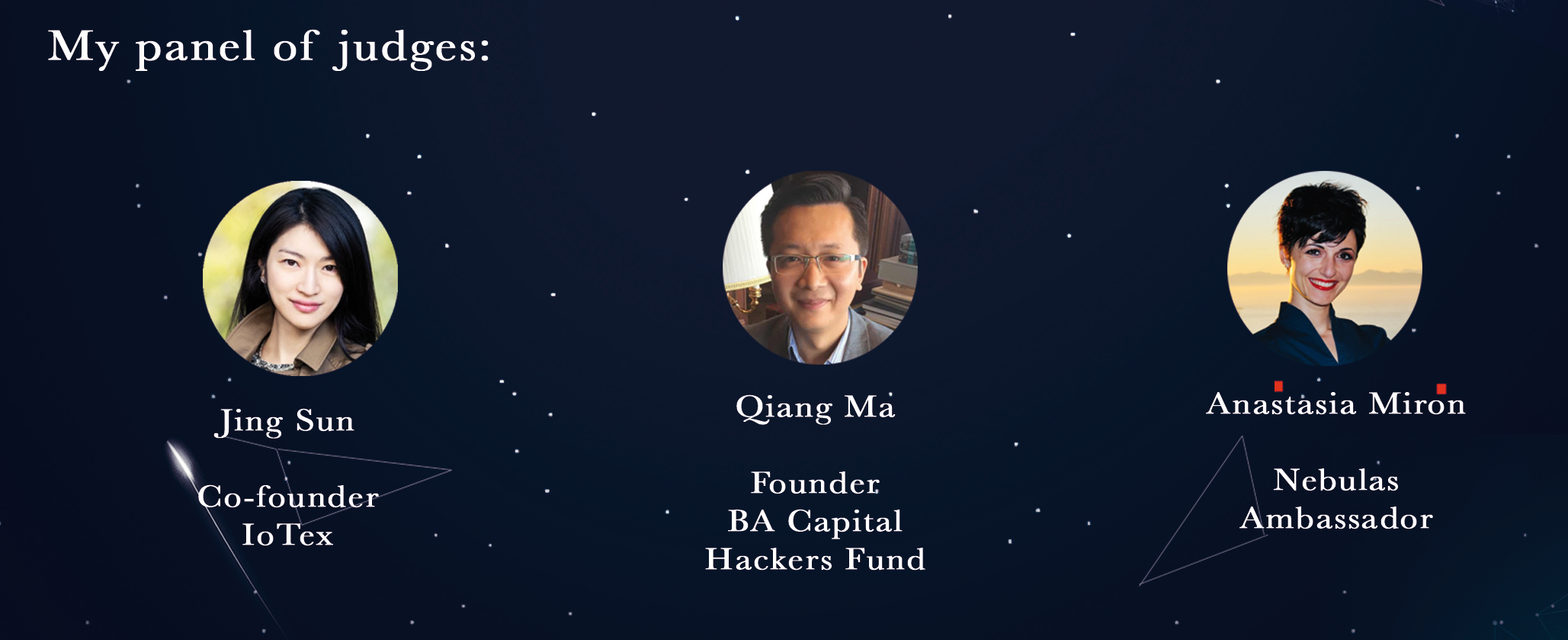 Here are two of our past Bay Area DoraHacks Champions: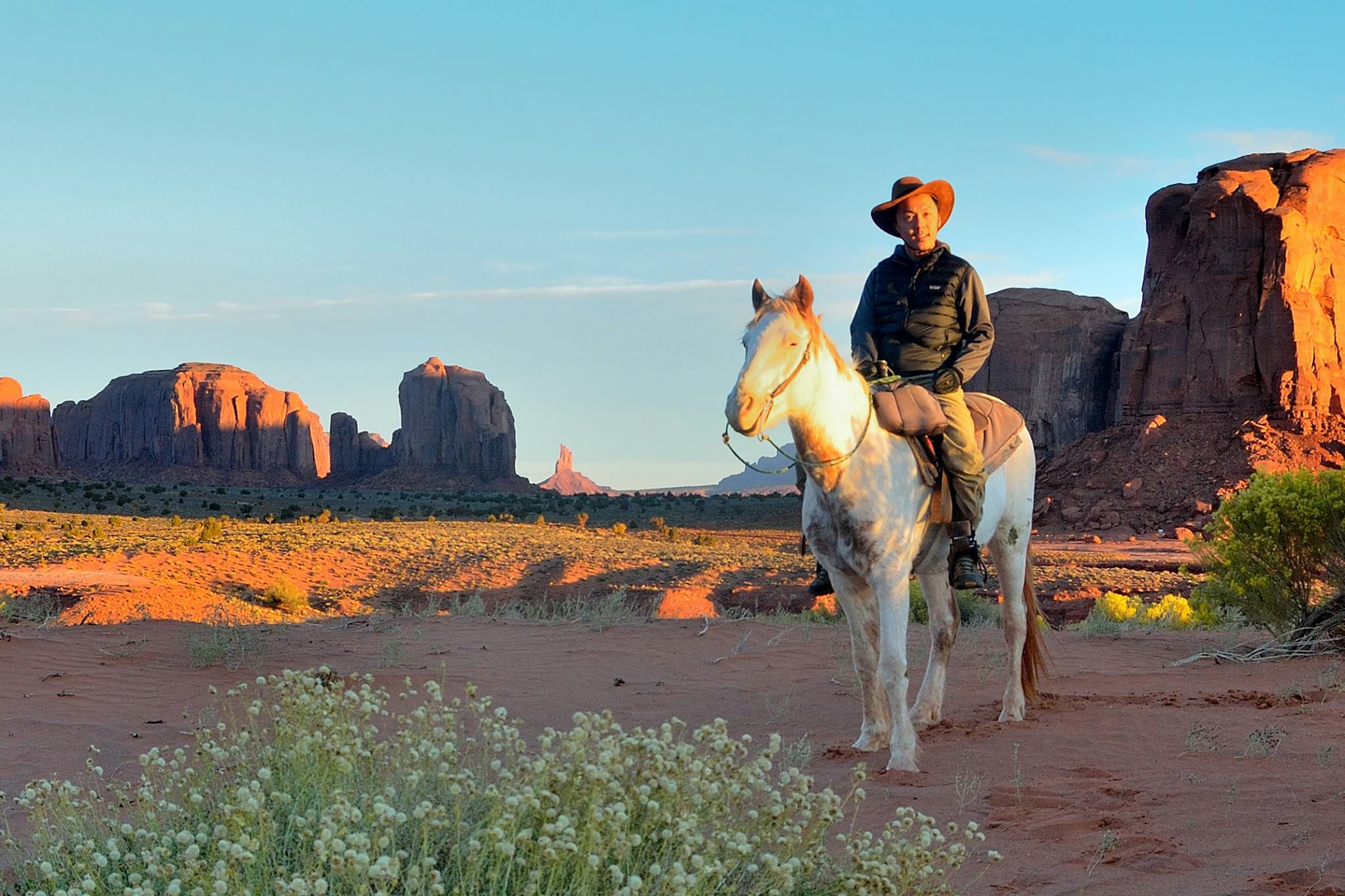 Peter Ma, DoraHacks 2018
The Champion of Hackathon held in San Francisco in April.(Clean Water AI)
Doctor Hazel Co-Founder, Proficient in AI, Blockchain stack developer.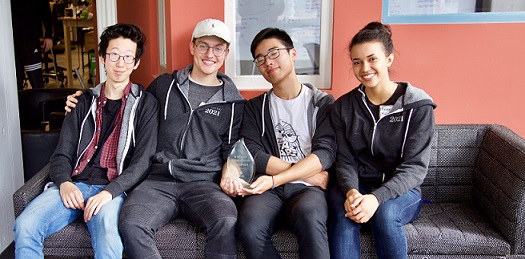 Team Odera (Sang-Jin, Dennis, Kevin & Rebecca), DoraHacks 2018
The Champions of San Francisco held Hackathon in January. (Online Cross-board Microfinance Platform).
Blockchain developers from Minerva Schools. The team combined Machine Learning with the perks of Blockchain Technology to create a microfinancing platform that benefits both lenders as well as loan receivers.







Gold Sponsors





Silver Sponsors









Participating Partners