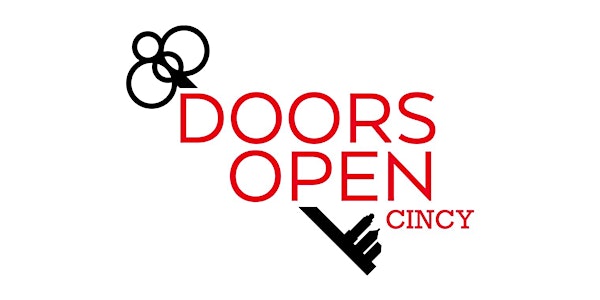 Doors Open Cincy
By Architectural Foundation of Cincinnati
When and where
Date and time
Saturday, October 12, 2019 · 10am - 4pm EDT
Location
Over-The-Rhine 1116 Race Street Cincinnati, OH 45202
Description
Doors Open Cincy 2019 will be a one-day event, designed to celebrate architecture, design, and history in our community by providing behind-the-scenes access to approximately 20 locations in and around OTR. They will open their doors and show off the great work they do and the spaces they occupy.
With a variety of organizations participating, there will be something to interest everyone! See everything from the crypt of a historic church to the thriving offices that are bringing talent to the Queen City. Come to one or all of the locations and enjoy the event on your own time.
This event is being hosted in association with Blink Cincinnati as a daytime event - something great to do before the lights come on!
The best part, admission is FREE!
**Please note: Names must be provided for EACH attendee**
More venues will be added as they come available. Check here and our website often!
We want to give a huge thanks to our sponsor, the Haile Foundation, for making this program possible. Without them, Doors Open (and Blink!) wouldn't exist.
A359 Partners in Architecture
A359 Architecture is an employee-owned architecture and design group. They focus on urban redevelopment, sustainability, and innovative design; some of their projects include The Empower OTR Building, a reutilized space in OTR, and UC's 1812 Innovation Hub. Come see their work as well as their space!
Bloodline Merchants
Bloodline Merchants is a vintage and antique store that specializes in furniture and decor that highlights global history. They have a fascinating side to their location, too: a beer cellar. Originally used to store beer during Cincinnati's beer heyday, the cellar is 45 feet below grade and available for tours!
Betts House
The Betts House has a special place in Ohio's architecture – it is the oldest building in Cincinnati and the oldest brick house in Ohio. Built in 1804, the Betts House was eventually re-purchased by the Betts family's descendants and converted into the museum that it is today.
Cincinnati Center for Architecture and Design
The Cincinnati Center for Architecture and Design will serve as this year's Doors Open HQ. Any questions about the event or our organization can be answered here! We would also love to tell you about us, the Architectural Foundation of Cincinnati, while you're in. CCAD will have its doors open to learn about their mission, projects, and see the great 10 Sectors: 10 Solutions exhibit on display. 10:10 is a take on creative improvements in communities, come check it out!
Cincinnati Fire Museum
The Cincinnati Fire Museum is a non-profit dedicated to everything fire! They are housed in a historic fire house complete with antique trucks, gear, and more. On the day of Doors Open they will have their bay doors open and fire trucks giving ride! Come by to get a taste of firefighting in Cincinnati.
Cincinnati Shakespeare Company
The Cincinnati Shakespeare Company brings tragedy, joy, and drama as only the Bard of Avon can! Behind the curtains you can discover what it takes to make theatre come to life.
Design Lab
Design Lab is a contemporary furniture and lighting showroom overlooking Washington Park. They juxtapose the new and styled with their historied building – this is definitely a stop for architecture and design fans!
Donovan Energy
Donovan Energy is an energy development company looking to change the world through renewable energy and improved efficiency. Donovan has large scale projects in Cincinnati helping people access better HVAC and LED lighting. They also partner with some of the biggest names in the city, like the Zoo! Come see what it takes to be on the forefront of the energy sector.
Elementz
Elementz is a group focused on bringing art to the inner-city. They work with youth to create music, dance, and visual art reflective of their own experiences. Elementz has an awesome space to do it all in, too! Come for a tour of their studio and to learn more about their mission.
Ensemble Theatre
Ensemble Theatre Cincinnati offers the city a vibrant mixture of shows, educational programs, and more. While the company was founded in 1986, their main building was constructed in 1904. There's a wealth of history and creativity is behind their doors!
First Lutheran Church
First Lutheran is a beautiful, historic church located across the street from Washington Park. Their building dates back to 1895 and a congregation that dates back even farther. More than that, though, they are a group of people committed to serving their community. Stop by to see them and find out more!
Greater Cincinnati Police Museum
The Police Museum chronicles the history of the police in Cincinnati and the surrounding area. The museum boasts a collection of over 10,000 artifacts ranging from uniforms to equipment. For Doors Open, the museum will have docents guiding tours for guests! Come and see their awesome collection.
Know Theatre
Know Theatre is a non-profit theatre company that showcases unexpected voices, new works, and plays that embrace the inherent theatricality of the live experience. They strive to be a place that elevates underserved voices, shares challenging ideas in a welcoming space, celebrates diversity, and so much more. Be sure to visit for your chance to Know what it's all about.
Lightborne Communications
The folks at Lightborne are communication and media specialists. You've undoubtedly seen their work before without knowing it – they've worked with everyone from the Bengals to Audi. Lightborne is located in an incredible building with a surprise around every corner. Now's your chance to get a look at what they do and the incredible space they do it in!
Luminaut
Luminaut is a team of architects and interior designers that create incredible, contemporary spaces. See what goes into designing the hottest businesses, apartments, and more!
Memorial Hall
Originally built in 1908, Memorial Hall remains one of the most beautiful and iconic buildings in Cincinnati. Come to see the massive theatre, military history, and ongoing uses behind their doors!
Michael McInturf Architects
MMA is a Midwest based design office aiming to advance architecture and technology since 1995. They are responsible for some of the first 3D architecture modeling and continue to create beautiful contemporary pieces.
MKSK Studios
MKSK is a collective of landscape architects, urban designers, and planners working to make city scapes better for people and the environment. Learn what it takes to create innovative public spaces and the unexpected impact they can have!
Moody Nolan
Moody Nolan is the largest African American owned and operated architectural firm in the country. With over $750 million in annual construction designs, they work with large-scale building and renovation. Some of their projects include the 5/3 Arena renovation and the Ohio Expo Center's Kasich Hall.
Old St. Mary's Church
St. Mary's live up to its name: it is the oldest standing church in Cincinnati (built in 1840). It also boasts one of the most beautiful sanctuaries in the area. Their walls are ornamented with fabulous frescoes, statues, and glass. They will be giving guided tours, so come learn the history of this spectacular church!
Play Library
The Play Library is a unique take on the library: instead of lending books, they lend games. Nearly any board game you could want for any age can be found here! They will be open and playing on the day of the event – stop by to get in on the fun.
Rhinegeist Brewery
Rhinegeist is one of Cincinnati's most renowned breweries. By producing awesome brews like Bubbles and Truth, it has become a leader in the craft beer scene. Rhinegeist is also located in an incredible 250,000 square foot warehouse originally used to package – you guessed it – beer. Come for a tour and a drink!
St. Francis Seraph Church
St. Francis is an historical church with a continuing mission to help those in OTR and beyond. The building itself dates back to 1859 and boasts incredible frescoes, adornments, and even a crypt. Find what histories are behind their doors!
Turner Construction
Turner was founded at the turn of the 20th century. Since then it has grown into a large, international construction company with over 1,500 projects annually. Turner is also an industry leader in sustainable building practices: they have a huge emphasis on reducing waste among other efforts. Stop by to see Turner's beautiful building and learn what it takes to make blueprints a reality.
Wooden Nickel Antiques
Wooden Nickel is a shop that specializes in the history and antiques of Cincinnati. More specifically, they have a great collection of architectural salvage, ranging from doors that are hundreds of years old to beautiful wrought iron. Come by for more than a Nickel's worth of history!
About the organizer
AFC's purpose is to help people discover – and experience – the transformative power of design.
Design LAB is one of our hallmark programs. The AFC offers additional programming such as the Apple Award Gala where we honor an important head figure who has contributed to the Greater Cincinnati built environment, Doors Open which gives the public a peek into buildings and offices that would otherwise not be seen by the public, and ArchiTour Cincinnati which allows the public to use an app on their smartphone to explore architecture throughout the city of Cincinnati.