A tasty trip through the history and lore of all manners of fried food.
About this event
Learn about the 18th century nun, Sister Agnes, who is credited with being key to the creation of "pets de nonne," literally translated to "nun's farts." Discover other holy donut connections involving Hanukkah, Ramadan, Diwali and, of course, Mardi Gras and Carnival. Follow donuts in American history from the Civil War through World War II, along with the Red Cross connection. Explore the history of Dunkin' Donuts and Krispy Kreme. Find out our speaker's very personal connection to the ubiquitous pink and orange Dunkin' Donuts logo.
Michael Krondl is a culinary historian, food writer, chef and artist. He has authored articles for numerous culinary publications and contributed to the Oxford Encyclopedia of Food and Drink in addition to other prestigious culinary references. Along with"The Donut" he has authored books on aspects of sweets and culinary history.
Mr. Krondl's book, "The Donut: History, Recipes, and Lore," may be ordered online and at bookstores.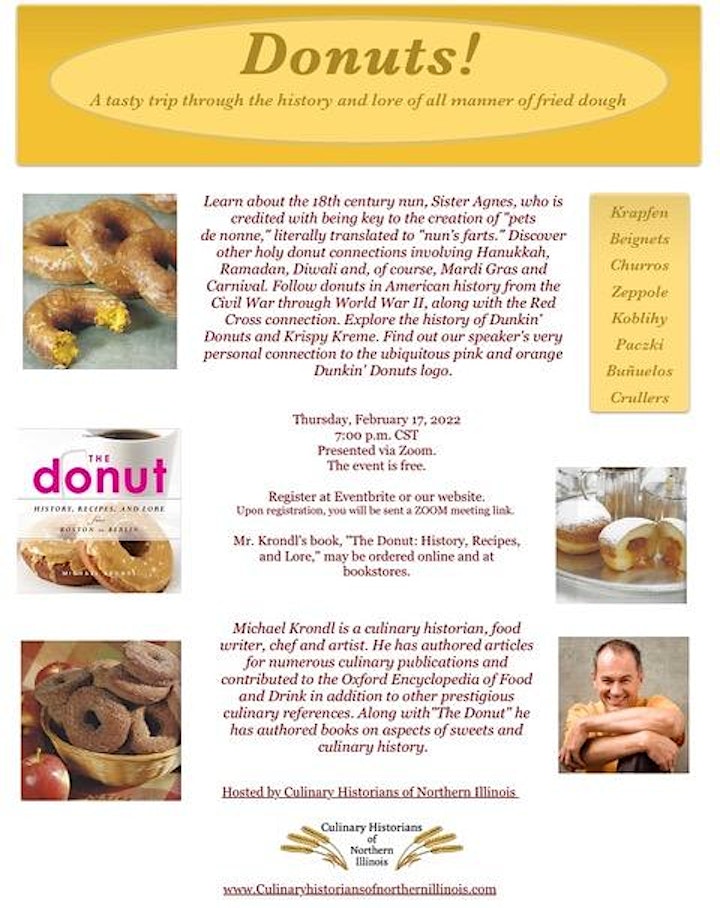 The Culinary Historians of Northern Illinois seek to understand social and cultural history through the study and celebration of food and drink. Using the mission as the guiding focus, the Culinary Historians of Northern Illinois host events, workshops, and educational seminars during each year. A founding goal is the Cookery Manuscript Project whose intent is to capture, record, maintain and study the culinary history of the region through historical family recipes and culinary manuscripts. Our aim is to partner with local community groups and organizations throughout Northern Illinois. We invite food enthusiasts, academics, historians, culinary professionals and all interested to join and participate in our activities.
Culinary.historians.ni@gmail.com,
www.culinaryhistoriansofnorthernillinois.com