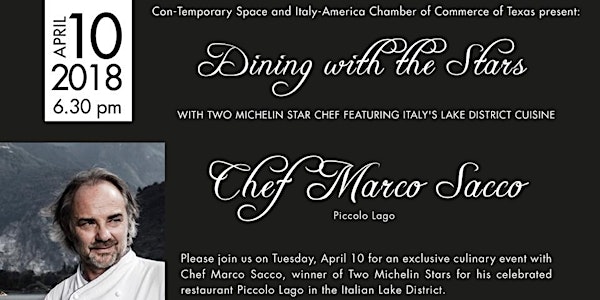 Dining w/the Stars, Two Michelin Star Chef featuring Italy's Lake District...
Location
CON-TEMPORARY Space
1225 North Loop West
Houston, TX 77008
Description
Please join us on Tuesday, April 10 for an exclusive culinary event with Chef Marco Sacco, winner of Two Michelin Stars for his celebrated restaurant Piccolo Lago in the Italian Lake District.
Chef Marco was literally born into the restaurant business when his parents opened their first restaurant the same month his mother gave birth to him.
Since that time, he has cooked all over the globe, in some of the world's most famous kitchens and for some of the world's leading celebrities, tastemakers, and gastronomes.
Today, his Piccolo Lago is considered one of the best restaurants in Europe.
His April 10 menu will feature his innovative take on classic Northern Italian dishes, including his legendary Risotto alla Milanese, among others.
His 5-course tasting menu and wine pairings at Con-Temporary Space in Houston mark the inaugural event for this much-anticipated private event and dining venue.
** Please Note: Dress Code - Cocktail Attire, IACC Member Pricing $95 / Non-Member $110.00
***Complimentary Valet Parking
Click here to become a member - http://www.iacctexas.com/membership-benefits/