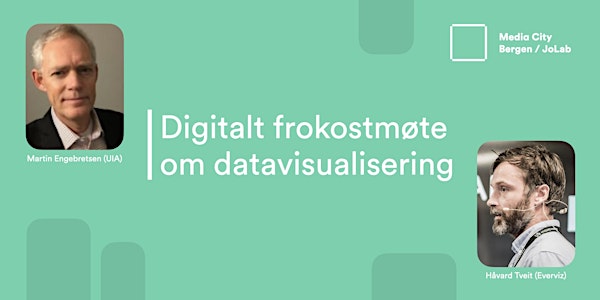 Digitalt frokostmøte om datavisualisering
Hva gjør datavisualisering til svært effektiv kommunikasjon?
About this event
ÅPENT FOR MEDLEMMER AV MEDIA CITY BERGEN / NCE MEDIA.
Hvordan kan man styrke formidling ved hjelp av visuelle virkemidler? 16. februar inviterer Media City Bergen Journalism Lab (MCB JoLab) til et digitalt frokostmøte om datavisualisering der du møter:
Martin Engebretsen, Professor i språk og kommunikasjon, Universitetet i Agder
Datavisualisering, i form av grafer, diagrammer og interaktive kart, utgjør i dag en viktig del av den offentlige samtalen, ikke minst i journalistikken. Vi antar at slike visuelle tekstformer kan formidle kompleks informasjon på en effektiv måte. Men hva er det egentlig som gjør en datavisualisering til effektiv kommunikasjon? Hvordan kan samspillet mellom ord, tall og grafikk bidra til å skape både forståelse, tillit og engasjement hos leseren? Professor Martin Engebretsen fra Universitet i Agder deler noen av funnene som ble gjort i det nylig avsluttede forskningsprosjektet INDVIL.
Kjønn og lønn - veien fra 30 enorme regneark til en forståelig historie
Jonas Blich Bakken, Datajournalist og Adrian Solumsmo, Red. Utvikler, Dagens Næringsliv
Se hvordan DN jobbet frem saken Lønnsgapet, og hvordan store mengder data og til dels kompleks informasjon ble fremstilt visuelt for å sette fokus på de store forskjellene i lønnsnivå mellom kvinner og menn.
Håvard Tveit, CEO, Everviz
Everviz er et brukervennlig datavisualiseringsverktøy som enkelt lar deg dele dine data i form av skreddersydde, interaktive diagrammer og kart. Verktøyet er rettet mot journalister, forskere eller innholdsskapere for å enkelt kunne visualisere hvilke som helst data, hvor som helst. Håvard Tveit, CEO i Everviz, vil demonstrere hvordan du kan benytte Everviz for å visualisere dine data.
---------------------------------
Please note that this breakfast meeting will be given in Norwegian.
This breakfast meeting will discuss the efficiency and abilities within datavisualization, followed by a demo on how to use Everviz to share your data through attractive, interactive charts/maps, simpler than ever.