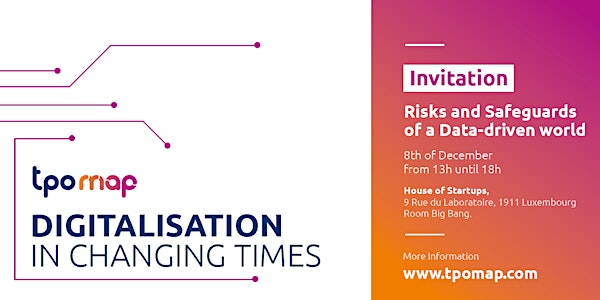 Digitalisation – Risks and Safeguards in our Data-driven world
On the 8th of December, come take part in a dynamic conference on digitalization and the Risks and Safeguards of our Data-driven world !
When and where
Location
9 Rue du Laboratoire 9 Rue du Laboratoire 1911 Luxembourg Luxembourg
About this event
Digitalisation in changing times
Risks and Safeguards of a Data-driven world
The Privacy Office is more than happy to invite you to our free public event that will take place on:
8th of December 13h -18h
House of startups, room big bang, Luxembourg City
9 Rue du laboratoire, L-1911
The expert speakers of this conference will give an account of the most important individual and societal challenges of our modern digital world and how we can handle them, including privacy risks, outsourcing risks, automated decision-making and online manipulation. This event will be organised in collaboration with Luxembourg Legal Hackers.
Ceasing the occasion, we will also officially present the newest version of our responsible data management software, TPOmap 2.0, which helps organization to efficiently manage their data on top of facilitating their GDPR compliance.
Take a look at the full agenda:
13h00 Welcoming
13h30 Introduction – Sabine Mersch, Managing Director at TPO
14h00 Risks of automated decision-making – Angelica Fernandez, Doctoral Researcher at Faculty of Law, University of Luxembourg and Organizer of Luxembourg Legal Hackers
14h30 Dark Patterns: Online manipulation as a Privacy Harm – Arianna ROSSI, Research Scientist at SnT, University of Luxembourg and Founder of Luxembourg Legal Hackers
15h00 Coffee break
15h30 Cloud & outsourcing risks – Mirko Teroni, Managing Partner at The Advisory Group
16h00 Presentation of TPOmap 2.0 – Sabine Mersch & Gabriel Schnakers, Sales manager at TPO
16h30 Networking cocktails
This event is aimed at:
CEOs
DPOs
CISOs
Data privacy practitioners and researchers
Anyone interested in responsible data management
Registration to our event is free!
Find more information on www.tpomap.com
We hope to see you there!
TPO