Digital Preservation II: Business Models and Financial Incentives (with Vint Cerf)

Monday, February 5, 2018 from 5:30 PM to 7:30 PM (EST)
Event Details
In 2018 the Internet Society New York Chapter (ISOC-NY), with the support of Google, has embarked on a new project to explore and define Digital Preservation principles, protocols, and practices. This is the second event in the series with a keynote from Vint Cerf, Chief Internet Evangelist for Google.
February 5th, 5:30 - 7:30pm at Google NYC  — focusing on business / financial motives

Wine and light snacks will be served
This time, appropriately for NYC, our focus will specifically be on the fiscal and entrepreneurial aspects, and we are certainly looking to engage the NYC tech and VC community. However, all aspects of digital preservation will be on the table. Don't miss this unique conversation, facilitated by one of the fathers of the Internet. 
While in-person participation is recommended, the session will be livestreamed via the following channels
Remote participation via Twitter: @isocny + #digitalpreservation 
Please join us in person or online! 
**Please bring a valid photo ID for in-person attendance as security in the building is strict. 
---
KEYNOTE SPEAKER
Vinton G. Cerf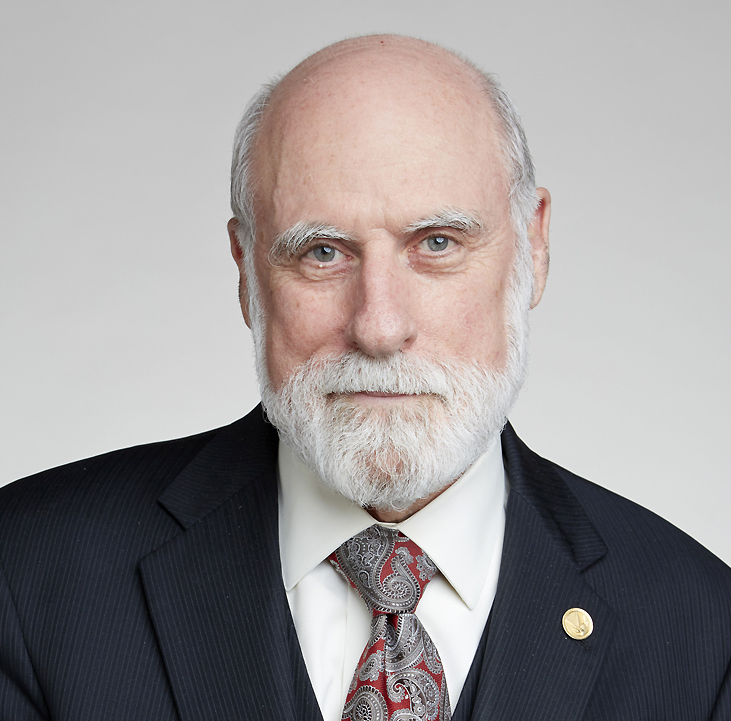 Vinton G. Cerf is vice president and Chief Internet Evangelist for Google. Widely known as one of the "Fathers of the Internet," Cerf is the co-designer of the TCP/IP protocols and the architecture of the Internet. 
---
RESPONDENTS
Brad Burnham, Managing Partner, Union Square Ventures

Brad Burnham is a partner at Union Square Ventures. He started working in information technology with AT&T in 1979. Brad spun Echo Logic out of Bell Laboratories in 1989 and joined AT&T Ventures in 1993. Brad co-founded TACODA in 2001 before joining Fred to create Union Square Ventures in 2003. Brad majored in political science at Wesleyan University. He is married with two kids and lives in New York City.
---
Robert Cartolano, AVP for Technology and Preservation, Columbia University Libraries
Robert Cartolano is Associate Vice President for Technology and Preservation at Columbia University Libraries. He has over 30 years of academic IT experience, and was previously the Director of the Columbia Library IT Office, Senior Director of Client Technology Services and Manager of Academic Technologies in Columbia's central IT division. Rob holds a BS and MS in Computer Science from Columbia University's School of Engineering and Applied Science.

---
ABOUT DIGITAL PRESERVATION
Our culture and society has been enriched by the creation and proliferation of the Internet. Information has become increasingly more accessible and has enabled so many of us to become active creators rather than passive consumers of content. With that, we're experiencing an explosive growth of digital data, with 2.5 quintillion bytes of data created every day and that data needs a place to live. 
Not only does our data need a place to live, but it needs a place to survive into the future. What happens if years from now, we are no longer able to access our photos, documents, music — essentially all the records of our lives? We will not only be forgotten, but we'll be thrusting the future into a 'digital dark age'.
For more information, please contact: 
Shuli Hallak, Executive Director, ISOC-NY: shuli@isoc-ny.org
WASHINGTON EVENT - JAN 12 2018 
Our first digital preservation event focused on policy issues. If you missed it, you can view the archived livestream
When & Where

Google
111 eighth avenue
New York, NY


Monday, February 5, 2018 from 5:30 PM to 7:30 PM (EST)
Add to my calendar
Organizer
The mission of (ISOC-NY) is:
- in support of ISOC, to assure the beneficial, open evolution of the global Internet,
- to promote local initiatives, maximize the societal benefits which the Internet can bring to the New York area, and
- to advance the professional development of ISOC members in the New York area.
http://isoc-ny.org